Last night Deception played to a packed house at the Gourmet Gallery, in Abbotsford's Immel Plaza. The Gourmet Gallery is one of only a handful of venues left in this city of 140,000+ people, that still hosts live music events, and as of last month, is now under the new ownership of Kimberly Arthurs. She is continuing on with the tradition of live music at the Gallery, and was in attendance last night to see the show.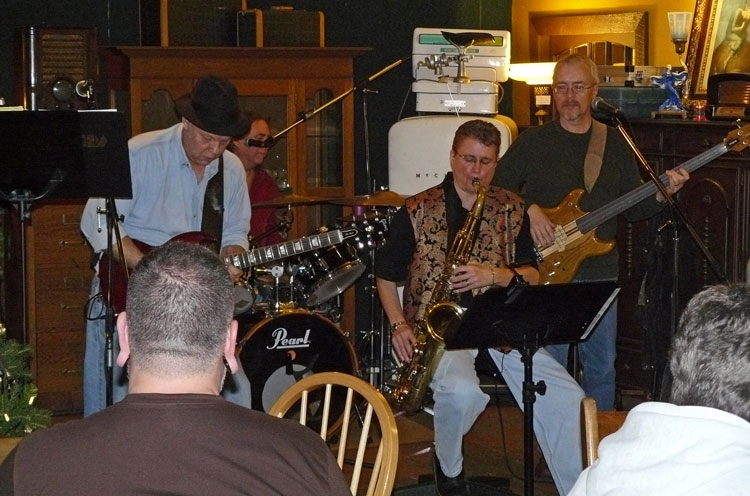 Photo by M. Margison
Kimberly got to see the house packed, and the beer & wine sales steady, as the fans were drinking in the electric Blues sounds of Art Panchishin on guitar, Steve Fultz on bass, Gary Huntbatch on drums, and yours truly on sax.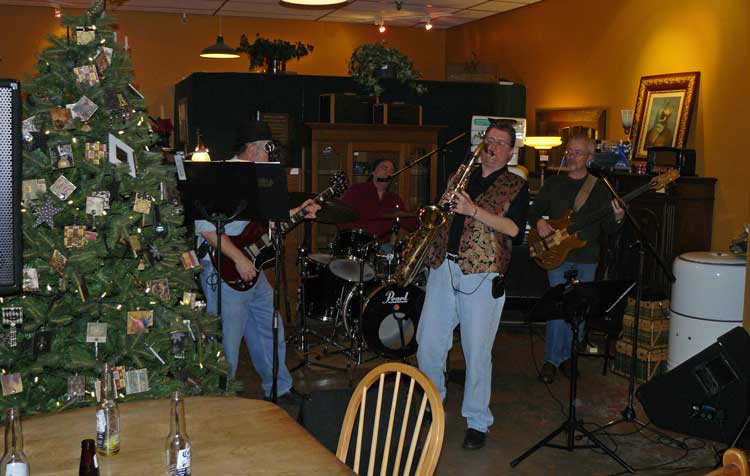 Photo by M. Margison
Kimberly had been warned that our fans like a certain kind of beer, and to make sure that her cooler was well stocked with Corona.  😀 She thought she had bought enough, but still ran out. (I'm sure some nights, I've seen more Sleeman's bottles, but what do I know?) However our loyal followers are nothing, if not adaptable…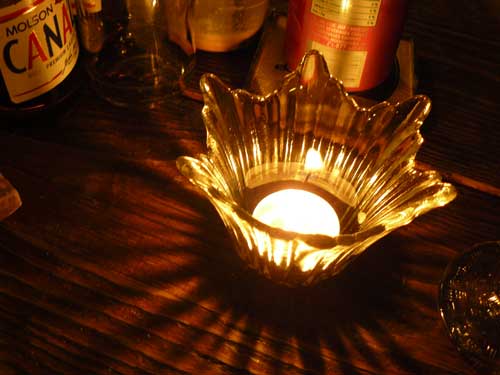 Photo by M. Margison
Only our bass player, Steve, was healthy last night. I was exhausted before the show already, still recovering from last weekend's marathon at the Church Of The Blues, but sucked it up & made it through the 2 hours entirely on adrenaline.
Art & Gary, were both suffering from some kind of viral thingy, that was attacking their throats, and effecting their vocal chords. We had to flip through our song book, and try to pick out songs that the guys could sing. Luckily we made it through the night without either one of them losing their voices!
So Deception is now done for the year, and that means I am too… And that is a good thing. The last 5 days has taken a lot out of me, and I definitely need the rest. We will be getting together as a band for a rehearsal before the holidays, because we're good friends, and enjoy spending time together, but we won't be doing any more shows before the New Year.
Despite being exhausted last night, I really enjoyed playing for some friends who hadn't been out to see me play before. Four friends of mine & their significant others, all came out for the first time on the same night! (Some brought family members and friends as well.)
You guys are great! I hope I remembered to say "thanks" to all of you before you left. I was pretty tired & stupid by the end of the evening. Donna, Murray, Heather, Joanne (aka Karen 🙂  ) … Thank you, I hope you enjoyed the show, and I hope to see you again at another one in '09.
…this is just
my blog.
My "real" website is
www.bassic-sax.info.
If you're looking for
sax info,
you should
check it out too.
There's lots there!
© 2008 – 2009, Helen. All rights reserved.