I must admit I spend very little time watching stuff on YouTube, but last night I was doing some "real" computer work…spread sheet data entry…and I was starting to look too much like this 

. I decided I would take a break by poking around YouTube & seeing what I'd find that was new to me.
I happened to came across a few videos of this 20 something, female, alto saxophone player from Japan by the name of Kaori Kobayashi. If you haven't heard her play, and you like Dave Sanborn, then I suspect you'll like her.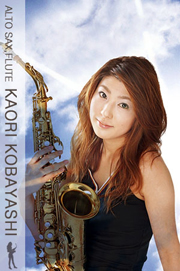 Her rendition of the 80s pop ballad, Nothing's Going To Change My Love For You, is beautiful. Her solo that begins around 4:15, just after the guitar solo, sounded astonishingly like listening to Sanborn himself. Obviously she either studied with him, or was at least heavily influenced by his playing. Whichever the case, she is quite the sax player ❗
There are a number of her songs on YouTube, and definitely she is worth a listen.
From what little I could make out on her website, she just released a new album titled Shiny, in June of this year. A search for her albums on CD Universe shows 2 available recordings: Glow (2007) & Solar (2007), as well as an untitled (2006) one that is currently on backorder.
…this is just
my blog.
My "real" website is
www.bassic-sax.info.
If you're looking for
sax info,
you should
check it out too.
There's lots there!
© 2008 – 2009, Helen. All rights reserved.