Last PM's Deception show at the Gourmet Gallery was a blast! Everybody seemed to have a good time, and the beer was sold out. (Despite the management having brought more in for the evening.) Thanks to the Gourmet Gallery for having us there again. We look forward to seeing you all there again in the fall.
We ended the PM with a slow ballad performed by our drummer Gary Huntbatch, called After Hours. I decided to "walk the bar" for that one, or in my case it would be more appropriate to call it "stagger the bar". It was quite funny really. Despite not having had a drop to drink, I walked more like a drunk than anyone who has consumed a bottle of wine or a 6 pack. I wandered around for most of the song, but got too tired about 3/4s of the way through it, so I sat down at a table with some of the patrons and finished the song from there. I looked ever so much like I had a few too many…

After the show was over and I was trying to figure out how to put my stuff away, I realized that if my neurologist was to run an EEG at that moment, it would most likely have looked a bit like this…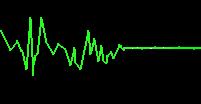 I felt totally brain dead. There was nothing left….
Despite having sat down for the whole show…Despite have rested and napped throughout the day to get up enough energy to even be able to play at all…This is what is so frustrating about this freakin' neuro nightmare I find myself in….While the actual act of playing is amazing, and allows me to feel almost like I'm not really ill with some nasty neuro problem, the before and after is exhausting. I pay dearly, and today is payday.
…this is just
my blog.
My "real" website is
www.bassic-sax.info.
If you're looking for
sax info,
you should
check it out too.
There's lots there!
© 2008, Helen. All rights reserved.