There's a relatively-seldom-seen brand of saxophone on eBay right now. The name on the bell reads Acme Master, but the horn was made by Malerne.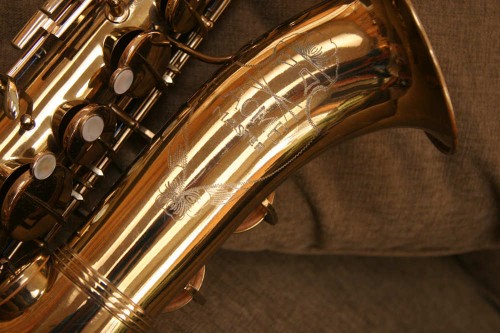 Source: alex13blackpanther
This Acme Master appears to be in very nice condition, and still has most of its lacquer intact. The pictures don't show any obvious signs of damage to the horn, and furthermore, show a sax that likely spent the majority of its life as a closet horn.
  Source: alex13blackpanther
The seller describes the horn like this:
VINTAGE MALERNE ACME MASTER SAXOPHONE MADE IN FRANCE .SERIAL NUMBER 3547 WITH MATCHING NUMBERS ON THE NECK.

THIS INSTRUMENT LOOKS TO BE IN EXCELLENT CONDITION FOR THE AGE. IT COMES IN A BULL'S HEAD HARD CASE . THE MOUTH PIECE IS MARKED FRANCE ( M ) . INCLUDED ALSO IS A BATES SAX CHAIN ( MERIT ) AND OTHER MARKED SLING THAT LOOKS TO BE BAKELITE. THE CORK ON THE NECK NEEDS TO BE REPLACED . THE ORIGINAL FINISH IS IN VERY GOOD CONDITION AS YOU CAN SEE ON THE PICTURES. THEIR IS NO DENTS ON THE INSTRUMENT. I DO NOT KNOW ANY THING ABOUT MUSICAL INSTRUMENTS SO PLEASE LOOK AT THE PICTURES FOR MORE DETAILS
Alright already, we heard you. There's no reason to YELL. 😛  … I guess some people didn't get the memo that capitals = yelling.  😀
These Malerne horns have a fairly strong following. If you are interested in finding out more about them, check out the Malerne forum on SOTW.
I should mention that there appears to be quite a bit of mystery about the Malerne brand, as well as quite a bit of contradictory information on the 'Net. (Including on this site.) 😉
Kim has this page with info, photos, and links on his Doctor Sax site. Meanwhile over on All Experts, Grant Koeller replied to someone's question about an Evette Schaeffer horn with this answer.
If this shiny looking Acme alto floats your boat, you have until April 22 to get your bid in.
Bidding is to start at $650.00. However, there were no bids yet at the time of writing.
…this is just
my blog.
My "real" website is
www.bassic-sax.info.
If you're looking for
sax info,
you should
check it out too.
There's lots there!
© 2012, Helen. All rights reserved.