A few days ago, as I was virtual window shopping on eBay, I happened across a most unusual little gem. It was a promotional shot of a professional female saxophone player from Germany. The card was dated May 28, 1945.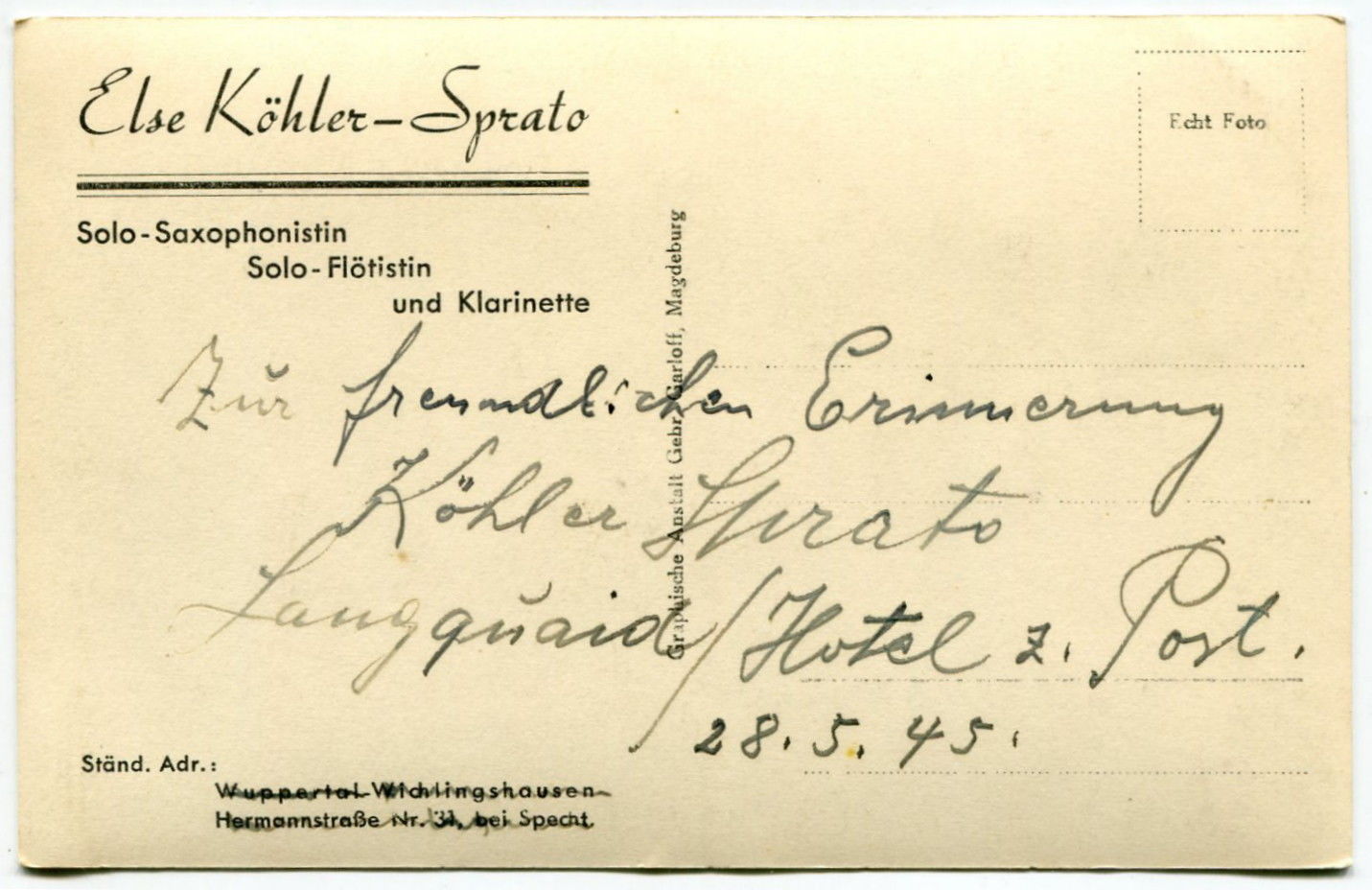 Source: mondopix on eBay.com
Else Köhler-Sprato was a solo saxophonist, flutist, as well as clarinetist, who, it would appear, was working in German hotels during WWII. The photo of the performer on the front of this promo shot, shows a woman who is not relaxed, but rather ready to bolt at a moment's notice. If I had to guess, I would say that she has the look of someone who has experienced a number of tragedies during the war, and is just waiting for another one to hit.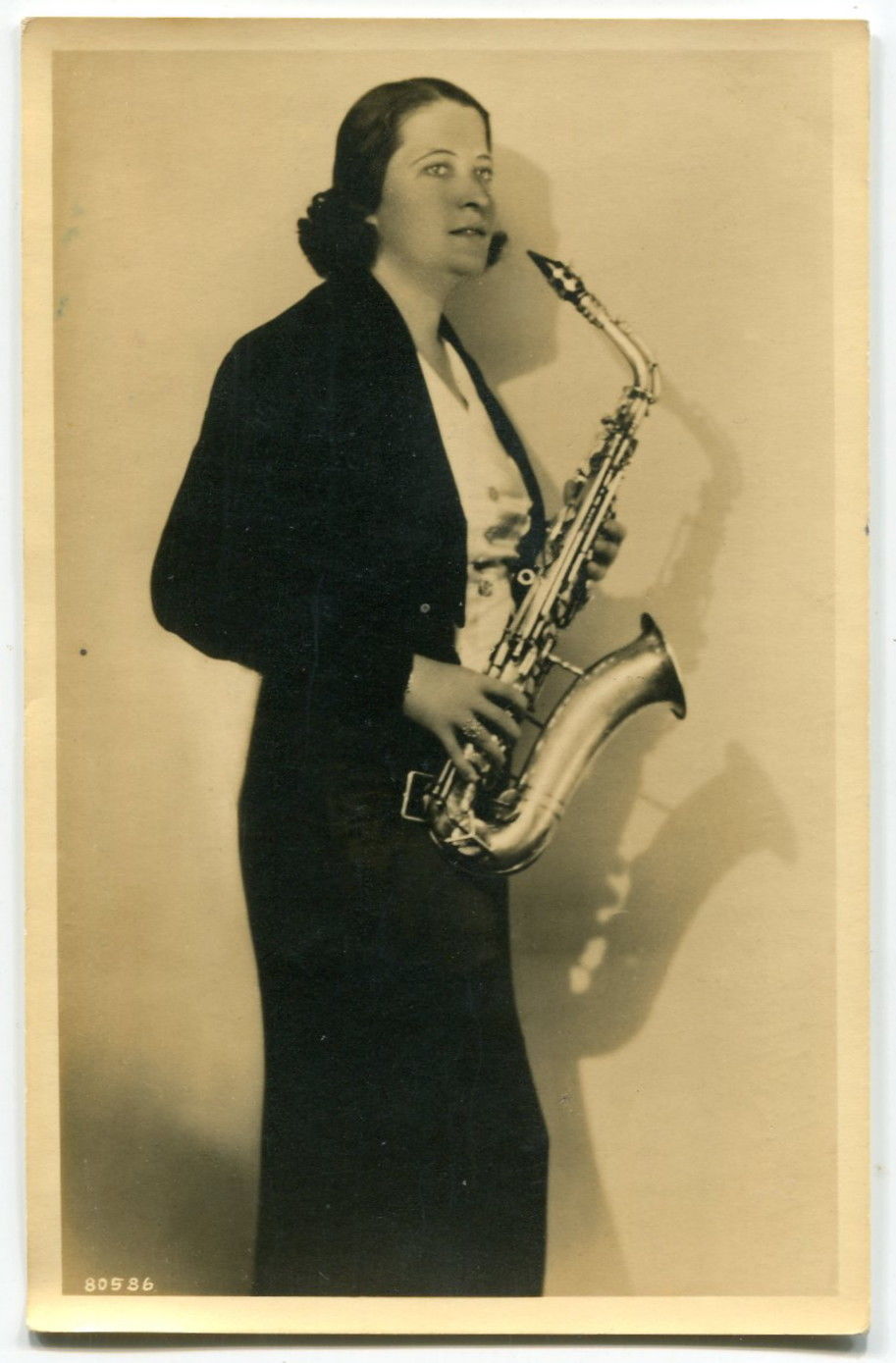 Source: mondopix on eBay.com
Let me speculate wildly for a moment…
My mother was born in Stuttgart, and was a very young girl when WWII broke out. She told me stories of how the homes she and her grandmother lived in were bombed not once, not twice, but on four different occasions during nighttime bombing raids. The bombs used were fire bombs, which left the structures not only destroyed, but burning to inflict even more damage to the surrounding structures.
I noticed that the back of the promo shot for Else Köhler-Sprato had an address in Wuppertal crossed out. A quick Google search this morning confirmed my hunch, that Wuppertal, like Stuttgart, was bombed heavily during WWII.
Fire bombs were used in nighttime attacks on Wuppertal by the RAF on May 29-30, 1943, and again less than a month later on June 24-25. Making the situation more dire, the fire department was ill-equipped to deal with the resulting fires.
Other Allied aircraft also carried out numerous smaller air raids on Wuppertal. Overall, more than 6,500 people lost their lives during World War II in Wuppertal from such raids; 38 percent of the built-up urban area was destroyed.

Source: wikipedia.org
That is A LOT of destruction and loss of life. Just imagine that nearly 40% of your city was destroyed, and 6½ thousand of the people in your city were killed. That would be enough to mess most people up, and some shell shock would likely be reflected in a portrait.
Of course I am really just speculating wildly here, since we don't know exactly when the photo of Else Köhler-Sprato was taken. However, it is fair to say that Köhler-Sprato no doubt did know some of the horrors of war, but despite them, she continued on doing her job: playing saxophone, flute, and clarinet professionally in hotels in Germany.
Something that has me scratching my head is her double-barrelled name. Did she just have a hyphenated name because she was born with one? Was she married? Did she hyphenate her name when she got married? All of my family in that generation wore their wedding rings on their right hand. Is what she was wearing an engagement ring? Alas, we will never know.
Enough speculation, what we do know about Else Köhler-Sprato
In short: not much. I have googled her name, and even the hotel that she may have been playing at in 1945, but have come up with nothing. Perhaps if I tried some German search engines, and/or perhaps searched the archives of Wuppertal—if any survived the war—I might be able to turn something up. Short of doing something like this however, our knowledge of Else Köhler-Sprato is based on the promo shot, and the information on the back.
We already know that she played solo clarinet, flute, and saxophone professionally in Germany during WWII.
The promo shot is dated May 28, 1945. This was just 20 days after Germany signed the German Instrument of Surrender that ended the war in Europe.
Although her name is Köhler-Sprato, we have no way of knowing if she is related to Franz Köhler, the Graslitz-born saxophone maker. However, given that Köhler is one of the most common German surnames1, there is a good chance there was no relationship.
We do know Köhler-Sprato played an alto saxophone.
Based on the photo, the alto she had in her possession appears to be one built by G.H. Hüller.
Although the alto is missing the D resonance key that some of the company's models had, there are enough other features to easily ID the brand.
Here is a G.H. Hüller alto with the same features. It is alto # 27736.
Note the Mercedes-style low C key guard; the bell to body support brace; the shape and placement of the C/D trill key; as well as the angle of the forward-pointed bell. These features are all the same as on Köhler-Sprato's alto.
Then there is also the micro tuner on Köhler-Sprato's alto. It is also the same as we see on G.H. Hüller saxophones.
So in conclusion then…
I cannot even imagine what it would have been like, performing for a living in a war zone. For generations, we in North America have been extremely fortunate to not have known death and destruction on a massive scale, due to war being fought on our home soil. I would argue that North America has never seen death and destruction like Europe saw during WWII, or like what the Middle East is seeing today.
Now just imagine going out and trying to make a living for yourself or your family in the middle of a war zone, doing the only thing you know how to do: playing music. Unless a person has lived it, I don't think anyone can really comprehend what this would be like.
I know neither of my parents talked much about the war years in Germany. Both of my parents were very young then, and from the little I heard, I could tell that it affected them greatly—and not in a good or positive way. The war forever changed my parents. It's like they put big parts of their young lives in boxes that they refused to look into.
Researching this article has given me a much greater insight into what my parents must have gone through. Like that much-quoted cliché says: war is hell.
As for our mystery professional saxophone player whose promo shot I stumbled upon on eBay, Else Köhler-Sprato is an enigma wrapped in a saxophone polishing cloth. I wonder what ever became of her. Did she continue playing professionally in what would become West Germany? Did she get married? Did she change her name? Did she have children? Whatever became of her instruments? Is her G.H. Hüller alto one of the ones we have seen for sale over the years?
I would doubt that Else Köhler-Sprato is still alive, but perhaps relatives of hers are. If so, perhaps one will someday stumble across this article and tell us some of this woman's backstory.
___________________________________________________________________________________________
1 Source: German Surnames – Meanings and Origins
© 2017, Helen. All rights reserved.