Now while this might not be earth shattering, this Orsi-made La Monte baritone is a first for me. I had previously not seen anything other than alto and tenor Orsi-stencilled, La Monte saxophones.
La Monte had a habit of ordering their saxophones from the Italian instrument manufacturer Orsi. Although we do see the occasional stencil of a pro model Orsi—such as this La Monte Superior—by far and away, most of the La Monte saxophones that pop up for sale on eBay are stencils of Orsi student model saxophones.
The baritone currently on eBay is no exception to this La Monte generally equals student model Orsi rule. It is a low Bb baritone, with left-sided bell keys.
     Source: eBay.com
As you can see in the following page from an old Orsi catalogue, the pro model horn has a low A key, while the student model is keyed only to low Bb. Comparing the bell to body support braces and location of the bell keys, provide strong clues to whether the horn is a pro or student model.
Note the shapes of the support braces and location of the bell keys, and then compare them to the linked horns above, and to the professional and student versions of the alto and tenor saxes in the vintage catalogue that I have in this blog post.
The easiest way to tell the difference between a pro and student horn is by noting which side the bell keys are on. If they're on the left, it's a student model. If they're on the right, it's a pro model. Furthermore, the support brace was reinforced in the pro model, and more simple on the student model.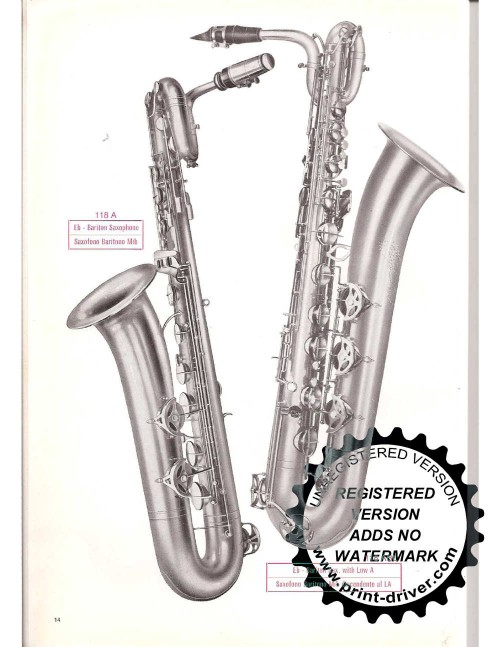 The seller of the baritone on eBay, describes the sax like this:
Vintage LaMonte baritone(Orsi Italy made) sax,needs work on the neck-body connection(photo 5),needs new pads,springs&corks,comes with gig-bag.GREAT CONDITION!!!
This is photo 5:
     Source: eBay.com
I'm not sure in who's world a necessary overhaul and body work in the pigtail region due to kinking = great condition, but because I regularly get people searching for La Monte landing on my site, I thought I should include this horn because it's a bit unique.
The rest of the photos do show a decent looking horn.
        Source: eBay.com
The worry however of course is, that the fall, or whatever caused the torsion to the pig tail, also caused other bending in the rest of the horn that's not visible in these photos.
In any event, the auction for this Orsi-stencilled La Monte baritone runs until April 13. At the time of writing there were 4 bids on the sax, with the high bid being $117.50.
…this is just
my blog.
My "real" website is
www.bassic-sax.info.
If you're looking for
sax info,
you should
check it out too.
There's lots there!