Two months after moving back to BC, I was out with a friend to a local coffee house. What I didn't know before we got there was that the Gourmet Gallery hosted live music every Saturday. The night we were there, a blues band was performing. I was blown away by the guitar player. He was amazing!
During their set break I approached him and asked if I could talk with him. He said, "Sure, my name's Art." That was the beginning of great musical and personal friendships. Art Panchishin fronts Deception, and is the man whose guitar playing absolutely wowed me. I told him that I was really impressed with his guitar work, and that I was a sax player. I asked him if he would be interested in getting together sometime to see if we had any musical chemistry. I explained that although I was primarily a blues and rock player, I was interested in putting together a jazz combo, and was looking for a guitar player. He was upfront with me, and said he doesn't do anything but blues work, but he would still like to get together and jam.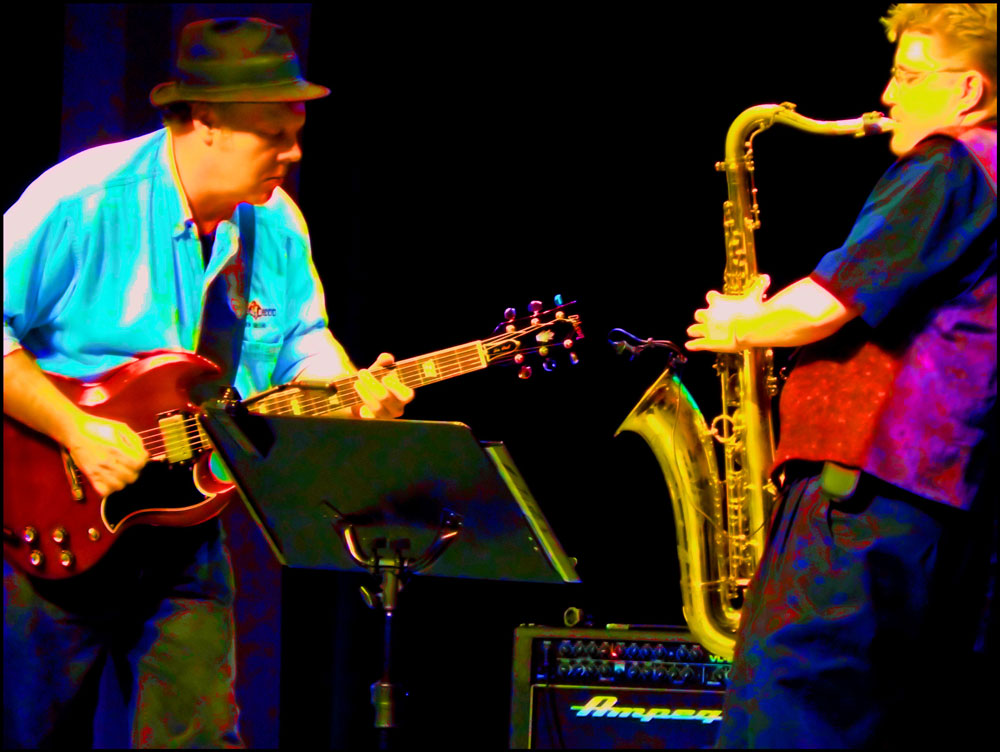 Photo by M. Margison Digital effects by H. Kahlke © 2008
A couple of weeks later, he and I met in his studio and we jammed for about an hour. It took less than 5 minutes for me to realize that yes, Art and I had amazing musical chemistry. He asked me to come to the band's next rehearsal. At the time, I was playing baritone with an R&B band in Vancouver, so I was not able to commit to much more. The more I rehearsed with Deception though, the more I wanted to play with them all the time.
Before working with Deception, I had only worked with 2 musicians with whom I had this level of musical chemistry. Art and I are able to have great musical conversations through our solos and solis. Over time our transitions from sax to guitar or vice versa have become nearly seamless.
If you like blues, Deception is a band you need to hear. Our music spans the best of the 20th century blues archives, the work of influential blues performers, and the variety of styles that the time and the players brought to life. Come on out, and give us a listen. I think you'll like what you hear!