Anyone who has seen the crippling effects of dementia in a loved one such as a grand parent or parent, knows first hand that aging can be a bitch. It doesn't need to be however, because over the years researchers have found a number of things that people can do that can lead to healthier brain-aging, and yes, saxophone playing is one them.
OK, so it's not as simple as it sounds, because according to an article just published on PakistanTribe.com, it's not just learning to play the saxophone, but playing for years that keeps your brain fit:
Whether it's the saxophone, the piano, or a ukulele, researchers found that playing an instrument for 10 or more years was correlated with better memory in advanced age compared to those who played music for less than 10 years (or not at all).
Where are they getting this from? It's from a 2003 study published in the New England Journal of Medicine, which was authored by Joe Verghese, M.D. et al.
Since that landmark study researchers have found quite a few other things to reduce a person's risk of developing dementia. They include:
Eating a healthy diet full of fruits and vegetables;
Participating in regular exercise and walking regimes;
Dancing;
Listening to music (baroque is especially good for improve the brain's plasticity);
Speaking two or more languages;
Playing board and card games.
Something to avoid: multitasking, because it over-taxes the frontal lobe, which:
…regulates decision-making, problem-solving, and other aspects of learning that are critical to maintaining brain health. Research has shown that doing one thing at a time strengthens higher-order reasoning, or the ability to learn, understand, and apply new information.

Source: PakistanTribe.com
So there you have, just in case you needed another reason to keep practicing your saxophone, reducing your risk of developing dementia is yet another good one…. Not to mention, Buescher assured us that we'll be the life of the party.

  …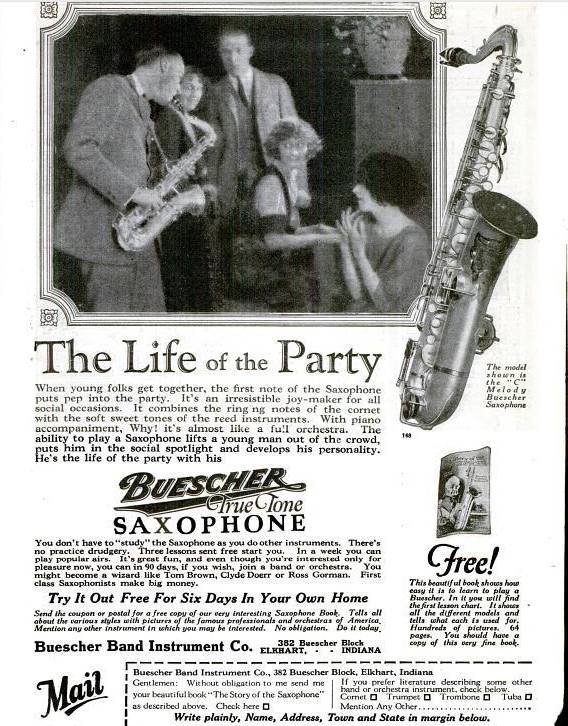 …this is just
my blog.
My "real" website is
www.bassic-sax.info.
If you're looking for
sax info,
you should
check it out too.
There's lots there!