Saxy Christmas kitsch: is it really that time already?
We were with friends the other night, and as we were looking at the December calendar planning our next evening together, I came to the realization that Christmas is only 5 weeks away.
   How did that happen? Where did 2014 go?
This would explain the sudden explosion of Christmas gifts, kitsch, and other stuff targeting the consumer that is everywhere from stores, to TV, to newspapers, to radio, to the Internet. Even eBay has gotten into holiday shopping mode already. On their homepage they've placed a large banner ad that alternates with other features ads, as well as a drawing of a mitten, along with the words "Shop Gifts".
Ah yes, with all this Christmas cheer floating around, I couldn't help myself, I just had to look and see what the latest in saxy Christmas kitsch was. Surprisingly—or maybe not so surprisingly—this year's early saxy Christmas kitsch was very similar to what we've seen in the past.
The new and improved Bassic Sax Kitsch Scale
All this Christmas kitsch made me revisit my original Bassic Sax Kitsch Scale that I developed in 2011. Yesterday I thought about how I could improve on this basic scale, and make it more informative.
Today I'm proud to unveil the new, illustrated Bassic Sax Kitsch Scale. With its easy-to-follow explanations, and clear illustrative examples, this chart will easily help you decide if what you are holding in your hands is truly a work of art, or simple a piece of kitsch.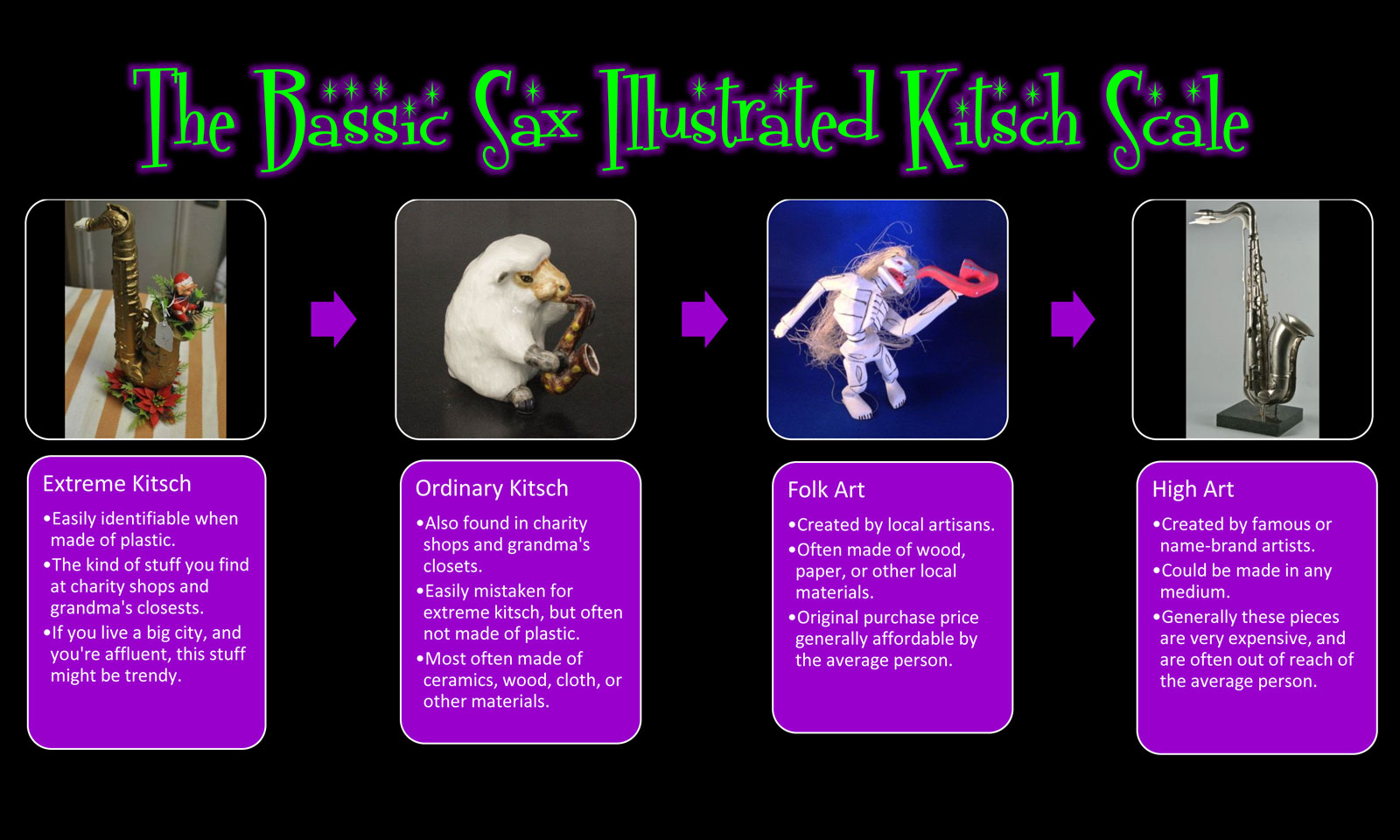 To show you how simple this chart is to use, I've chosen a random saxophone collectible currently for sale on eBay… This plastic Christmas decoration in the shape of a saxophone with an elf in the bell. (The word plastic gives it away as Extreme Kitsch, not to mention, it happens to be the object I chose to illustrate the Extreme Kitsch box.)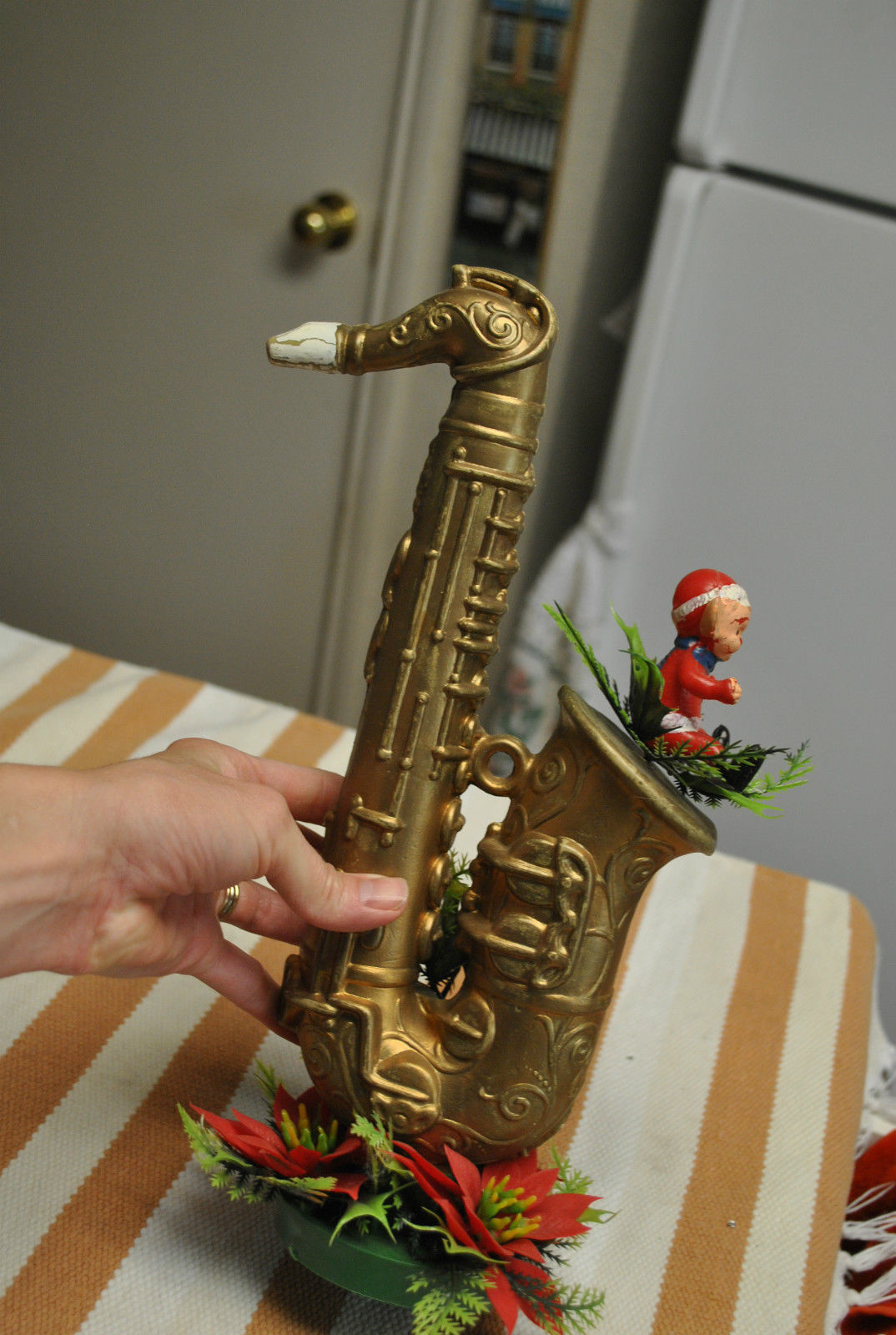 Source: keltool on eBay.com
Ah yes, it's hard to believe how your home could look more festive. This bit of saxy Christmas kitsch is sure to make any room in your house the centre of attention. The way the elf's paint is worn off due to age and/or use draws a person's eye immediately.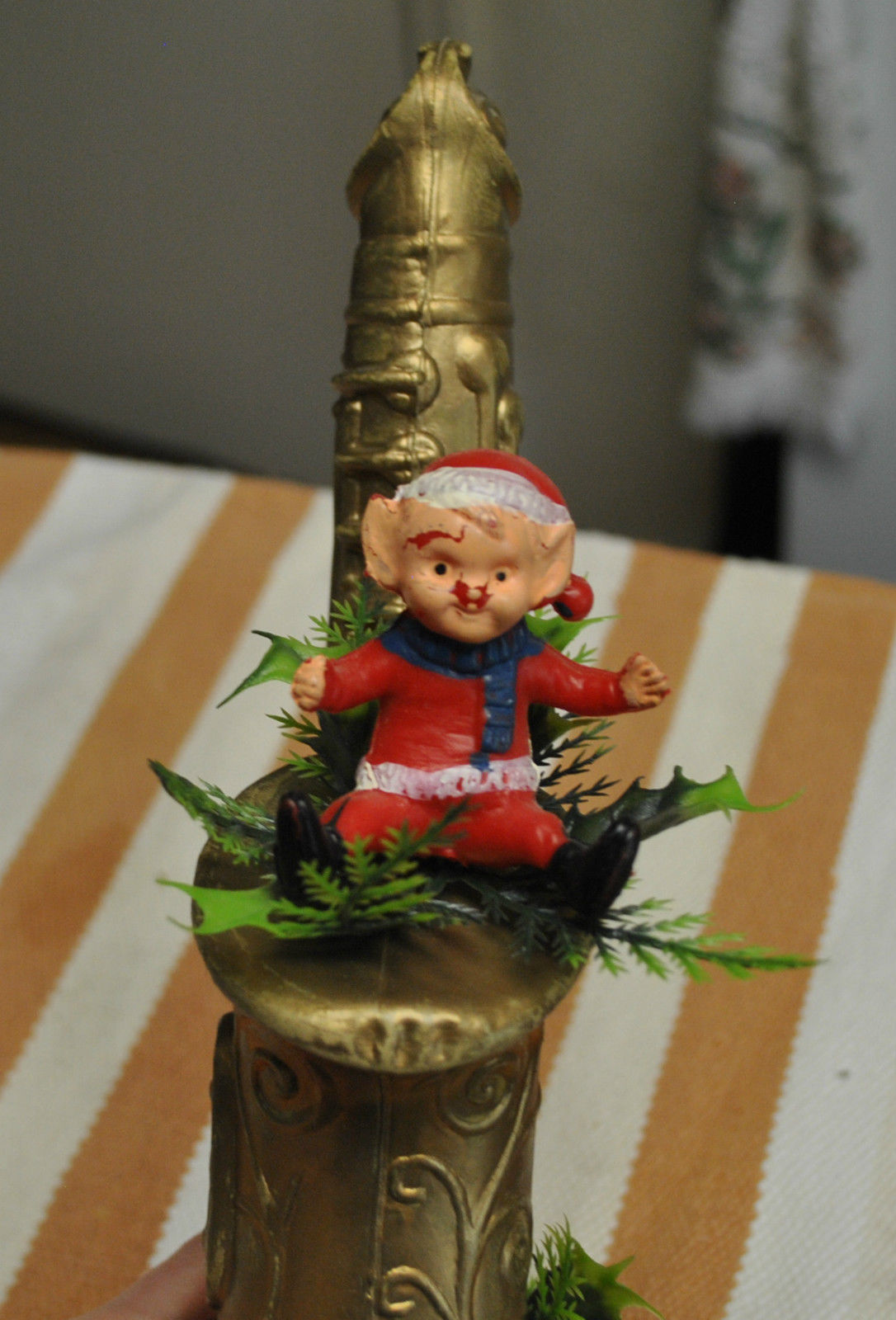 Source: keltool on eBay.com
And why wouldn't the owner of such a fabulous piece of saxy Christmas kitsch use it year, after year, after year, after year? … In the words of Billy Crystal, it simply looks mahvelous….
BTW, this is how the seller describes this bit of saxy Christmas kitsch:
For your consideration is a vintage mid century plastic Christmas decoration. It is in the shape of a saxophone with an elf on it. It measures 13″x 4″ x 7″ and is made out of plastic. . Condition: very good; there are areas where the paint has come off ( see pics) from a smoke free home & thanks for looking.
If you live in a big city—remember, that is a criteria for this to be trendy  
  —and you want to sax up your holidays with this bit of vintage Christmas kitsch, you only have until tomorrow night to get your bids in. The auction for this bit of saxy Christmas kitsch ends on November 20, with bids to start at $9.98. There had been no bids yet at the time of writing.
…this is just
my blog.
My "real" website is
www.bassic-sax.info.
If you're looking for
sax info,
you should
check it out too.
There's lots there!