The last couple of days I have been doing some experimenting with a new look for this weblog portion of my website. It has taken a lot of hours of trial and error, but I believe that I have chosen a new look that is not only appealing, but also very functional.
On my test site I have been trying out various magazine-style looks, and believe I have found one that does everything I want it to. Now I'm just trying to figure out how to configure and customize everything so that my site still looks, well, like my site.
Once I have everything worked out on my test site, I will be migrating all the changes over to this, the real Bassic Sax Blog. Hopefully that will be rather seamless, and will only take a few hours of final tweaking to get everything exactly as I want it.
The biggest challenge for me in all of this is simply the size of the site; the huge collection of tags and categories that it contains; and therefore trying to find the best navigation systems possible to enable people to find what they need quickly.
Another challenge for anyone creating websites these days is how people now view websites.
Back when I began The Bassic Sax Blog, very few people used anything other than a computer to look at websites. Today phones, tablets, TVs, and computers are all used to view sites. Designing a site that looks good and is easy to navigate on any device is not as easy as it might seem.
So fingers crossed that I can get this done in the next week or two. Today I am going to have to dig into an old hard drive and see about finding some pics I took back in '09 and pretty them up a bit via HDR. These images are going to be used on a presentation page. This shouldn't take more than a few days to get exactly perfect…
Since with this upcoming new look the Bassic Sax Blog will state of the art—or at least what passes for state of the art this month—I thought it would be fun to see where it came from. A quick search in the Internet archives pulled up this very first version of my website from 2002. (My site went up in 2000, but they didn't crawl it earlier it seems.)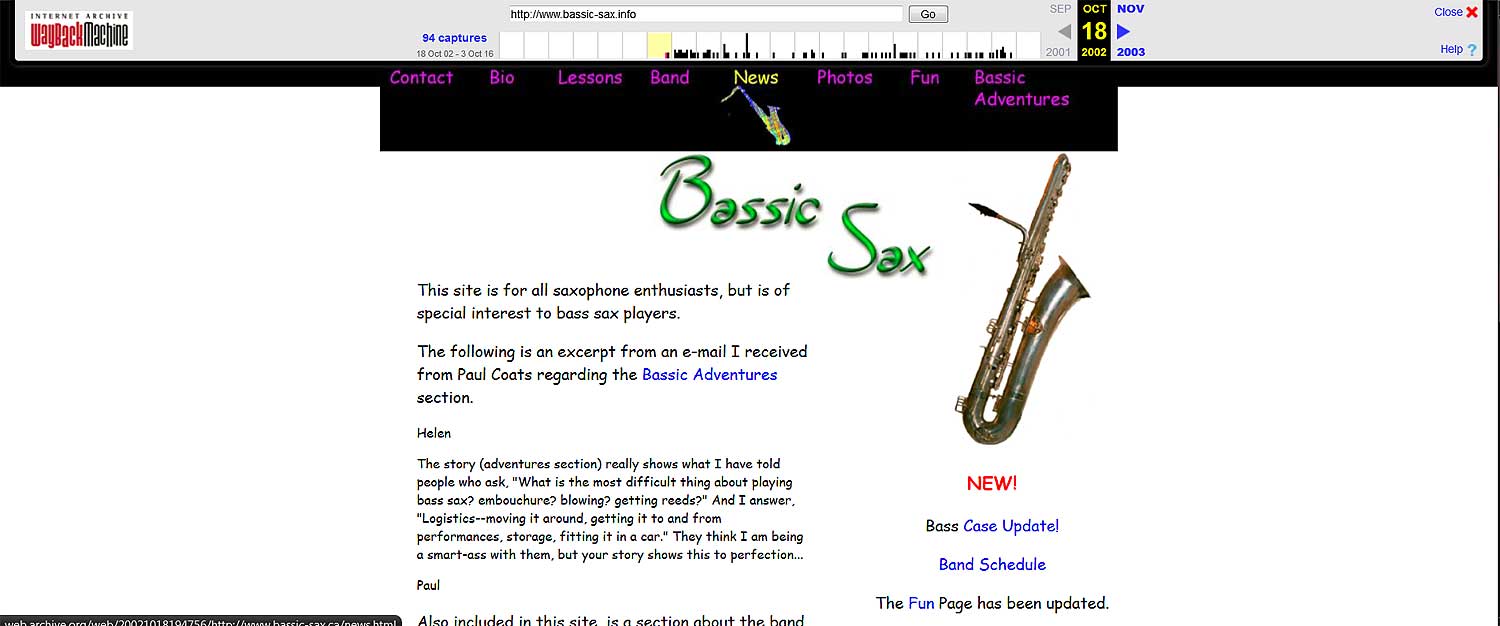 Oh my, how things have changed. This is almost as bad as looking at my high school photos. 😉
Just as fashions change, so do website designs, and more importantly: functionality. So wish me luck as I toil away on this task. In a month or two I will have forgotten how much work this was… Nah, not really, since after The Bassic Sax Blog gets its new look, The Bassic Sax website will have to be updated as well…   😮  I really do need an admin assistant.
…this is just
my blog.
My "real" website is
www.bassic-sax.info.
If you're looking for
sax info,
you should
check it out too.
There's lots there!
© 2017, Helen. All rights reserved.