I'm literally weeks behind in checking my emails, so when I finally opened my email program yesterday, I was excited to find a link to this eBay auction. It turned out to be a transitional Hohner President alto sax. It is serial # 10737, which would make it circa 1961.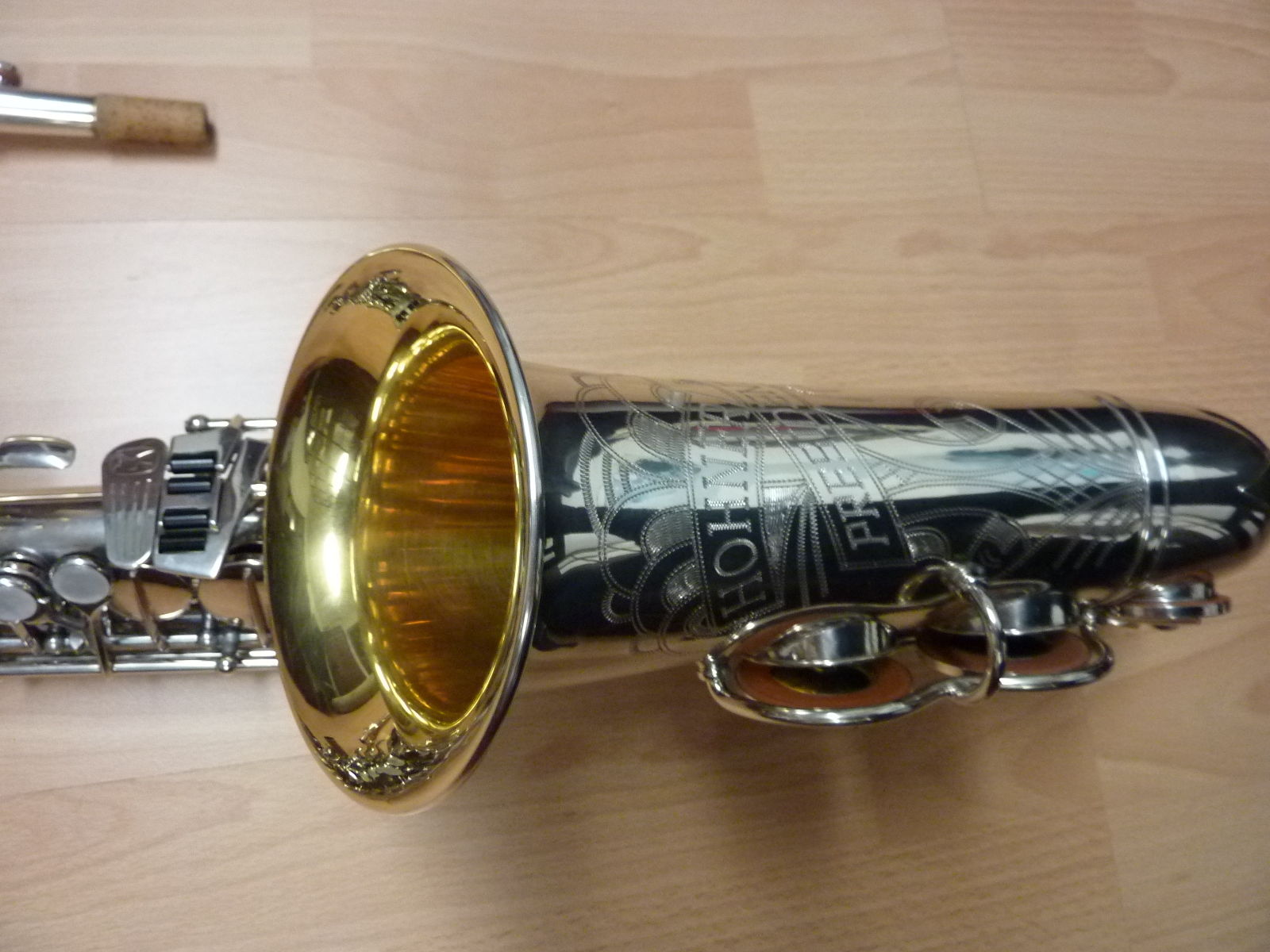 Source: maximilian1287 on eBay.de
If you've subscribed to my weblog for a while you know that I've been writing about, and researching the Hohner President saxophones for years. These saxophones built by Max Keilwerth are just as good as (better?) the more famous ones built by Max's brother Julius, but have generally not: 1. Received the recognition they deserved, and 2. Been researched and examined to see how they evolved over their 20 year production run.
In order to increase the sax-playing community's knowledge about these fine, Max Keilwerth-made horns, I created:
This morning's eBay find is exciting because it adds further information into the vat of knowledge about Hohner President saxophones. The photos provided of this transitional Hohner President alto sax show all the sides of the horn, and all its key features.
Note that it has the new style of G# key, and is keyed to high F#…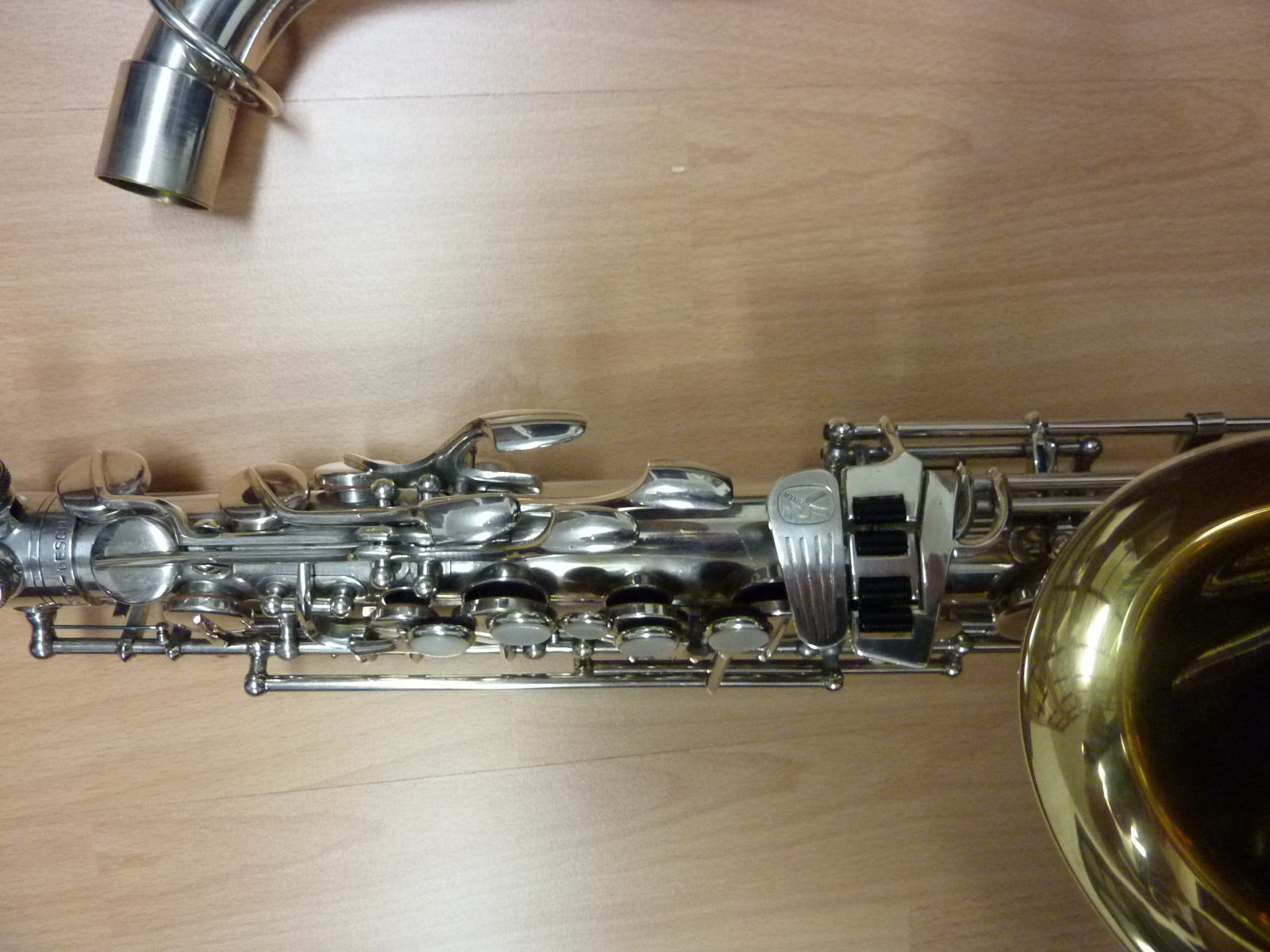 Source: maximilian1287 on eBay.de
While at the same time having rolled tone holes…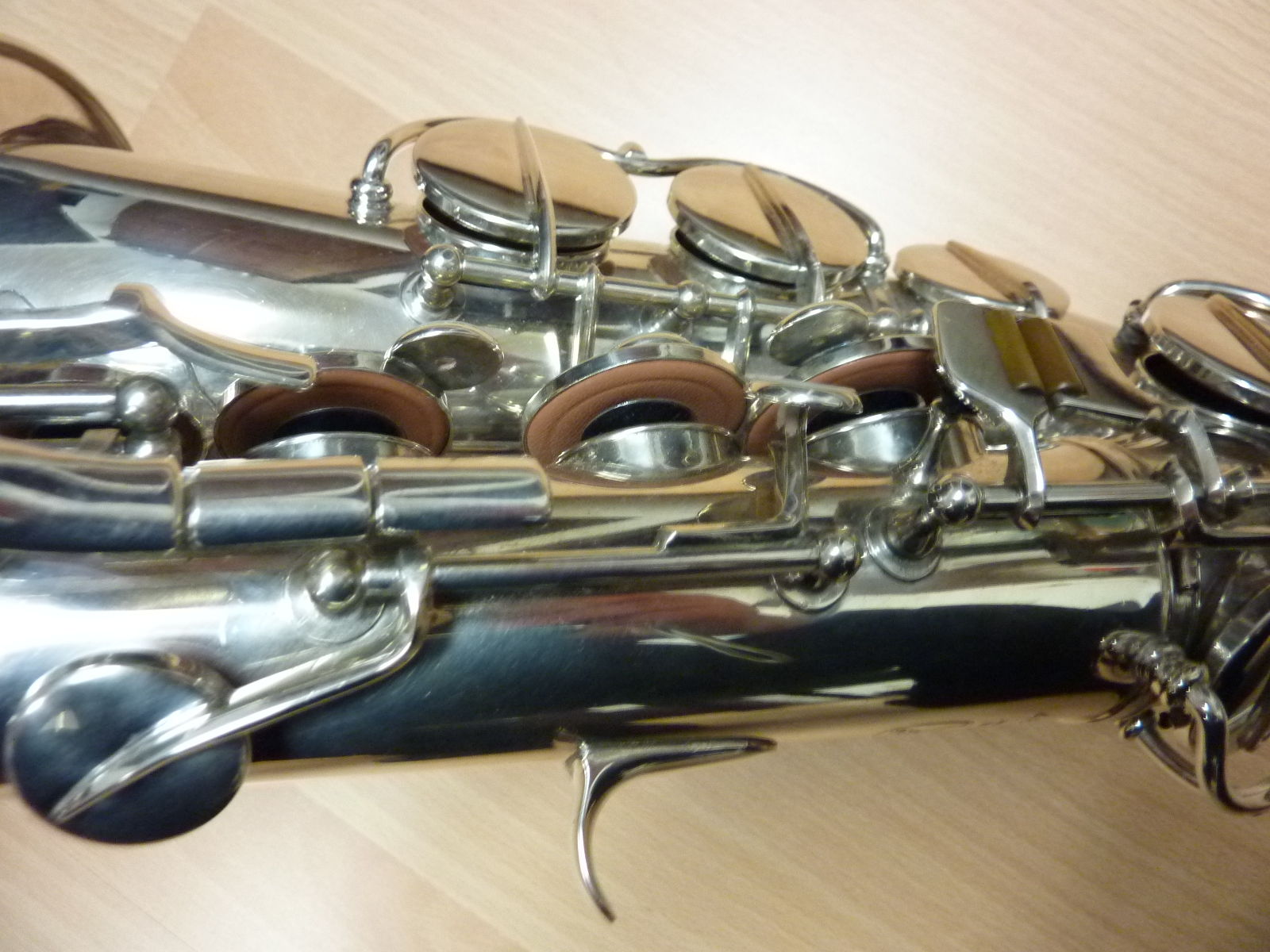 Source: maximilian1287 on eBay.de
Despite its older feature of rolled tone holes, it sports the new style bell to body brace…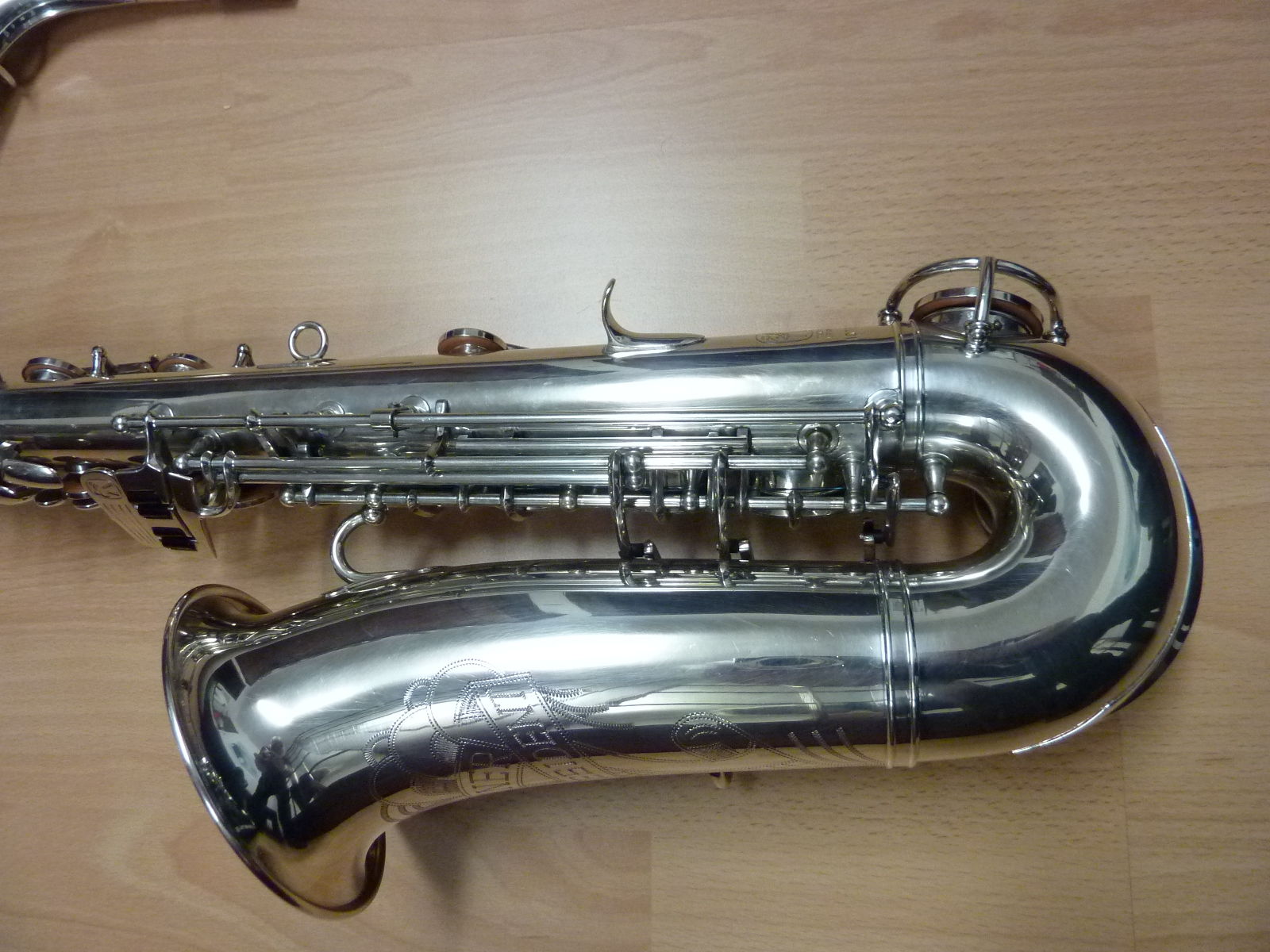 Source: maximilian1287 on eBay.de
Despite the new-style bell to body support brace, this transitional Hohner President alto sax still has a D/D# trill key…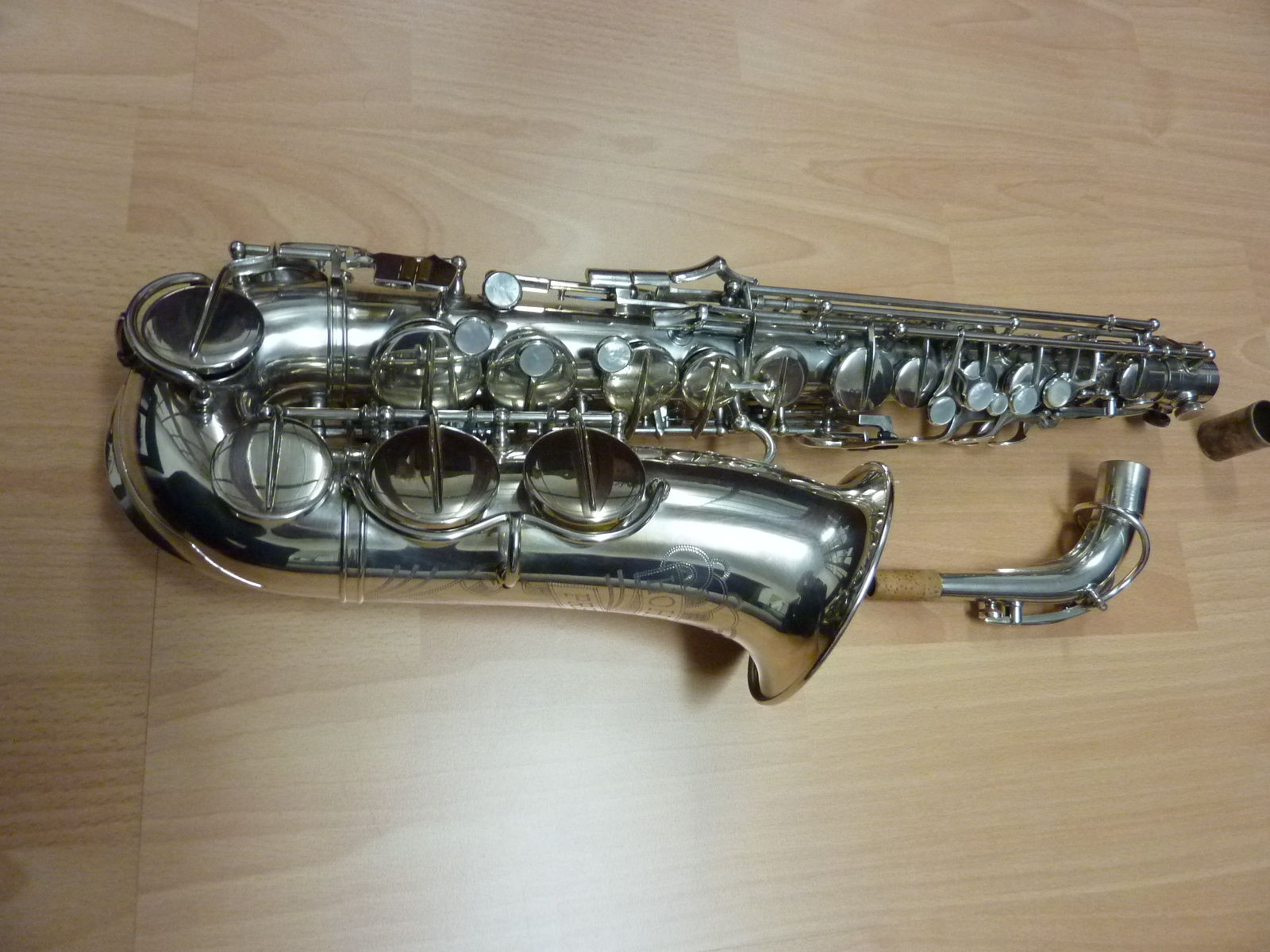 Source: maximilian1287 on eBay.de
I had previously done up a chart that illustrated the obvious changes that occurred at approximately the 12XXX stage of the Hohner President. Using that chart as a building block, I've now added the very early, as well as the transitional and late-model Hohner President saxophones to the matrix. Please note, this is a work in progress, and once finalized, will be published on the Hohner President page on my website.
Getting back to the transitional Hohner President alto saxophone currently for sale on the German eBay site, this is how the seller describes it:
HOHNER "President " versilbert, Becher innen vergoldet…. Original-Zustand unglaublich gut erhalten… voller fetter Klang,leichtgängige Mechanik..Hoch-Fis . Versilberung 100% erhalten ,keine Beulen oder Lötstellen etc…. bestimmt ein Exemplar in einzigartigem Bestzustand !!!!Original-Fotos…Koffer,stabil, gepflegt . . Das Saxophon wurde von Fachwerkstatt überholt und exakt eingestellt! ……es wurden für 600.- € alle Verschleißteile Kork ,Polster, Filz und zum teil Federn …. erneuert und dann nicht mehr gespielt.
Helen translate says:
Silver plated Hohner "President", with gold plating inside [the bell]… Original condition, unbelievably well maintained. Full, fat, tone; smooth key action; with high F#. Silver plating still 100% intact; no dents or solder repairs, etc. This is certainly an example in exceptionally top condition!!! Original photos… Case is sturdy and cared for. The saxophone was overhauled by a professional workshop and set-up to exact standards. All wearing parts: pads, corks, felts, and some springs, were replaced for €600. Reconditioned, and then no longer played.
Yes, this does appear to be a minty horn. Here are the rest of the pics of this transitional Hohner President alto saxophone…
There are only a few days left in this auction, since it is scheduled to end on March 7. Unfortunately the seller will only ship to Germany, so if you don't live there, or have family or friends who will take delivery of this lovely horn for you, you are likely SOL. 
If however, you do have the opportunity to bid on this fine transitional Hohner President alto sax, you have to start your bids at €1,150.00. I can tell you that at the time of writing no one had bid on this sax yet. I wonder if we'll see it again, or if it does sell at this price. This will be an interesting auction to watch.
…this is just
my blog.
My "real" website is
www.bassic-sax.info.
If you're looking for
sax info,
you should
check it out too.
There's lots there!