The other day I found out about the Heavy Mass Saxophone Neck Screw, which is the brainchild of Meridian Winds.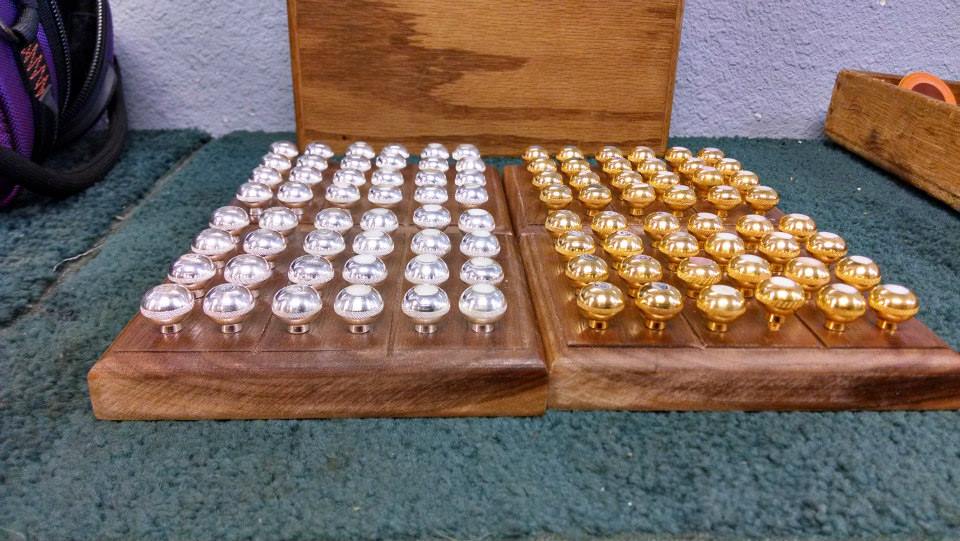 According to their Facebook page, this product:
"provides tonal character and color for some discerning artists",
"[is] available to fit all brands of saxophones, in Raw Brass, Silver Plated and Gold Plated versions", and
is handcrafted in Okemos, MI.
Despite the company showing these lovelies in all kinds of slightly-out-of-focus-detail, Meridian Winds is a bit short on details as to what their Heavy Mass Saxophone Neck Screw is supposed to do exactly. They do however, provide us with this shot of an informational card….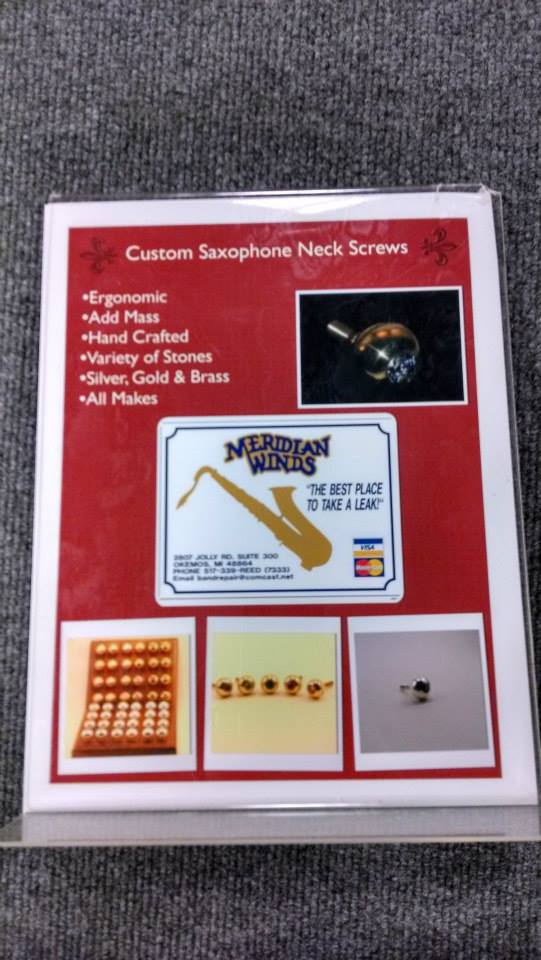 Again, it doesn't provide us with any real details about the product's supposed end result. Interestingly enough though, the company's catch phrase, "The best place to take a leak", is certainly familiar. It's been the Saxgourmet's catch phrase for at least as long as I've been aware (since 2000).
Similarity to Steve Goodson's catch phrase aside, adding weight to specific parts—nodes if you will—of the saxophone is not a new idea. As a matter of fact, years ago Steve Goodson designed a neck with nodal weights to increase mass at some pressure nodes that occur within the neck. This is supposed to improve the sound of certain notes that are otherwise dead—such as D2.
If you're familiar with Cannonball saxophones, then you're likely familiar with the semi-precious stones that they utilize for "enhanced resonance".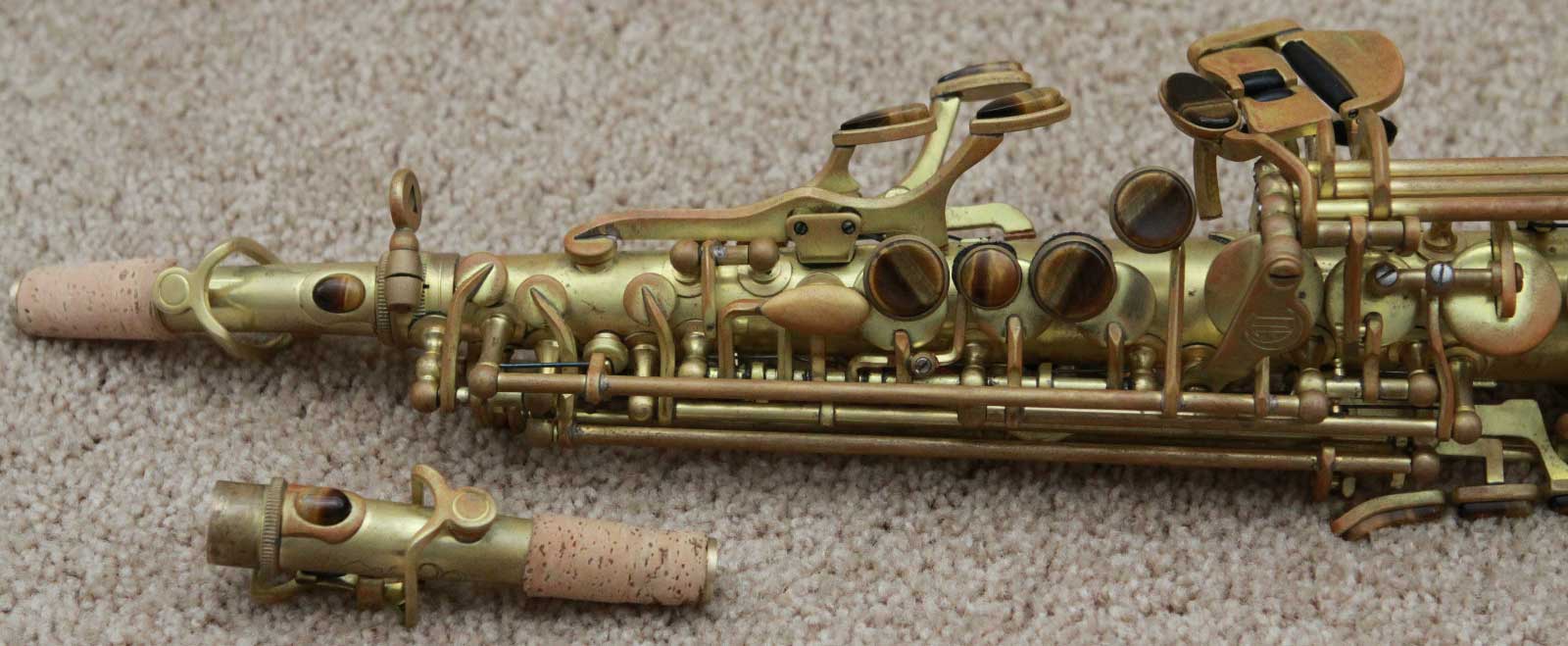 Source: 2saxy4u on eBay.com
Not only does Cannonball utilize these semi-precious stones on the neck, but also on the keys. The implication is that even the use of these semi-precious stone on the key touches changes the horn's resonance:
The Stone Series® is adorned with semi-precious stones. These beautiful stones give the instrument a striking look, as well as changing the way the instrument resonates.

Source: cannonballmusic.com
So is all this stuff true, or is it just snake oil? I'm certainly not an expert, but I can tell you that I've played a lovely Cannonball Stone Series Mad Meg tenor that belongs to a colleague of mine, and it is very close in resonance and tone to my 1950 Zephyr. However, both he and I prefer my Zeph to his Mad Meg for tone and resonance. Oh, and just to be clear, I haven't glued any semi-precious stones to my 95% naturally delacquered Zephyr.
The Heavy Mass Saxophone Neck Screw: bling, or serious resonance aid?
I really don't know what to make of the Heavy Mass Saxophone Neck Screw. If I buy into the nodal theory, then I could see that adding weights to a sax neck in strategic spots could in theory change the resonance of the horn. However, is there a node at the point of the neck screw? I don't know.
Are these things more ergonomic? Perhaps. Some people who have chimed in on the Meridian Winds' Facebook page certainly claim so.
One thing is for certain, if you like bling, or if you would like your saxophone's neck screw to match your body piercing, then the Heavy Mass Saxophone Neck Saxophone Neck Screw will likely appeal to you.  Note: All images below from Meridian Winds Ergonomic Heavy Mass Saxophone Neck Screw Facebook page.
…this is just
my blog.
My "real" website is
www.bassic-sax.info.
If you're looking for
sax info,
you should
check it out too.
There's lots there!