Yesterday morning I noticed a very unassuming, but somewhat unusual sax on eBay: It was this Indiana Band Instrument Co. tenor.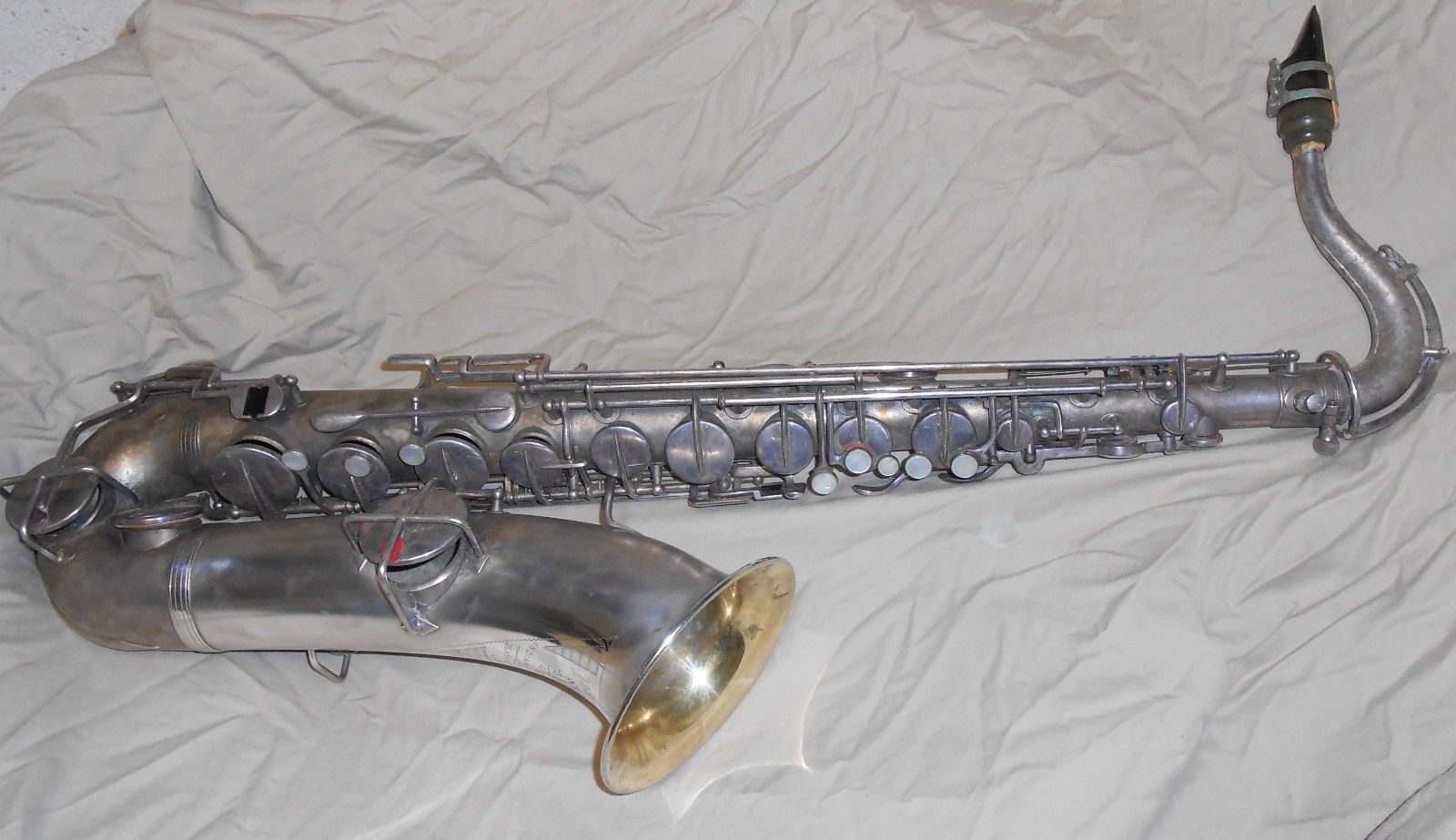 Source: shadows4u2 on eBay.com
At first blush there is really nothing special about this vintage silver plated tenor sax with its gold wash bell. Bevelled tone holes were normal on Martins, and even the front F key was found on Martin saxophones from the Handcraft Phase 3 onwards. As a matter of fact, the horn very much resembles my Martin Handcraft.
However, what is of special noteworthiness is the saxophone's engraving. Notice that there is no mention of Martin? This horn is simply engraved Indiana Band Instrument Co.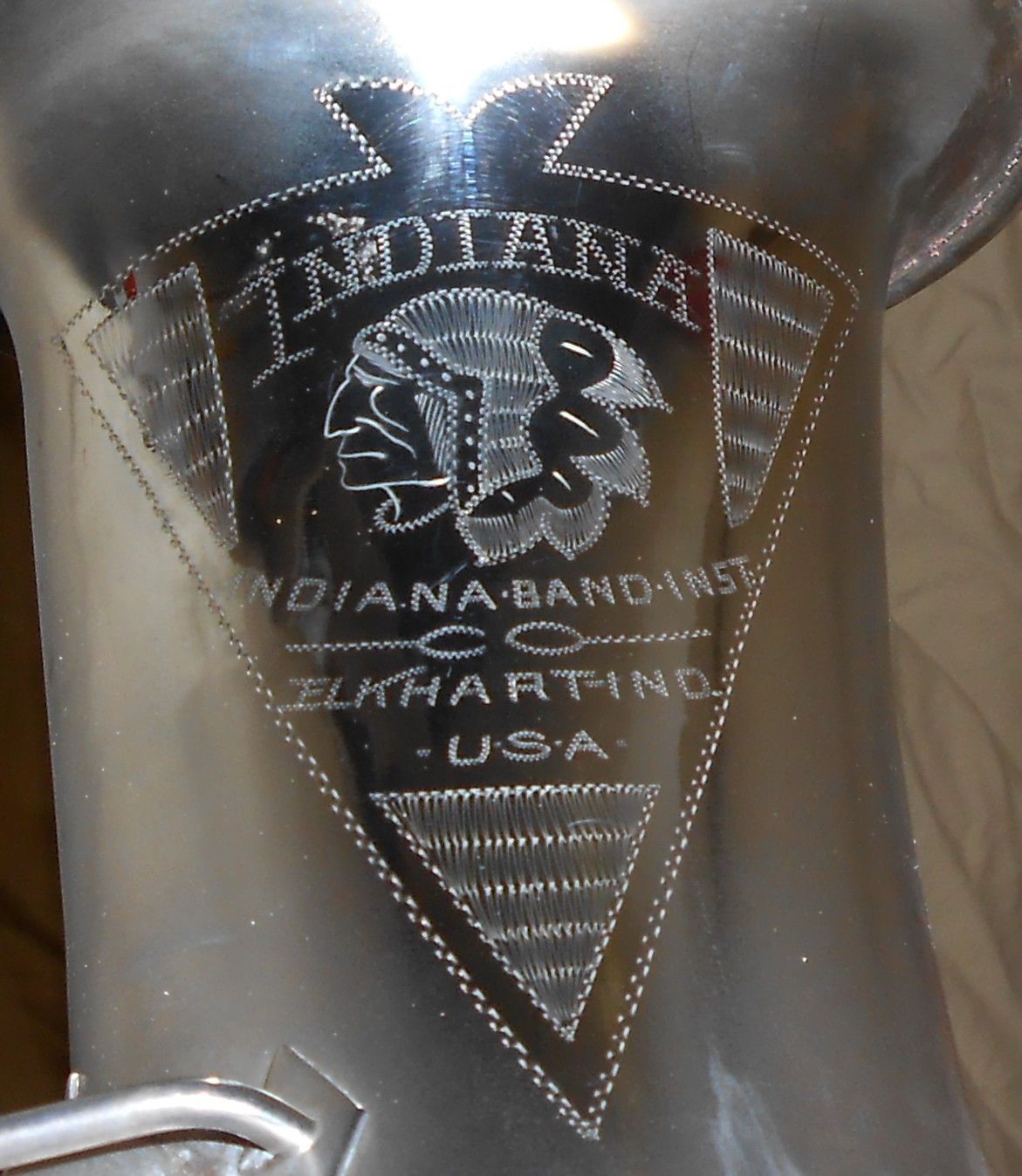 Source: shadows4u2 on eBay.com
While the Internet can be a great source of information and obscure facts, it can also be an incredible source of very inaccurate information. Case in point: The history of the Indiana Band Instrument Co., of Elkhart, Indiana.
If you were to Google the company name you would undoubtedly come across something that reads like the following paraphrase:
In 1928 Martin got controlling interest of the Indiana Band Instrument Co. (IBICo). It continued to operate as an independent company until 1942, when it Martin began using the name to produce its brand of student model horns. Some people argue that Martin's stencil saxes were made at the IBICo's plant as well.
Sounds good, right? Too bad that pretty much all the big name vintage sax sites have the info wrong.
The Indiana Band Instrument Co. was never an independent company at all. Music trade publications of the day state that the company was founded in 1928 by senior Martin personnel.1 This fact was confirmed by the grandson of Martin's then-President and General Manager, F.A. Holtz. This is what Chris Holtz (the grandson) has written:
To correct a little Martin history

By 1912, the Martin sons came to the conclusion that their contentious infighting could only be solved by selling their stock and going their own ways. Frank Compton purchased the company, but stayed only eight years.

In 1920, O.P.Bassett, a newspaper publisher from Illinois who had earlier moved to Elkhart to operate a local paper there instead, bought Martin Band Instruments with several Chicago partners. His partners opened a successful retail instrument outlet in Chicago on Wabash St , while Bassett, after hiring my Grandfather, Fred Holtz as Sales Manager, ran the Martin plant.

In December 1928, in order to broaden their customer base, Mr Bassett (majority owner and G.M.) and Grandad incorporated The Indiana Band Instrument Company. Like Conn had done several years earlier with their Pan American brand, and then Buescher, with their Elkhart Band Instrument division, it allowed Martin to produce and market a line of less costly instruments to those who could not afford the premium Martin offerings.

These entities were wholly owned by their parent, but at least in the case of MBI, both Martin and Indiana lines were built on the same line by the same craftsmen. These were long before 'student horns' were ever conceived. Rather Martin brought older retired top-of-the-line models (with existing tooling) back to life. The Indiana horns were of excellent quality (the Indiana saxophone, for instance, was a dead ringer for the older Handcraft Standard premium horn).

During war production buildup in 1942, Martin dropped the Indiana Band Instrument logo, and subsequently , labeled the horns as "INDIANA by Martin". MBI did keep the serial numbers on a separate ledger.

In 1961, Paul Richards, a businessman with little band instrument experience, purchased three companies (Martin, Blessing, Reynolds and their factories) to produce as many student horns as possible. With the success of 'The Music Man' on Broadway and the movie in the works, he had dreamed of a huge student horn boom. Sadly he was wrong and faced bankruptcy in less than two years.

Wurlitzer, a longtime Martin client) picked up the pieces and operates the Elkhart plant for several years, until the Leblanc sale. The Indiana horns were produced throughout all those years.

The serial numbers for the Indiana horns are available on TheMartinStory.net website. Hope that clears up a bit and Martin and IBICO history.

Source: tromboneforum.org
If you are interested in Martin's history, you might enjoy looking through a bunch of old (many date back to the 1920s) music trade publication clippings related to the company. If so, be sure to check out Chris Holtz's Google+ album. I just looked through the 180+ clippings this morning. There were some interesting little gems there.
Getting back to the Indiana Band Instrument Co. tenor currently for sale on eBay, it is indeed a fine-looking, but yes, rather plain tenor. That said, its appearance would indicate that it was not abused during its lifetime, and that based on its serial # (16805) the sax was produced circa 1936.
I won't bother quoting the eBay ad since its wrong, and if you're interested in the horn you'll check it out anyway. You'll definitely want to budget for an overhaul if you decide to go for this baby.
The thing is, IMHO the price is a tad on the high side. Bids are to start at $899.99. As you can imagine there are no bids on this Indiana Band Instrument Co. tenor yet. The auction for this vintage sax ends on October 3. Let's see if someone bites by then.
_______________________________________________________________________
1 Source: Jorns Bergenson and Head2wind in SOTW thread titled: Indiana band inst Elkhart Alto Saxophone
…this is just
my blog.
My "real" website is
www.bassic-sax.info.
If you're looking for
sax info,
you should
check it out too.
There's lots there!