If you've been following my weblog for a while, you likely know that I like to keep an eye out for photos of large saxophones that adorn the outside of buildings. The other day I happened across a shot on Flickr that shows an ornamental sax affixed to the outside of a music store in Wormerveer, North Holland.
Saxophone Teacher Lives Here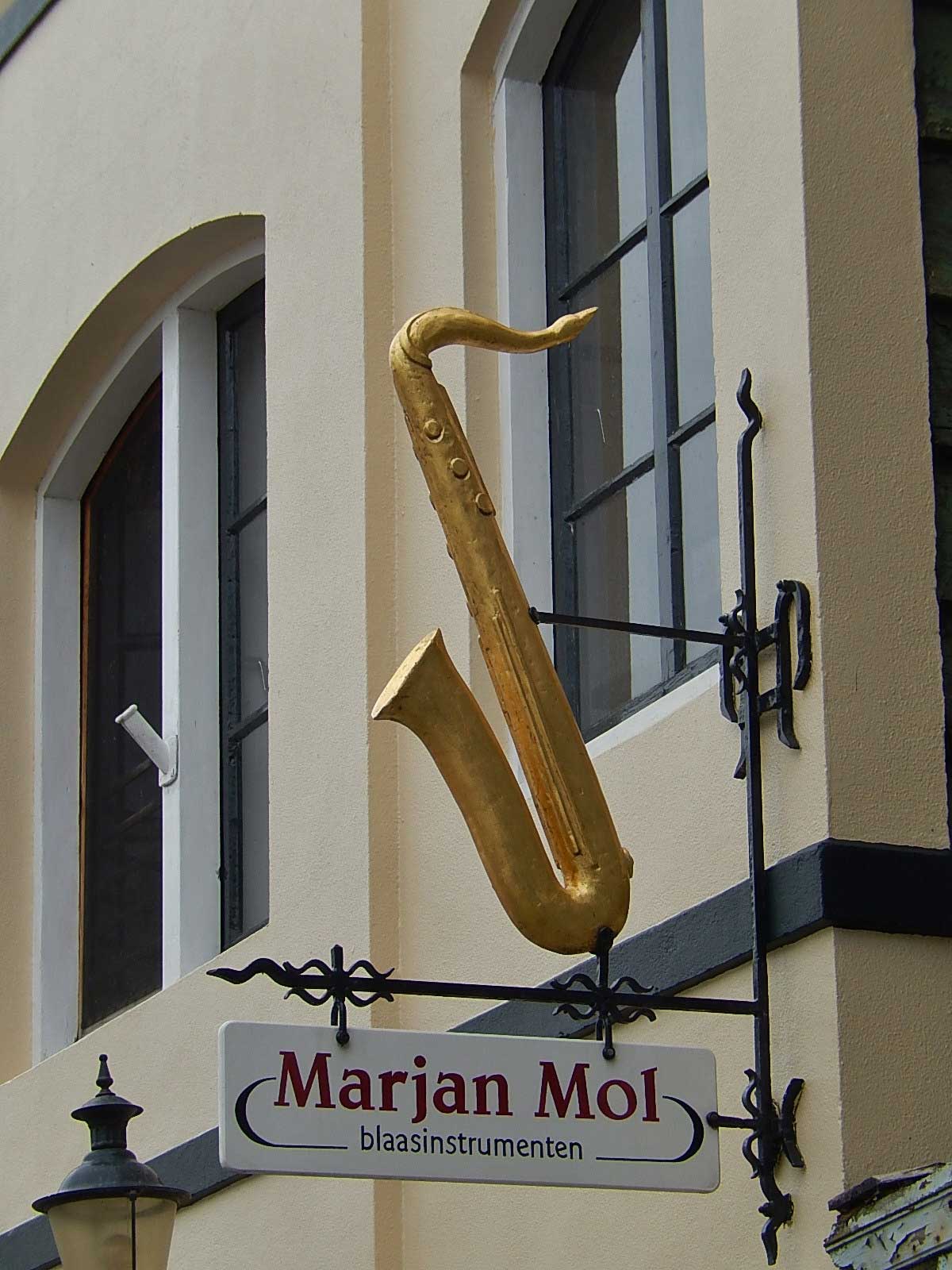 Source: Flickr  Photography by: Michael Coghlan
I'm not sure why Michael Coghlan would title his photograph like this, since from the outside it would have been clear that this ornamental sax is affixed to a retail store called Marjan Mol. Even if you can't read Dutch (BTW, blaasinstrumenten means wind instruments), a storefront should have given it away. 

Since I didn't know anything about either the town, or the store, a bit of Google sleuthing turned up a website for Marjan Mole blaasinstrumenten. Unfortunately a number of the pages on their site are still under construction, and those that are finished don't offer up a lot of information.
A bit more Googling, this time on Google Street View, tells us that Marjan Mole blassinstrumenten was not yet located at Zaanweg 4, in July 2008—the last time this street was indexed by Google Street View. There is no large, ornamental sax on the outside of building, and no mention of the company's name anywhere to be seen, just the name DE RUITER on the main floor, and a little green sign on the left side of the building.
Edit: I finally found a page on the company's website that indicates that they opened on June 3, 2009. Apparently the owner opened up this shop when the one he worked at closed down after being in business for 46 years.
I don't know what kind of repairs the shop does, or what kind of instruments Marjan Mole specializes in, but I must say I love their taste in signage.  
  Large ornamental saxophones always get my vote.  
…this is just
my blog.
My "real" website is
www.bassic-sax.info.
If you're looking for
sax info,
you should
check it out too.
There's lots there!