There is currently an alto for sale on eBay that were it a tenor, I would not be writing about it, but rather bidding on it. The horn I'm referring to is a Oscar Adler Triumph alto saxophone, and from what you can see in the pictures, it is in quite remarkable condition. It even comes with some of its original accessories.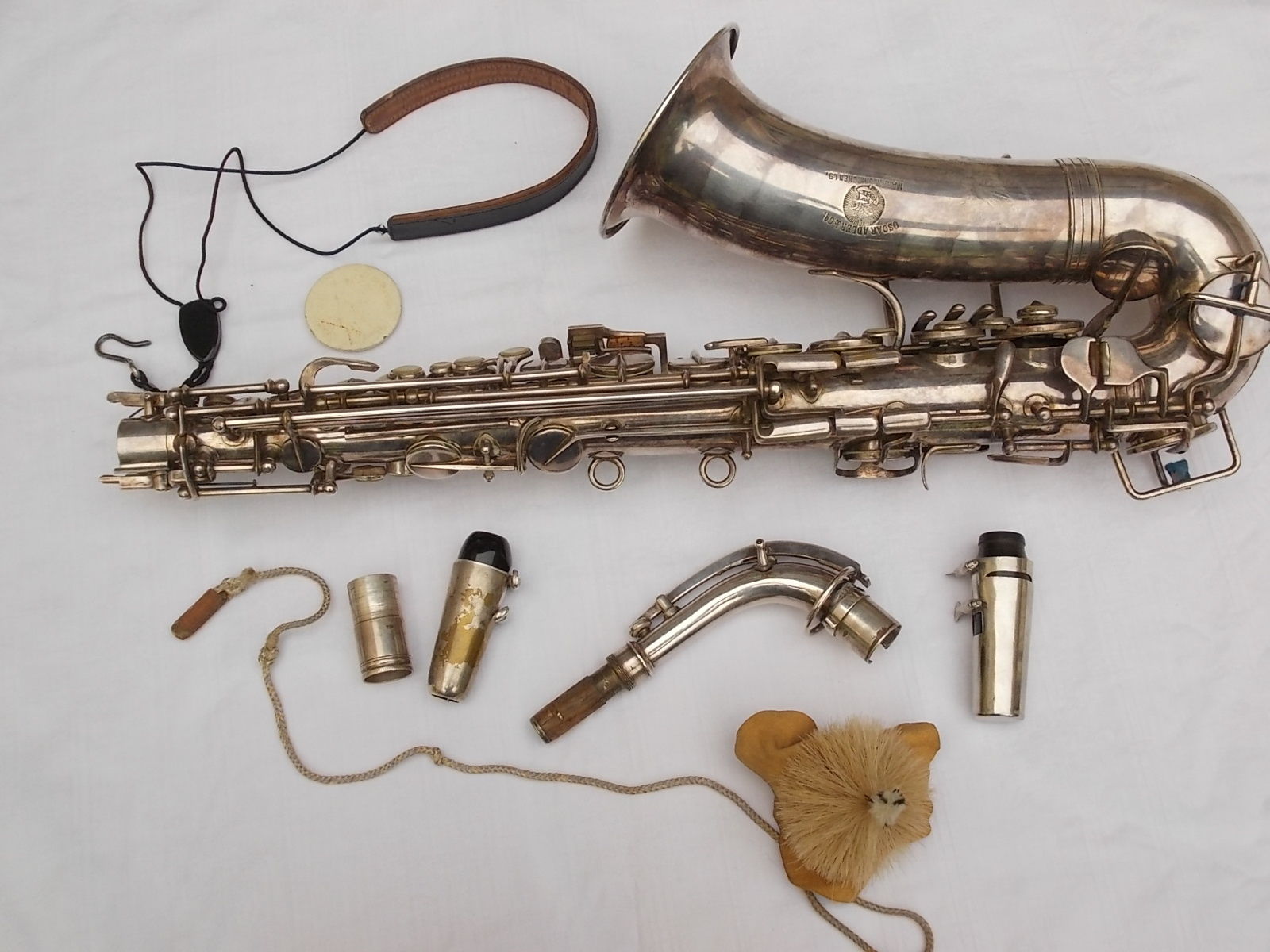 Source: space-art-2005 on eBay.de
Oscar Adler was based in Markneukirchen, and is recognized as being the first company to build a saxophone in the German-speaking region. Their first horn was built in 1901, and marked the beginning of Oscar Adler's reign as Germany's king of all things sax. This reign would last for 20 years: until Julius Keilwerth left Oscar Adler and began manufacturing saxes under his own name, and Kohlert became a significant player as well.
In time Oscar Adler designed and sold a great many models of saxophones—all at the same time. A 1932 catalogue outlines the 11 different models that were offered by the company, of which the Triumph was the top of line.
Prior to the 1930s, the Triumph was available in Bb soprano, Bb curved soprano, Eb alto, C melody, Bb tenor, Eb baritone, C bass, as well as Bb bass. Afterwards, the Triumph was only available in alto, C melody, and tenor versions.
What makes some Oscar Adler models so unusual, among other things, is that they have duplicate low Bb, B, and C# keys—which were operated by the middle finger of the right hand.
Source: space-art-2005 on eBay.de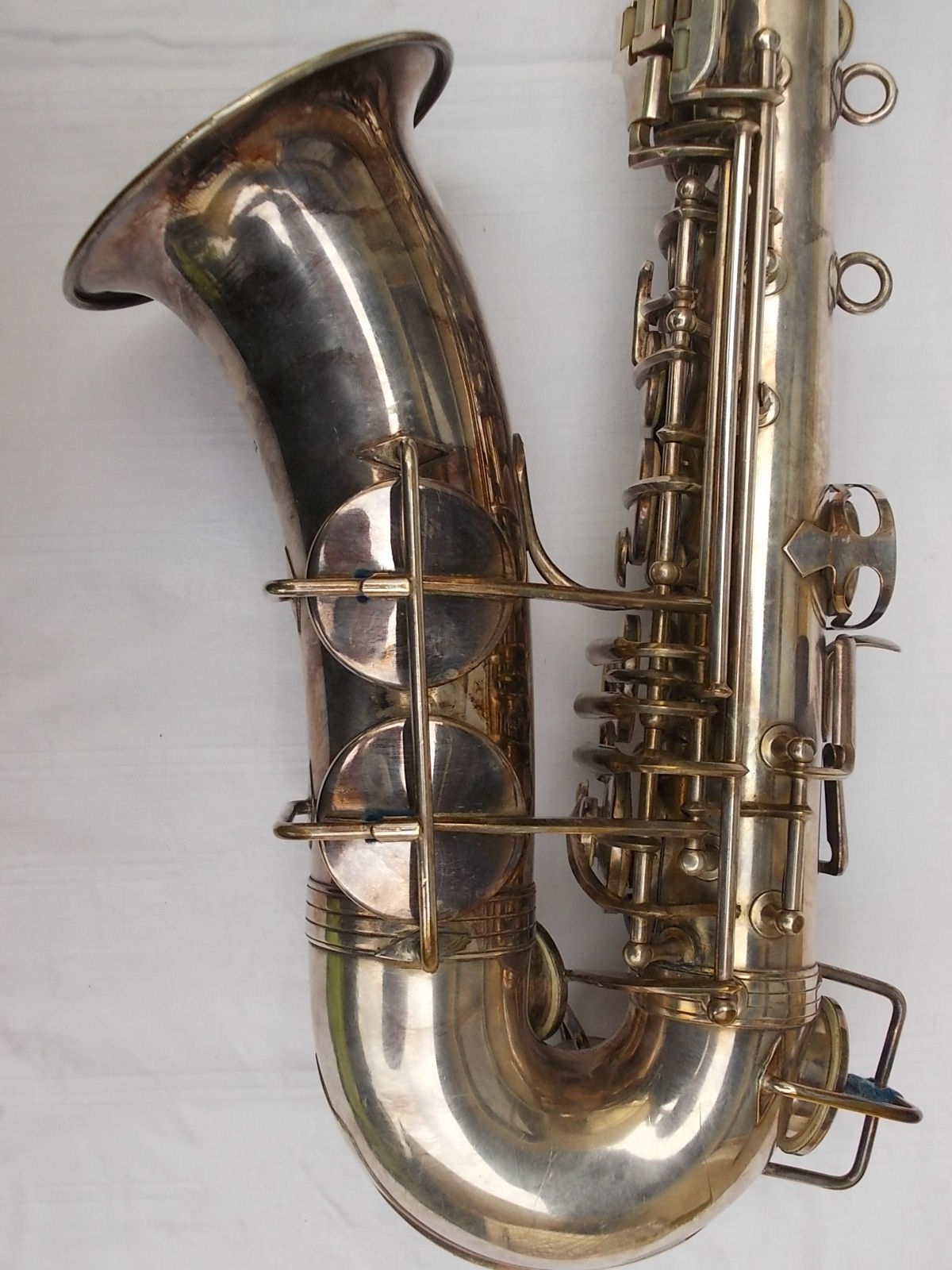 Source: space-art-2005 on eBay.de
This duplicate key system was shared by the Eterna, Sonora, as well as the Triumph models. Other features shared by these pro models included:
Mother of pearl rollers.
Micro tuner on alto & tenor models.
Split or right-sided bell keys could be ordered from the factory.
However, what made the Triumph stand out as the top of the line horn, was its range. The Triumph was the only saxophone keyed from low Bb to high G!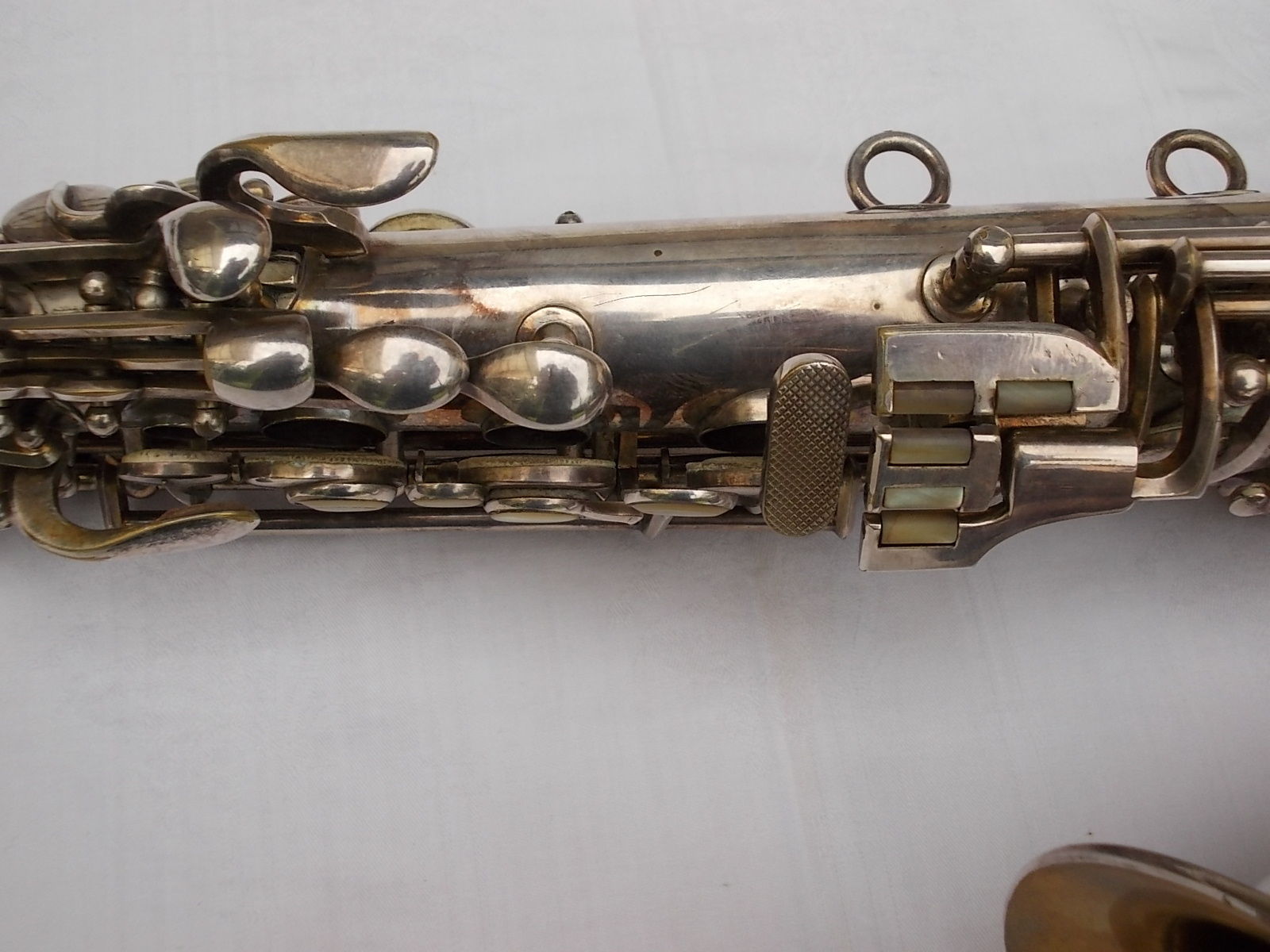 Source: space-art-2005 on eBay.de
The seller of this little gem is not a saxophone player, and knows very little about Oscar Adler saxophones. This is what he writes:
Absolute Rarität für Saxophonliebhaber und Sammler alter Instrumente !!!

Biete ein sehr seltenes, altes Alto Es Saxophon der Firma "Oscar Adler" zum Verkauf an. Oscar Adler war der erste Deutsche, der Saxophone in Deutschland herstellte. Bekannt wurde er durch die Herstellung seiner Klarinetten.
Er produzierte mehrere Saxophon Modelle, wobei das hier angebotene Modell "Triumph" das beste und das teuerste Modell seiner Produktionsreihe war.

Die sehr niedrige Seriennummer 5081 läßt nach meinen Recherchen die Herstellung dieses Saxophones auf die dreißiger Jahre schließen. Auf einem anderen Teil ist "D.R.G.M. 1053337" gestempelt.

Zu der Funktionalität kann ich als Laie leider nichts sagen. Leider spiele ich gar kein Instrument.
Ich habe es zu Begutachtung zu einer Musikschule gegeben und der Leiter war sehr angetan von dem Saxophon.
Er hat es ca. eine Stunde gespielt und es ist seiner Aussage nach funktionsfähig und gut spielbar. Alle Klappen funktionieren.
Jedoch sagte er mir, daß die Dichtungen wohl noch original wären und diese ausgetauscht werden sollten.
Dann hätte man ein sehr gutes Saxophon.

Optisch ist das Saxophon in einem für sein Alter entsprechend sehr guten Zustand. Es ist versilbert, hat Perlmuttknöpfe. An manchen Stellen ist durch Abrieb die Versilberung weg.
Innen ist das Saxophon vergoldet. Fehlteile, Beulen oder Risse sind mit nicht aufgefallen.
Mit dabei ist der Originalkoffer (mit einer Art blauen Samt ausgeschlagen). Aussen schwarz. Dieser hat aber stärkere Gebrauchs- und Altersspuren. Schließt aber gut.
Ebenso sind diverse Einzelteile mit in dem Koffer. Zwei Mundstücke, ein Zwischenrohr (?), eine Bürste zum Säubern und ein Tragegurt, sowie einige Holzplättchen.

Das meiste hier beschriebene habe ich mangels Wissen "googlen" müssen, da ich absoluter Laie auf diesem Gebiet bin. Sollten Sie weitergehende Fragen haben, werde ich so gut wie möglich versuchen, diese zu beantworten.
Gerne bin ich auch bereit für Sie wichtige Fotos des Instrumentes zu schicken.

Bitte sehen Sie sich die zahlreichen Bilder genau an.
Bilder sind Teil der Artikelbeschreibung.
Helen translate says…
Absolute rarity for saxophone lovers and collectors of vintage instruments!!!

For sale is a very rare, Eb alto saxophone made by Oscar Adler. Oscar Adler was the first German to manufacture a saxophone in Germany. Known for his clarinets, he produced many models of saxophones. The Triumph was the best, and most expensive production model available.

According to my calculations, the very low serial number 5081 indicates this horn is from the 1930s. On another piece there is a D.R.G.M. 1053337 stamp.

Regarding its playability, sadly I can't comment. Unfortunately I don't play any instruments. For an assessment I gave it to the head of a music school. He was very impressed with this saxophone. He played it for about an hour. He states that it functions well, and is in good playing condition. All keys work. He did tell me that the pads are possibly still the original ones, and that these should be replaced. After that one would have a very good saxophone.

Given its age, this saxophone is visually in very good condition. It is silver-plated, with mother of pearl buttons. The silver is worn off is some places. Inside [the bell] the saxophone is gold-plated. No missing pieces, dents, or tears were noted. With it comes the original case (with a blue velvet lining). Outside is black. The case shows heavy signs of wear, but closes well. There are diverse accessories in the case. Two mouthpieces, an adapter pipe (?) [I think he means the neck], a cleaning brush, a neck strap, as well as a number of reeds.

The majority of what is described here is Googled, since I know absolutely nothing in this area. Should you have further questions, I will try my best to answer them. I will be happy to send you any important photos of the instrument.

Please take a careful look at the plentiful pictures. They provide a part of the article's description.
Here are the rest of the pics of this Oscar Adler Triumph alto saxophone…
Unlike many sellers from Germany, this one will actually ship worldwide. So if you've always coveted an Oscar Adler Triumph alto saxophone, here is your chance to own one, without having to have friends or relatives in Germany take delivery for you.
If you would like to read more about Oscar Adler saxophones, take a look at the page about the company that I have on my website. I also have an extensive Oscar Adler gallery in Bassic Sax Pix.
The other thing I should mention is the D.R.G.M. stamping that this horn has. This copyright mark is quite commonly found on saxophones of this era, and is explained fully here.
If you are interested in making this little Oscar Adler Triumph alto saxophone part of your saxophone family, you have until July 31 to get your bids in. Bids are to start at €550.00, which xe.com estimates to be $603.63 US at the time of writing. So far there are no bids on this baby, but I suspect that is going to change before the auction ends.
…this is just
my blog.
My "real" website is
www.bassic-sax.info.
If you're looking for
sax info,
you should
check it out too.
There's lots there!