Nancy Clueless in the Case of Mysteriously Appearing Vintage Case Badges
The other day I decided that I needed to clean up a bunch of boxes that were still packed with stuff from my studio. They were full of things that had been in a desk that the restoration company emptied out on December 31, 2010: the day our hot water broke at our old house.
Among the treasures I found in these boxes were all my saxophone ensemble scores, boxes of reed rush, percussion instruments like shakers, and this rather eclectic set of case badges…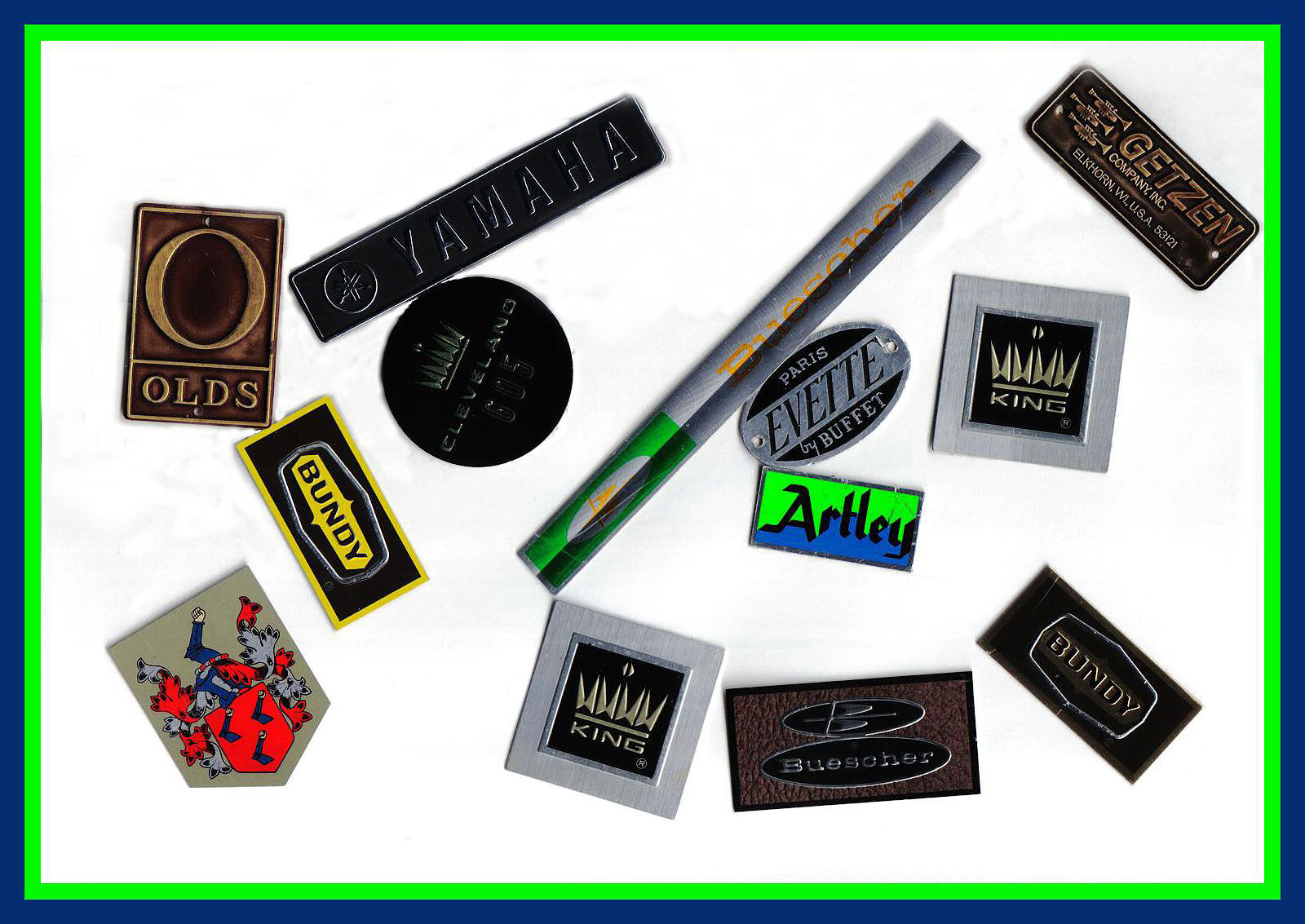 But just where did these badges come from? Now I do know that I had a Bundy tenor sax at some point in time. I think my parents rented it for me in grade 8. It was the first tenor saxophone that I played.
My King Super 20 case—that I still own, although the horn is long gone—still has its case badge. So I don't know where the two King badges came from.
IIRC, that weird, shield-shaped logo in the left lower corner is from an Armstrong alto that I briefly had in my possession (rented? owned?), before I got the Mark VI that I still have.
The Artley case badge is from my Bb soprano clarinet. Yes, I still own it as well, and its case is sans badge.
However, since I've never owned any Olds, Buescher, Yamaha, King Cleveland, Evette, or Getzen horns, where the rest of these case badges came from is a real mystery to me. They were all in a vintage, German tobacco tin that was carefully lined with paper towel.
During the course of our lives we end up collecting the weirdest of things. We put them away thinking that at some point we will use them for something, but then we forget that we even have them. Fast forward a decade or two, and we suddenly come these treasures again. Then we ask ourselves: Where did this come from? Why do I have it?
Meanwhile, back at the farm… If I was like some of the clowns on eBay, I'd put them on the auction site and try to sell them for $500 for the lot. Hey, if people can try to sell empty Rico brown boxes for crazy-ass amounts of cash, why shouldn't I try to cash in? My baby might need new shoes too.
…this is just
my blog.
My "real" website is
www.bassic-sax.info.
If you're looking for
sax info,
you should
check it out too.
There's lots there!