A few years ago I became fascinated with the idea of playing more than 1 note at a time on my sax. I'm not sure exactly why that happened, but it did. (I suspect playing with guitar players who used distortion all the time, started me down the path.) Then while I was in the music store one day I happened to come across a book by John Gross.
The title: Multiphonics For The Saxophone: a practical guide 178 different note combinations diagrammed and explained by John Gross, really said all it needed to. I picked up the book, and was instantly struck by how the diagrams he used made sense to me, and seemed simple to understand. I bought the book, and that began my study of multiphonics.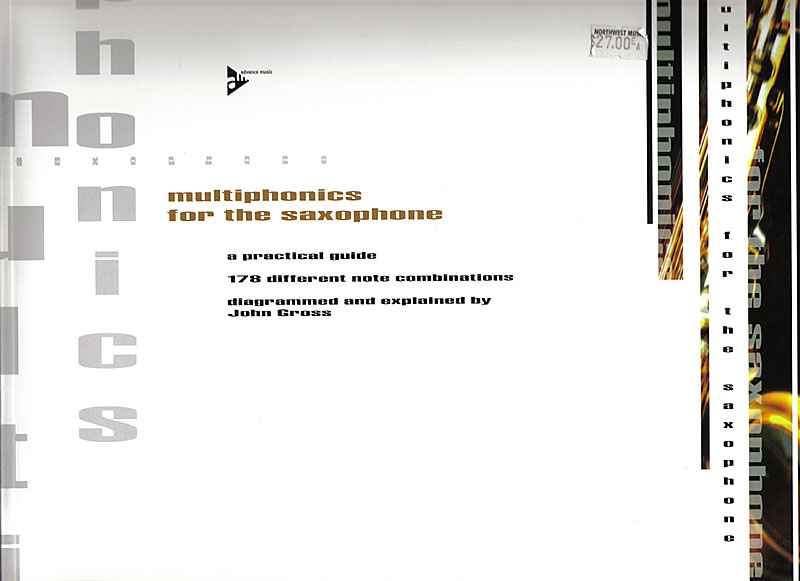 Simply put, the term "Multiphonics" refers to two or more notes sounding simultaneously. All of us when we started out, produced multiphonics, but unintentionally! Our teachers, parents, and neighbours were all very glad when we got past that phase, learned how to control our horns, and produced only 1 note at a time.
With the study of multiphonics, the advancing or advanced player can work on a number of vital areas. In Gross's words:
These multiphonics will help build strength, flexibility and endurance if used properly. Even if you never use any of these multiphonics in public I believe they are useful to your saxophone playing. I suggest you try different combination of dynamics (very soft to very loud), amount of mouthpiece in mouth and embouchure pressure (very loose to very tight). Suggested companion books are: TOP TONES FOR THE SAXOPHONE by Sigurd Rascher; HELLO! MR. SAX! By Jean-Marie Londeix; and, SCIENCE OF BREATH by Yogi Ramacharaka.
This is not a book for beginners, or really even intermediate players. You need to have good and stable chops, and a good grasp of overtones and harmonics.
I would be lying if I said I could do all the note combinations in the book. I can't. But I use the book as tool, and pull out of it what I need.
As it turns out, I do play multiphonics in public. I continue to play with guitar players who love distortion, so for me, playing solo opposite the lead guitar player in an electric Blues band, I have 2 choices: Either use distortion pedals, or primarily use my throat and embouchure for the distortion effects. I choose the later, so multiphonics have become one of the tools that I use in creating my distortion.
…this is just
my blog.
My "real" website is
www.bassic-sax.info.
If you're looking for
sax info,
you should
check it out too.
There's lots there!
© 2008 – 2012, Helen. All rights reserved.