A number of years ago my repair tech in Halifax, Layne Francis, suggested I try a Rico Royal Graftonite mouthpiece for my bari, instead of the Berg Larsen I had been using. He said that a number of the players he worked with in Toronto had started using them, and were putting their expensive jazz pieces aside in favour of these inexpensive ($25 Cdn) Rico pieces.
I was skeptical, but Layne had never given me bad advice in the past, so I gave it a try. I was amazed! This $25 Rico was everything my $200 Berg was, and more.
What I noticed almost immediately was that with the Rico, the notes didn't "break" (crack if you will) when pushed like they tended to do with the Berg. Because I play in loud electric environments, volume and projection are important, since baris have to work extremely hard to be heard above the clutter of the electric guitars, bass, and busy drummers. This Rico Graftonite was better than the Berg at cutting through that clutter.
I did some research and found out that Arnold Brilhart had designed both Rico Graftonite & Metalite mouthpieces in the 1980s, but that the Metalite pieces were no longer in production. (I'll write more about the Metalite pieces in another post.)
The next time I was down in Halifax, I picked up a Graftonite mouthpiece for my Mark VI soprano. That piece worked well really too. Although I've since switched over on soprano to a Runyon Custom with a spoiler, on bari, I still use a Graftonite on my low A B&S Medusa, and on my low Bb Mark VI when I play jazz.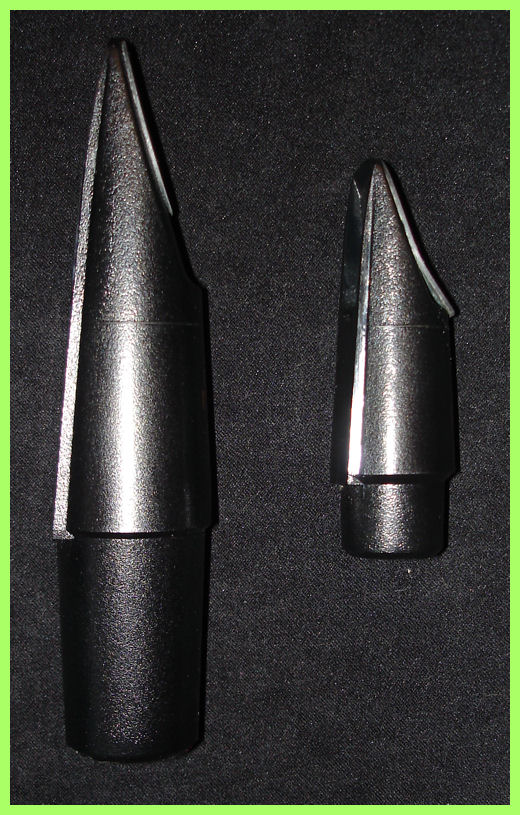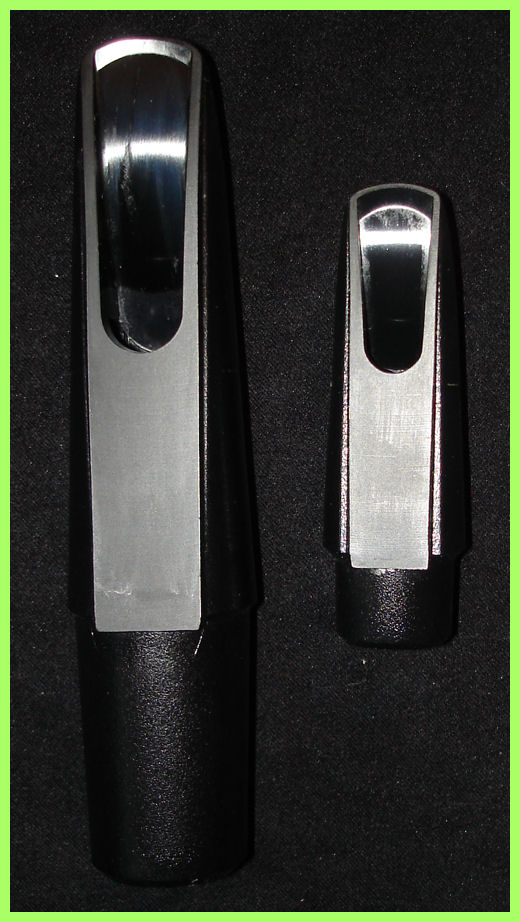 I should mention that my Medusa came stock with a beautiful Zinner mouthpiece. I didn't think that I would want chose the Rico over it, but after playing the 2 pieces on the horn for a couple of weeks, I decided that I did actually prefer the Rico. Go figure. 😯
Rico makes the Graftonite mouthpieces for alto and tenor in 3 chambers (A, B, & C). A is the darkest sounding, and is intended for concert work. B is the middle of the road version, and is best for work in most bands. C is the brightest, and is intended for jazz and rock. For soprano and baritone the only chamber available is the B variety.
SATB Graftonite pieces all come in one of 3 facings: 3, 5, or 7.  WWBW describes the facing system of the Graftonite this way:
Facing (3, 5, or 7): The facing is determined by the distance from the tip of the reed to where it first touches the mouthpiece. The bigger the facing number, the farther back the reed goes before actually touching the mouthpiece. Changing the facing of the mouthpiece will generally change the volume of the instrument. With a shorter facing (3), less of the reed is vibrating, so the instrument will tend to be quieter, with a longer facing (7), more of the reed is vibrating, so the instrument will tend to be louder.
The Graftonite mouthpieces, combined with Rovner ligatures (either light or dark, depending on the horn and application) and Fibracell reeds have been my combination of choice for years now on baritone. I do not foresee that changing.
I have wondered why these these mouthpieces have been such "sleepers" though. They've been around a long time: 20 years or so. The Metalites especially were, until recently, extremely undervalued. I think it's because they were (or are, in the case of the Graftonites) so inexpensive.
Musicians are a funny breed. For as little money as we make, we still have a snobbery about us that we have to have expensive gear. If we didn't spend $300 or more on a mouthpiece, then we can't be/sound/whatever as good as player X. Whatever…
For me, I have no qualms about playing a $25 piece. It's all about the sound, and in the case of the bari, the projection. Hey, if I can get "the sound" out of a $25 piece, why spend $200 or more? Just putting that out there…
BTW, after owning them all (SATB) for a number of years, IMO the baritone Ricos are the best of the bunch. I don't know why that's the case, however a  number of other players and repair techs who have tried them all have told me the same thing.
An added bonus of the Ricos is that they are really tough wearing & very forgiving should they fall. That's why I tend to recommend the Graftonite pieces for my younger students if they need a new mouthpiece. They can take the rigors of school use, with no ill effects.
…this is just
my blog.
My "real" website is
www.bassic-sax.info.
If you're looking for
sax info,
you should
check it out too.
There's lots there!
© 2008 – 2009, Helen. All rights reserved.