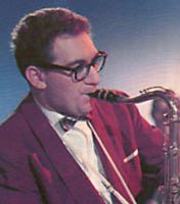 Source: http://platenkast.web-log.nl
There's not a rock and roll sax player out there that can't say they haven't been influenced to some degree by Rudy Pompilli. Pompilli was the longest-serving musician in Bill Haley and His Comets.
Pompilli joined the band in 1955, and was with them until his death in 1976. He was one of the first rock and roll saxophone players who was widely recognized. This was in part due to the commercial success of the band, and in part due to his role within it.
Rudy Pompilli became a highly visible member of the band because of his trademark of playing while laying on his back, and physically interacting with the upright bass player. These trademark moves are captured perfectly in this video of Pompilli's signature tune: Rudy's Rock. (A piece which he co-wrote.)
Pompilli held a number of positions with Haley's band throughout the years, including that of road manager. However, no matter what else he did, Rudy Pompilli continued to play rock and roll saxophone like the pioneer he was.
…this is just
my blog.
My "real" website is
www.bassic-sax.info.
If you're looking for
sax info,
you should
check it out too.
There's lots there!
© 2009, Helen. All rights reserved.