I noticed an interesting vintage, student model saxophone on eBay a couple of days ago. Now normally one wouldn't use the term vintage and student model when referring to the same horn. However, in this case these terms are not mutually exclusive.
Up for auction is a Buescher Academy alto model saxophone. This horn appears to be in very nice condition, unlike most of the other examples of Academy model horns that have been for sale lately.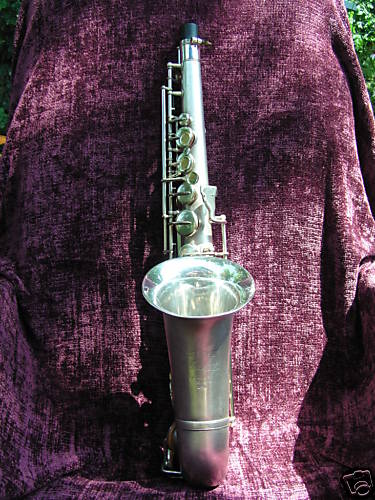 Source: eBay.com
The seller describes this horn like this… (Colours of the ad duplicated to preserve authenticity.) 😮
You are bidding on an extremely rare, Vintage Collectable Buescher Academy Alto Saxophone, Serial #S9 – 617 with/case. This sax is, no doubt, the easiest true saxophone to play, you would find anywhere. It has only 14 keys and weighs around 3 pounds. You will be surprised how well it plays and the tone and sound that comes from this unique instrument. It was made by one of the leading saxophone manufactures of the day, and was often referred to as the "Home Model." This instrument is in very good condition, for what it is, and was recently professionally repadded. All you need do is pick it up and play. Do not let this rare collectable treasure pass you by, as I haven't seen one offered for sale in several years. it is a very rare find!

I can ship/with insurance almost anywhere in the USA for $32.60, some areas may require additional shipping cost.

Please ask any and all questions before bidding. Those outside the USA need to contact me before bidding.

Payment arrangements must be made within 48 hours of auction's closing.

Happy bidding!

…………………………………………………………………………..

We put a lot of time, effort and expense into restoring vintage instruments. I try to describe the item as best as possible. What I say is what I see and know about an instrument; however, opinions, may vary. The average vintage saxophone is between 50 and 100 years old. We endeavor to restore them to as near a new condition as possible. We may slightly improve upon the manufacturers product, but it is still what it is. Many things happen to an instrument down through the years and not everything is correctable nor restorable, we only do what is possible for us, not the impossible. Considering all things, all bidding and sales are final, and our items are sold as is. Look everything over well before bidding and if you have questions I will gladly answer your email. This part of our business is not for profit, though we break even sometimes, but to restore and put back into circulation as many of these old treasures as possible.
Source: eBay.com
There is very little information about Buescher Academy saxophones available on-line. In a previous post I quoted some of what Bear wrote on his Cybersax website about the Academy line of horns.
Here is the rest of the info that Bear provides on these odd pieces of saxophone history:
These were a utilitarian version of the alto, tenor and even soprano saxophone aimed at the beginning student market. Buescher knew that kids wouldn't buy in on fat bass clarinet-looking monstrosities, so they developed a way to vent the bell at the low B level with an uncovered tone hole. With the vent placement on the back of the bell — hidden down between bell & body — the kids couldn't find it to laugh at, play with and stuff things into as a prank. From a slight distance then, the Buescher Academy saxophones looked quite 'normal'. They were still missing the side & palm keys & tone holes — and they were painted a dull gold instead of being polished & lacquered — but the kids shouldn't mind as long as the price was right for their parents, right? Wrong! What Buescher failed to take into account is that beginning students learn to play a C scale in a few days, and that acquiring the musicianship demanded for school band success meant learning to play in a number of the progressively more difficult musical keys before the new smell was off that silly painted Academy model saxophone. Go figure. The marketing department was wrong again.
The auction for this Buescher Academy alto runs until August 27. At the time of writing there was 1 bid of $150.00 on the sax. The reserve price had not been met.
…this is just
my blog.
My "real" website is
www.bassic-sax.info.
If you're looking for
sax info,
you should
check it out too.
There's lots there!
© 2009 – 2014, Helen. All rights reserved.