Here's an interesting vintage Buescher ad from October 1923. Ah yes, good, old Canadian Tom Brown, who fronted the famous saxophone band, the Six Brown Brothers. Here he is in his blackface stage makeup…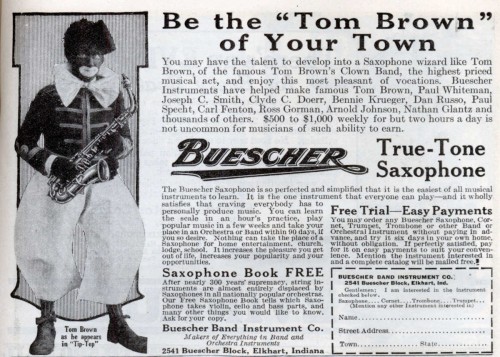 If you're curious what the Six Brown Brothers sounded like, your curiosity can be satisfied with this 1916 recording of Walkin' The Dog.
Yes, there was a certain innocence & naivety to the music back then… But then that was at the same time the ad execs were telling you that the Buescher saxophone was…
…so perfected and simplified that it is the easiest of all musical instruments to learn. It is the one instrument that everyone can play…You can learn the scale in an hour's practice, play popular music in a few weeks and take your place in an Orchestra or Band within 90 days. If you so desire.

 From the October 1923 Buescher advertisement featuring Tom Brown.
Sure, whatever….
To find out more about the Six Brown Brothers band, check out their page on the Red Hot Jazz website.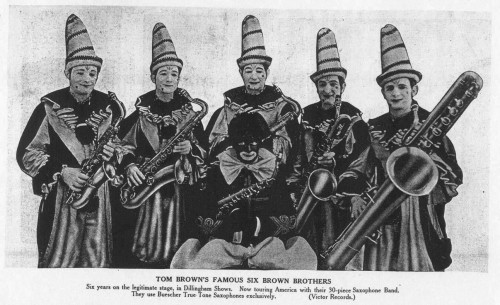 …this is just
my blog.
My "real" website is
www.bassic-sax.info.
If you're looking for
sax info,
you should
check it out too.
There's lots there!
© 2009, Helen. All rights reserved.