Here's a bit of a head scratcher that just sold on eBay a couple of days ago.  It was being advertised as a Martin Handcraft bass saxophone from 1945. However, Martin did not make their own bass saxophones.
Most Martins were in fact Conn stencils, and according to Bert Brandsma, were made on the Pan American side of the Conn Factory. Therefore, Pan American-made Martin bass saxophones follow the Pan American serial number charts.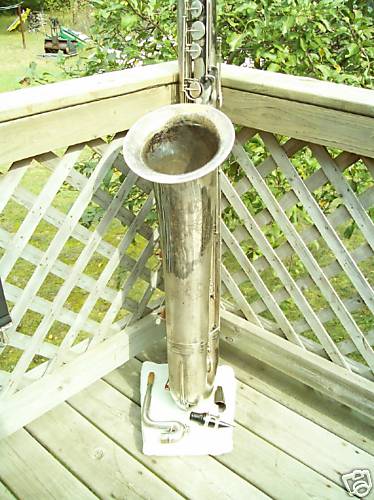 Source: eBay.com
The seller described the bass like this:
Vintage B flat bass saxophone made in 1945 . This bass has a B flat key and a water trap on the neck . It's keyed to high F next to your body . It has a rich patina now but can be polish to great silver brilliance . There are a ding or two on this old beauty but it doesn't take away the big warm , full sound . It flows thru the highs and lows with a graceful ease . It's been fully restored with all new pads , lubricated and adjusted by a excellent tech . This is a Bass Sax to own ! As seem in the pictures , all accessories come with it . If the buyer wish to get more info. on this wonderful sax , you may call . XXX-XXX-XXXX
Although the photos are not very good, to me this looks like it has only 2 left palm keys.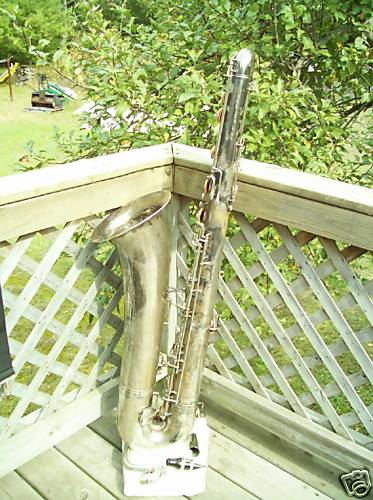 Source: eBay.com
What it does have however, is 2 right-sided bell keys. WTF?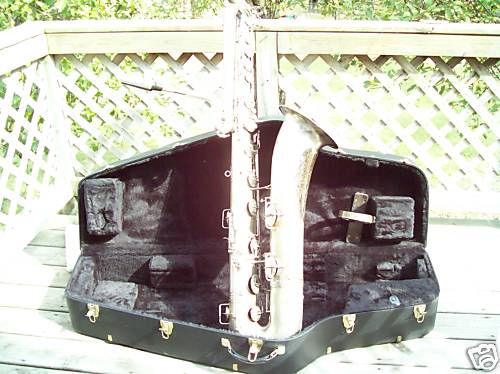 Source: eBay.com
Note the sink trap neck.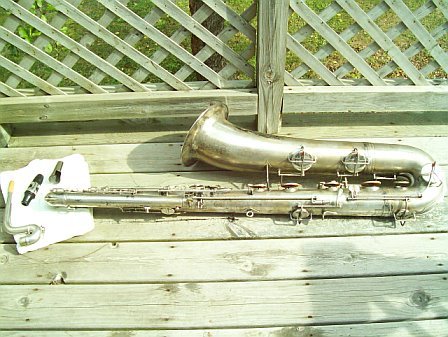 Source: eBay.com
Too bad the shot of the engraving doesn't tell us anything. On the plus side, you see the horn came with a newer case.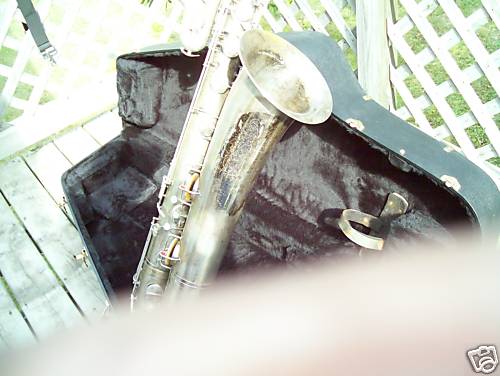 Source: eBay.com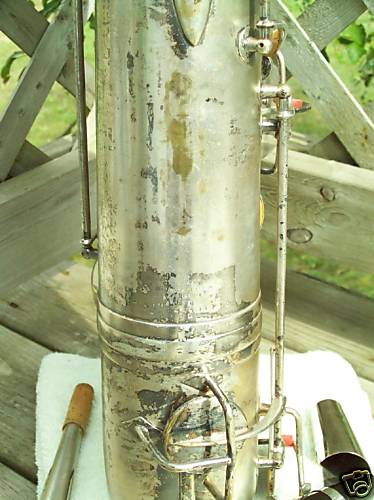 Source: eBay.com
Unfortunately the serial number is not readable, so the year of production can't be determined.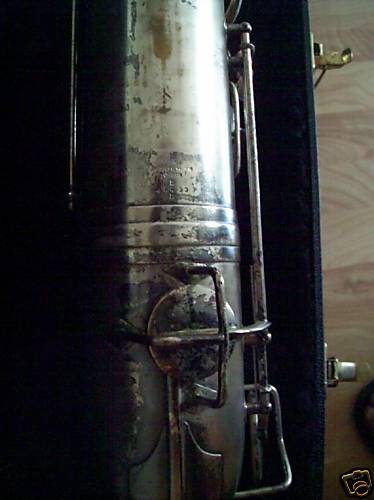 Source: eBay.com
Before the auction's close, the seller added the following to his description of the Martin bass:
On Aug-17-09 at 14:23:54 PDT, seller added the following information:

I 'm correcting the patent date on my bass sax , it's 1915 . Which is more in line with the time it was made . I apologize for the mistake . But as I said in the ad , if your not pleased with this wonderfyl sax . Return it in the same matter you rec'd it and I'll send your money back to you imm. The seller: XXXXXXXX

——————————————————————————–

On Aug-17-09 at 14:38:36 PDT, seller added the following information:

To Everyone interested : This bass sax is a rare sax , you will not find many like it . Because of my lack of knowledge , my listing descriptions could have been more detailed . Thank you for your patient ! AND GOOD LUCK ON YOUR BIDDING !!!!!!!!! The seller : XXXXXXXX

——————————————————————————–

On Aug-17-09 at 17:35:54 PDT, seller added the following information:

More info : My bass sax don't have a high F ….. The — B —- & —– L —- on the back base is for bass & low …. Thanks Again ! The seller : XXXXXXXX
This bass generated a fair amount of discussion on the Bass Sax Co-operative (which the seller turned out to be a member of). The general consensus there was that the horn was most likely newer than 1915, since it had 2 right-sided bell keys. However, since it was only keyed to high Eb, it wasn't a stencil of a 14M that was keyed to high F.
When I first noticed this bass, 3 days before the auction's end, there were 8 bids on the sax. The high bid at the time was $2,650.00. When the auction ended on August 18, there were of 16 bids on this stencil bass, and the horn sold for $4515.00.
Perhaps the new owner will be a member of the Bass Sax Co-op as well, and perhaps may be able to tell us more about it after they get it.
…this is just
my blog.
My "real" website is
www.bassic-sax.info.
If you're looking for
sax info,
you should
check it out too.
There's lots there!
© 2009, Helen. All rights reserved.