I hope that all of my American readers had a wonderful Thanksgiving with their family and friends yesterday.
With today being Black Friday in the States, I couldn't let this day go by without pointing out a potential gift that really ought to be avoided for that favourite sax player in your life… Especially if that player ever buys horns on-line, or ships their saxophones through any type of carrier.
I found this little gem on eBay the other night, and just had to share…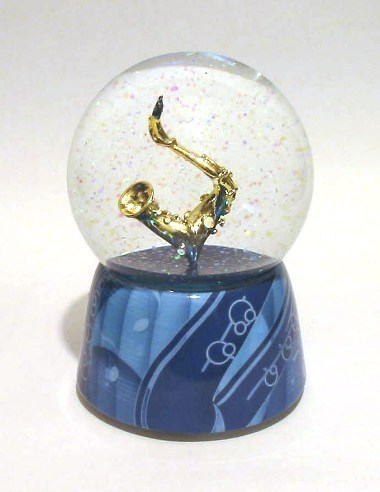 Source: eBay.com
Here is how the seller describes this little treasure…
Musical Variations

Music Gifts: Unique Music Snowglobe with Musical Design – 'Funky Saxophone'

This collectable, elegant and high quality Music Snowglobe would make an ideal gift for music lovers of all ages, and is sure to add a touch of class to any home!

'…exquisite design with a precision musical movement!'

Highly collectable

Enchanced by a high quality musical mechanism

Rotating central piece

Movement activated by manual wind-up

Music theme: 'What a Wonderful World'

Finely crafted, sculpted & painted by hand

Vibrant colours

The snowglobe's stylish base incorporates an exquisite and contemporary musical design, while within the dome a beautiful model of a 'Funky Saxaphone, when activated by the manual wide-up, rotate to the much loved theme: 'What a Wonderful World'

To enhance the model a simple shake sends a swirl of shimmering glitter cascading over the central model.

-3 Unique functions: Vibrant colours, Music & Movement-

This highly original and attractive musical snowglobe consists of a ceramic base and a glass dome filled with water.

-Comes GIFT BOXED-

Approx. Dimensions: snowglobe's height: 145mm, diameter of base: 100mm.
Oh yes indeed, this is one "Funky Saxaphone" [sic] alright… It's so funky, it looks like it fell off the back of the UPS truck, or perhaps under the wheels of the FedEx plane. WTF??? :scratch:
So please, if you truly love that sax player in your life, don't give them this gift. If, on the other hand, you would like to perhaps torment them, and have them twisting in worry about that horn they're waiting for… Then this is indeed the perfect gift to buy. 😈
The auction for this Funky Saxaphone snow globe ends on November 28. The price is GBP 29.99, or about $49.94 US.
…this is just
my blog.
My "real" website is
www.bassic-sax.info.
If you're looking for
sax info,
you should
check it out too.
There's lots there!
© 2009 – 2010, Helen. All rights reserved.