Last November I mentioned a very pretty Couesnon Monopole Series II that someone was selling on eBay. On eBay these horns are almost as rare as, well… hens teeth… If you'll pardon the pun.

Currently someone is selling what appears to be a  Couesnon Monopole pre series I alto.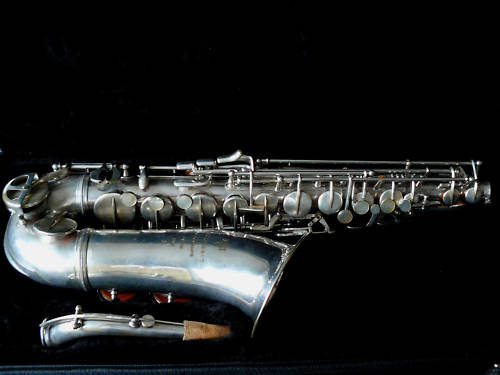 Source: eBay.com
Here is what the seller says about this vintage French alto:
A simply beautiful silver plated alto saxophone, made by one of France's finest (and sadly, now no longer) manufacturers.

The saxophone has just been given a total overhaul, new Premium pads, corks, felts, some springs. The overhaul was done by Mr Ray Colomb, one of the UK's finest instrument repairers. It is playing very nicely.

Rolled tone holes, sweet action, faultless intonation (tuning), most of the silver plate remaining, very high quality construction, and wait for it – HIGH F#! (If some afficionado can help me with dating this beauty, I would be very grateful – high F#?)

The tone of the alto is very satisfying. It posesses a huge, complex, colour range. Its mid- to upper register is just enormous, with bite, and clarity. Altissimos just seem to be part of the normal register. It is completely comparable to an SML: I actually prefer Couesnons – they have an inbuilt sort of reliability and solidity, a hard one to explain.

Couesnon's records all got destroyed in a factory fire, so the the serial # 2090 doesn't mean much. I would say that it is from the late 1930's, but I might be wrong. That would put it from the new factory period, just before the Monopole 1 came out. (This does have 'Monopole' stamped on it, however). Check out the art deco key guards – definitely late 1930s.

Comes with a new Jupiter case.

Have a listen to me playing the alto: http://www.youtube.com/watch?v=wltDiappNK4
Here is the Monopole insignia. According to SaxPics, when Couesnon introduced the Series I sometime in the 1930s, a number of changes were introduced. They included: right sided bell keys, rolled tone holes, and a double socket neck.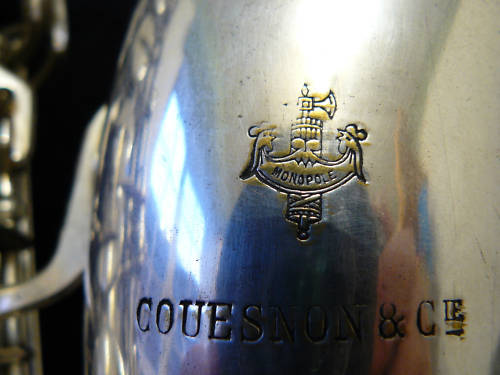 Source: eBay.com
The sax has left sided bell keys.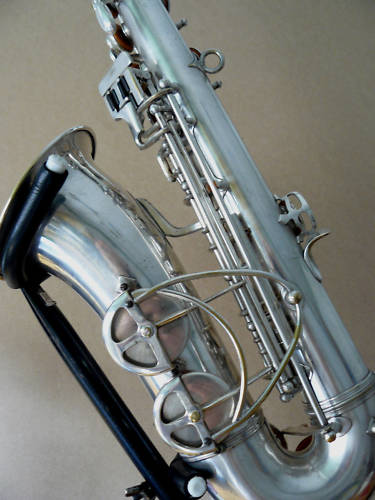 Source: eBay.com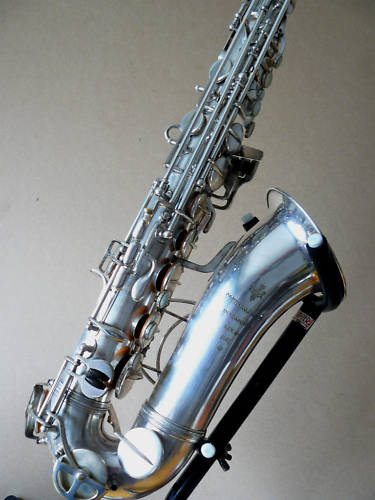 Source: eBay.com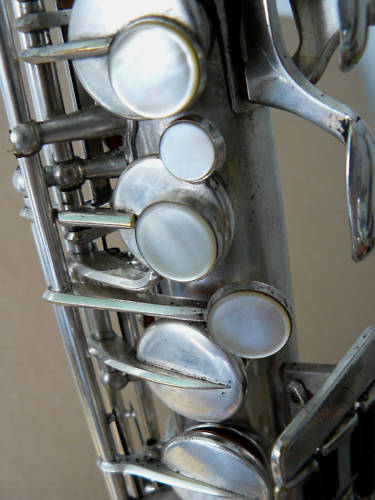 Source: eBay.com
Note the articulation switch under the G# lever.¹ This was patented by Couesnon in 1935. Here is the link to a copy of the original patent document on SaxPics.
     Source: eBay.com
Here is a shot of the high F# key.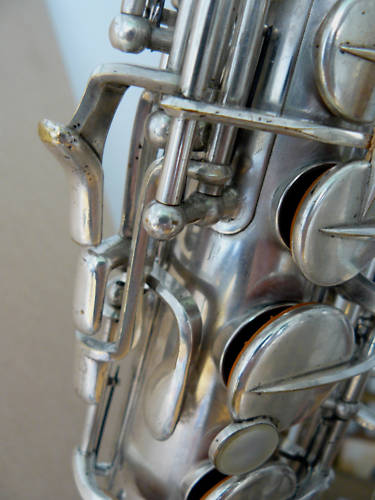 Source: eBay.com
Here you can see the rolled tone holes very clearly.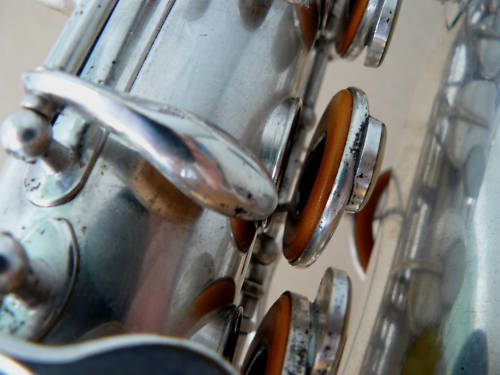 Source: eBay.com
     Source: eBay.com
Unfortunately there are no reliable serial number charts for this brand, so #2090 doesn't tell us what year it was made. However, the patented articulation switch under the G# key dates it post 1935.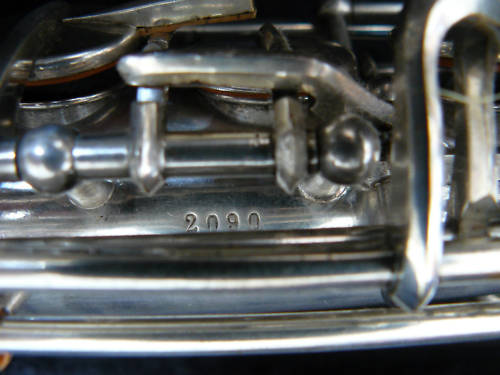 Source: eBay.com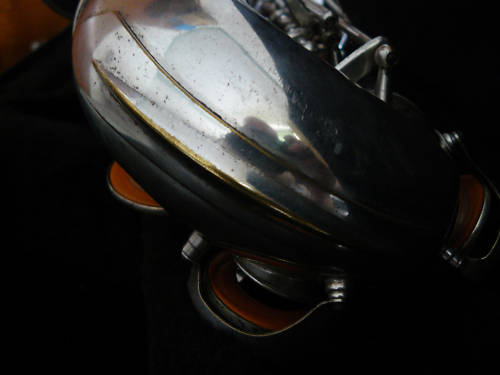 Source: eBay.com
This sax does not have does not have a the double socket neck that was introduced in the Series I. That combined with the other things we see on the horn indicate that it is most likely a pre series I Monopole.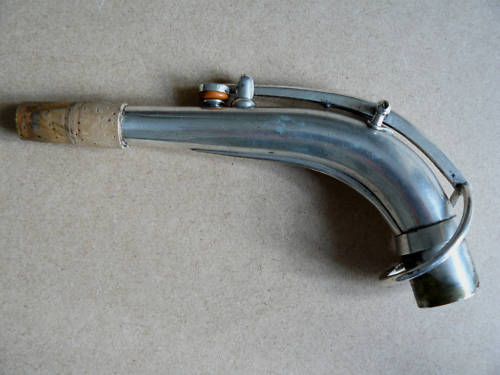 Source: eBay.com
The price for this Monopole alto sax by Couesnon runs until July 8. The Buy It Now price is GBP 625.00—which eBay estimates currently as $924.19 US.
___________________________________
¹ I would like to thank Woodwind Forum member Chris, for pointing out the obscure articulation switch to me. Couesnon is not one of the brands that I'm familiar with, and it really slipped past me. Thanks Chris! You taught me something about a relatively uncommon, vintage French saxophone brand. I do appreciate it.
…this is just
my blog.
My "real" website is
www.bassic-sax.info.
If you're looking for
sax info,
you should
check it out too.
There's lots there!
© 2010, Helen. All rights reserved.