There is quite a rare bird of the vintage saxophone world up for auction on eBay at the moment: an Evette & Schaeffer bass. This vintage horn belongs to one the members of the Bass Saxophone Co-op.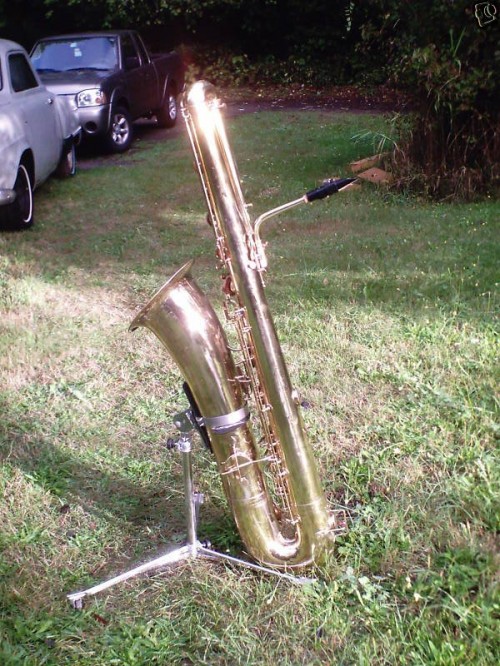 Source: eBay.com
Unlike many sellers on eBay who don't provide many details about what they're selling, this man does. Since this Evette & Schaeffer is his personal sax, he is familiar with it. He also is good enough to provide a lot of information about both the horn's strengths, and its weaknesses.
This is how this seller describes this vintage bass:
Up for sale is my 1913 Evette and Schaefer, Buffet crampon, bass saxophone. It is currently in playable condition, but could use some more work to put it in top shape. Lacquer is good. Sax could benefit from a chemical cleaning. Pads could use replaced, but usable as is, except one pad that is real bad. Despite the bad pad i still have no problem playing all the way down to low Bb. Minimal denting, nothing bigger then a dime, except on the bottom bow. The dent on the bottom bow actually appears to only be a dent in the guard and not in the actual bow. There is a small dent on the top bow that should have some attention. The dent is right where there is a seam that appears to be separating, not leaking yet but will likely soon. Paul Woltz of Kennelly Keys in Lynnwood WA, and bass saxophonist with Uptown Lowdown Dixieland Jazz Band did some work on this horn before I purchased it about 6 years ago. He went through it and resoldered toneholes, patched the neck, replaced pads as needed, spot lacquered, etc. putting it into playing condition. At the time he suggested a repad to the old owner, but felt it could be played adequately as is. During my 6 years of ownership, I have replaced pads as needed to keep it playing. I contacted him before buying it and he felt it has the potential of being an excellent bass saxophone, possibly better then most Conns or Bueschers. It is low pitch, although it isn't marked as such. I purchased a Paul Coats modified Runyon 88 bari mouthpiece that has been modified to be played on bass sax using bari reeds. Includes a custom made marine wood case, and a Hamilton stand. The hamilton stand consists of 2 parts. One part (a bracket) stays permanently attached to the sax and then slides onto the base. When I attached the stand bracker to the bell, it threw out the regulation of the lowest tonehole, so I adjusted it with the stand bracket attached. The lacquer on that key cup got burned. The sax also has some special keywork that Evette and Schaefer were known to have as an option. There is a key between the low E and low D that allows to trill between Eb and E. Additionally there are 2 extras keys to play low C# and Low Bb with the center finger of the right hand. It also has 2 separate octave keys rather then the usual on automatic. This has not been a problem for me. I find that so long as I do not do large jumps up to the upper portion of the upper octave, using one octave key suffices for me. Additionally the separate octave key helps me with the altissimo notes, since I can choose which octave vent to open. Overall, this is a decent sax as is, and with some work would have the potential to be an outstanding bass sax. This sax has the typical sharp palm keys, and flat lower octave, but Jay Easton felt that it played well in tune with his mouthpiece. He suggested a Babbit mouthpiece. This sax does not have the typical problem with middle D not speaking. It does have a problem with middle Eb though, but by opening up the low C# key, Eb speaks well. I suspect that a repad would eliminate the Eb problem. Both Paul Woltz and Jay Easton played this sax before I purchased it 6 years ago, and they both gave their seal of approval. I have decide to offer this sax up with NO RESERVE. And if it doesn't sell for what I'd like to see it sell for, at least I hope it goes to someone who would like to play it.
Here's an example of a couple of small dings in the body tube.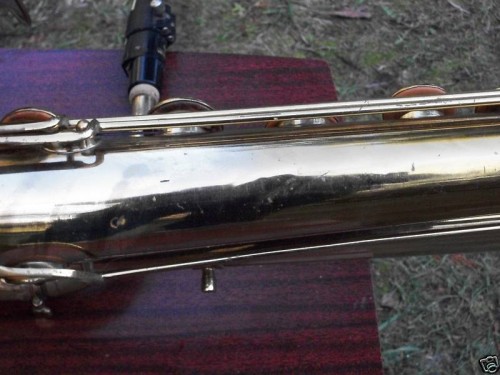 Source: eBay.com
In this photo you can see both the dent in the bottom bow guard, as well as the burnt lacquer from the key guard repair.

     Source: eBay.com
This is one of the Paul Coats modified, Runyon baritone saxophone mouthpieces. If you'd like to find out more about what Paul does with them, and how Paul originally learned this technique from Santy Runyon himself, check out Paul's Mouthpiece Page on my website.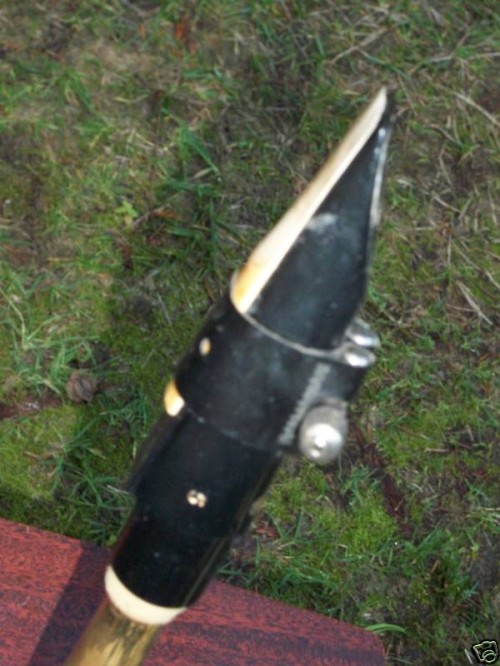 Source: eBay.com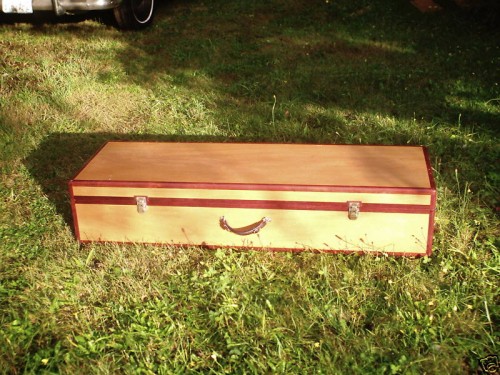 Source: eBay.com
Personally I'm not a fan of the Hamilton stands. So if I were to buy this sax, this would be the first thing to go!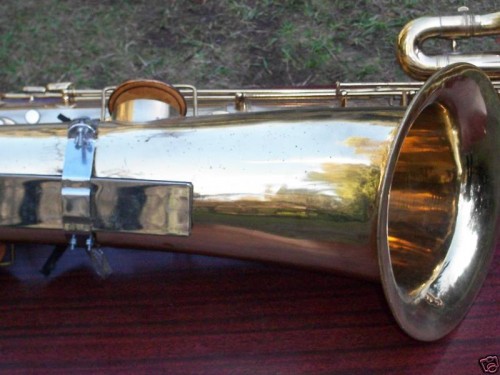 Source: eBay.com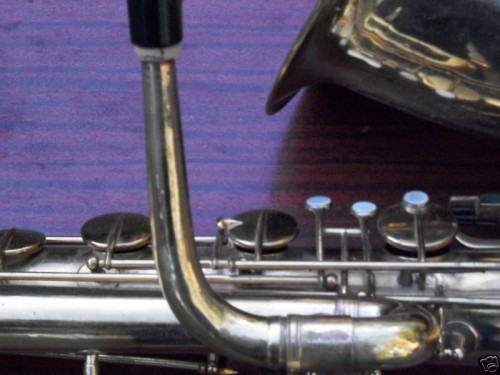 Source: eBay.com
In this photo you can see the additional keys that Evette & Schaeffer patented for their saxophones.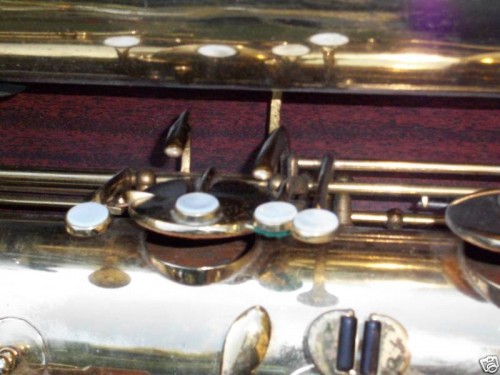 Source: eBay.com
Saxophone historian Pete Hales, took a copy of an 1899 Evette & Schaeffer ad and made it more legible. This ad describes the new Patent Keys that Evette & Schaeffer added to their horns, and how these keys would be used. If you'd like to see the original, you can check it out on Saxpics.com.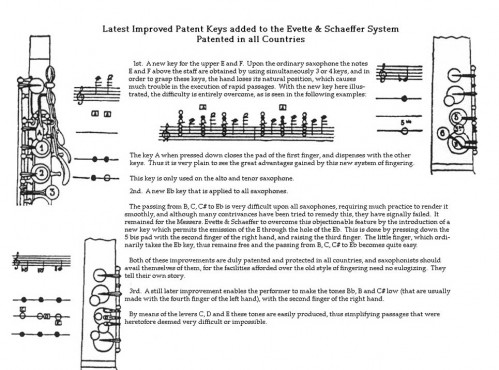 Source: saxpics.com
For more information about Evette & Schaeffer in general, Saxpics.com's Early Evette & Schaeffer page is a good place to start.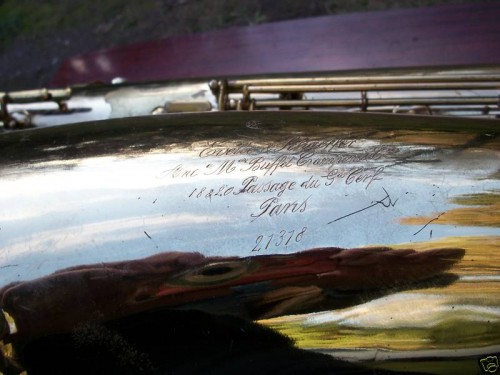 Source: eBay.com
If this vintage bass sax interests you, you have until February 15 to get your bid in. At the time of writing, there were 17 bids in on this vintage Evette & Schaeffer bass saxophone. The high bid was $2550.00.
…this is just
my blog.
My "real" website is
www.bassic-sax.info.
If you're looking for
sax info,
you should
check it out too.
There's lots there!
© 2010, Helen. All rights reserved.