It's been a few years now since we've heard anything from the Nuclear Whales Saxophone Orchestra. This saxophone sextet has been "in hibernation"—to quote to their website—since at least 2007.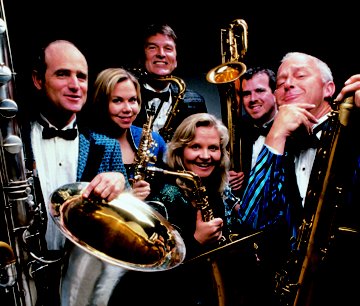 Source: nuclearwhales.com
The Nuclear Whales are known for their outstanding performances on all of the traditional saxophones: sopranino, soprano, alto, tenor, baritone, bass, and contrabass. Their musical repertoire covers everything from classical, to swing, to jazz, to marches. They explore virtually every musical genre.
Perhaps one of the things the Whales are best known for, is their use of the contrabass saxophone. The horn belongs to group member Don Stevens, and is a vintage Buffet (Evette & Schaeffer). It is one of only a handful of original contras remaining in the world.
I happened to find this video on YouTube of the Whales performing in Asia somewhere. If I had to guess, I'd say Hong Kong. There is no date provided. Unfortunately the video quality isn't great, but we can still see and hear the contrabass, as it blends beautifully with the rest of the ensemble.
The Butterfly Lovers features the contrabass, bass, baritone, tenor, alto, and soprano saxophones.
You could really see the weight of the contra getting to Don Stevens. This has got to be a very hard instrument to play while wearing on strap or a harness. It actually makes the bass next to it look small, and that's not an easy feat.
…this is just
my blog.
My "real" website is
www.bassic-sax.info.
If you're looking for
sax info,
you should
check it out too.
There's lots there!
© 2010, Helen. All rights reserved.