Now this is an interesting saxophone sculpture. It was photographed outside the headquarters of SaxPlayHouse in Houli, Taiwan by ??? Chi?,It-lîn.
My apologies to the photographer about the mess that his name has become in English. WordPress does not recognize the Chinese characters, and substitutes question marks for them.
  Saxophone of Houli, Taiwan-01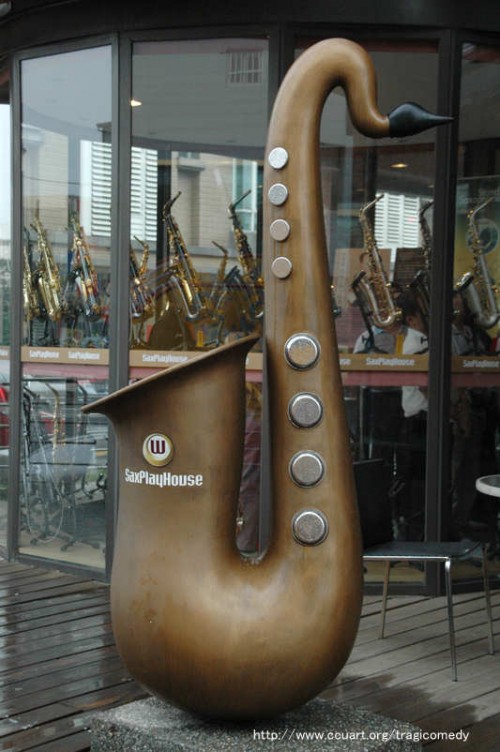 Until I saw this sculpture, I had not heard of SaxPlayHouse. Following the links through the photographer's blog, I found SaxPlayHouse's web site. It unfortunately is offered only in traditional Chinese, so I had to rely on my Google Toolbar's translation feature to make sense of it.
This is what Google says the Brand History is:
Azeri after the Philharmonic, so that the industry take root here after Azeri's simple, so that the process can be passed; now Houli Township Saxophones annual exports accounts for one third of global production, is a highly unique and legendary local industry.

"????? ? players Museum" the museum, after all the musical instruments are all well in hand to build manufacturing elite, follow "your fine, not quantity," the spirit and work attitude, each of the instrument as carefully crafted works of art, music players welcome to join who shared the feast of classical music.
Jeez… Talk about lost in translation. As near as I can figure, it appears that they claim that 1/3 of all saxophones in the world are produced in the Houli township of Taiwan. Who knew? Certainly not me, but then I never claimed to know a great deal about Asian-made saxophones. And when it comes to their origins, I readily admit I know jack.
Looking through SaxPlayHouse's products page is rather interesting. It shows a virtual cornucopia of choices. The multitude of finish options are interesting as well.
It would be interesting to know if SaxPlayHouse stencils for other Taiwanese brands. Perhaps one of you knows.
Perhaps the most notable thing on the SaxPlayHouse website—at least it was for me—is that they are open to the public; have a café on site that's open 12 hours a day from 10:00 AM to 10:00 PM, complete with free WIFI; and allow for factory tours. The tours however, must be prearranged.
Based on what I see on this site, this appears to be a company that believes in and loves what it does. I obviously don't know about the quality of the product that they produce, but their level of transparency is rather startling.
…this is just
my blog.
My "real" website is
www.bassic-sax.info.
If you're looking for
sax info,
you should
check it out too.
There's lots there!
© 2010, Helen. All rights reserved.