For more than a decade now I have played on synthetic reeds. I made the switch to Fibracell reeds on all my saxes in the 1990s, and haven't looked back.
Today while I was doing some research into the cane shortage of the mid 1920s, I stumbled across a book that was totally unrelated to my search, but that completely solidified in my mind why I do not miss playing cane reeds.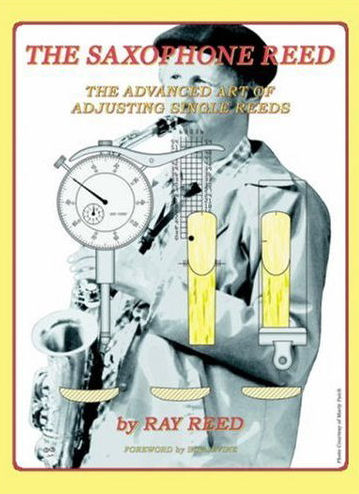 Source: amazon.ca
The Saxophone Reed: The Advanced Art Of Adjusting Single Reeds by Ray Reed, is a 177+ page book that is without a doubt, the most comprehensive resource that I have ever seen on this topic. It covers an enormous range of subjects including:
Consistency
Break-In Sessions
Reed Working Tools
Player Temperament
Cane Symmetry
Matching the Reed to the Embouchure
Etc, Etc, Etc, Etc
To get a full overview of the breadth and depth of this resource book, check out the preview on Google Books.
While I applaud the author for writing something like this, I personally don't plan to need it. Years ago I used to soak, scrap, sand, etc, etc my reeds. At the time, it was the thing to do. Now I would rather play my sax, than spend hours prepping my reeds.
Life's too short to dick around with the small stuff. There are a whole host of synthetic reeds out there—many of them much more expensive than the Fibracells that I use—and they are very comparable to cane. I know purists will disagree with this last statement. That's OK. Life would be boring if we all used and did the same thing.
Next time I'm in my favourite music store I'm going to see if I can find a copy of this book. I would like to see it for myself. Who knows? Perhaps I'll end up buying it just because it's good reference material.
I know one thing for sure though: It will be a cold day in hell before you'll find me spending my afternoon assessing if a cane reed has a Christmas tree shape or not. 😈
If you'd like to buy the book, you can find it on Amazon.com and Amazon.ca.
…this is just
my blog.
My "real" website is
www.bassic-sax.info.
If you're looking for
sax info,
you should
check it out too.
There's lots there!
© 2010, Helen. All rights reserved.