Although I've noted so many of these Dörfler & Jörka saxophones over the past 18 or so months—under so many different stencil names—that they have been proven to be anything but rare, this René Dumont tenor on eBay currently is interesting for a couple of reasons.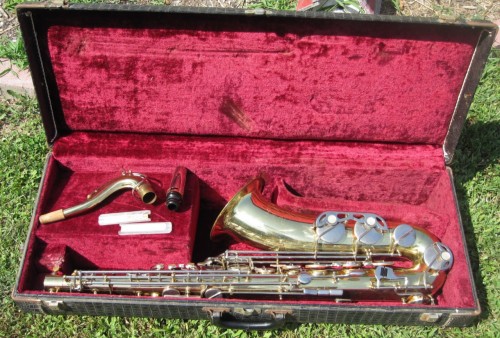 Source: jbstreasures35
Besides the fact that it doesn't look like it's gone through hell as a student band instrument, it, unlike most other D&J horns I've seen, still has its original mouthpiece.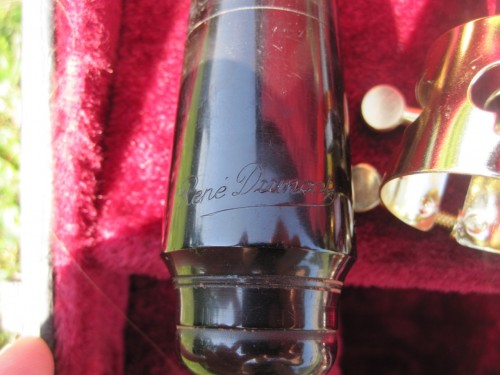 Source: jbstreasures35
Unfortunately, most of the D&J horns being resold today no longer have their original mouthpieces. Therefore it is unclear what kind of mouthpiece D&J routinely supplied with their horns. However, this René Dumont mouthpiece is most likely the one that came with this horn.
It should be noted that René Dumont didn't only use D&J as a source for their horns—although these vintage, German, Keilwerth clone horns were by far and away the most common. The French, saxophone-only manufacturer Pierret, was also a supplier for at least some of René Dumont's saxophones.
Presumably René Dumont wanted consistency across its various brands of stencil horns when it came to mouthpieces, hence the René Dumont mouthpiece we see here. However, this is only an educated guess on my part.
Another thing that's interesting about this sax is the condition of its original faux, alligator skin case.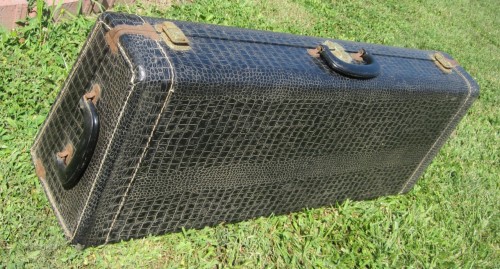 Source: jbstreasures35
Here's how the seller describes this vintage, Keilwerth clone horn:
You are bidding on a Gorgeous Vintage Rene Dumont Tenor Saxophone, I believe this is a stencil work of Keiwerth, It is marked made in Western Germany. Serial # is marked on both the neck and body of the sax, sax also has rolled tone holes. It is in Fantastic condition, almost like a new sax, but there is some finish wear on the backside of the sax. There are no Dents or Dings, pads a soft and have plenty of life left in them. Very nice playing and looking saxophone, comes W/ Very Nice Rene Dumont Made in France Mouthpiece, as well as Orig. Alligator Skin Hard case.
  Source: jbstreasures35
If you're a regular reader of my blog—or have done any research on the brands in question—you'll know that these D&J horns were not Keilwerth stencils, but were instead clones of Julius Keilwerth's The New King model (since they were lacking a high F# key.) You can read the full story about these Dörfler & Jörka saxophones on the D&J page on the main portion of my site.
The auction for the vintage, René Dumont tenor runs until July 21. At the time of writing, there were 4 bids in this German, JK clone. The high bid was $102.50.
…this is just
my blog.
My "real" website is
www.bassic-sax.info.
If you're looking for
sax info,
you should
check it out too.
There's lots there!
© 2011, Helen. All rights reserved.