A conversation I was involved with in SOTW got me thinking. Why is that vintage saxophone prices have fallen through the floor, yet Mark VI prices have held steady, and in some cases have continued to increase?
The knee-jerk answer that quickly gets thrown out is that collectors drive up the prices, but I'm not so sure about that. A quick glance through the completed eBay sales shows that the Mark VI saxes that have actually sold, were not in mint condition. They had been played, and many of them had been played a lot. Many were not in the kind of condition that one would think a collector would be interested in. But who knows, perhaps collectors do buy them?
I just can't see sax players coughing up more than $5,000 for a 5-digit alto, or more than $8,000 for a tenor. Or maybe they are? I know I wouldn't be. But then I don't get this whole obsession with serial numbers anyway.
We know the Mark VI design changed slightly over the course of their 20+ year production run. For example, according to tech Steve Sklar, neck openings, neck bore, and neck rings were fiddled with on the altos.
However, I have played many of my friends' and colleagues 5-digit horns. These horns may have felt different under my fingers, and may have sounded a bit different to start, but within a few hours of playing, they sounded just like me playing on my 6-digit Selmers. I certainly couldn't tell the difference, nor could the other sax players in the room.
Why is that? That's likely because the further we get away from the source of our tone—our chest cavities—the less tinkering with gear is going to have an effect on said tone. This goes back to an article I wrote a while ago.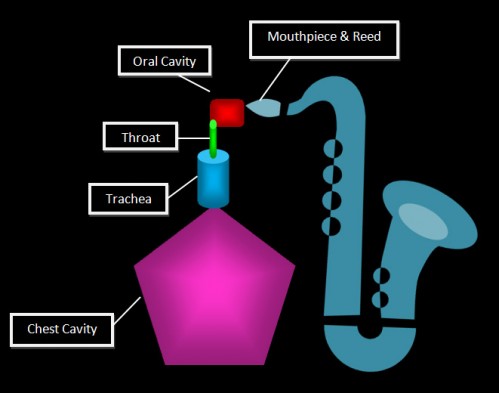 Changing your horn is the least effective way of changing your sound. If you really want to change your sound, you have to start with what's closest.
I always work with my students to ensure that the fundamentals of a good saxophone sound are established, before going on to the next phase of chasing down a different tone. If a person already has a great mouthpiece, reed, and horn set-up, but still has an inadequate sound, then the culprit is likely breathing. (Providing of course that the horn and the accessories are in good condition.)
If, on the other hand, a person wants a particular type of sound—say darker or brighter—then trying different reed, mouthpiece, and ligature combinations might be in order. Another option to consider is a replacement neck.
I use 2 necks on my Mark VI tenor. The original neck sounds like a Mark VI should. The Unison Master Piece neck brightens the horn greatly, and gives it a modern, edgy sound, when combined with my current resos.
So what does this all have to do with Mark VI prices you ask? Well, I personally believe that those people who are digging deep into their wallets and shelling out boat loads of cash for these 5-digit horns are over paying. They are paying for the chance to play the same horn, within the same serial number range, that their favourite saxophone player played. Somehow they have come to the conclusion that if the buy horn XXXXX, they will sound or play like brand name player Y from the past.
We all have a deep-seated desire to emulate our heroes, but buying a sax that is just a few serial numbers away from theirs is the least effective way to do so. If you don't believe me, think of Charlie Parker playing the Grafton. He still sounded like Charlie Parker. Parker also played a different horn regularly—since he was in the habit of pawning his horns. Despite this, he still sounded like Charlie Parker.
If a player wants to buy a Mark VI, I think that's great idea. They're great horns… Just don't let the serial number chase be the deciding factor. Play test horns. I realize that in today's world many (most?) Mark VIs are now sold via the Internet. This makes it hard to try before you buy.
However, I would strongly encourage anyone who is looking to buy a Mark VI to go and try a bunch first. Like anything else that's valuable, it is worth waiting for. Don't jump at the first one that comes along.
Take your time, and try some 6-digit horns. Try some 5-digit horns that aren't for sale. Try some that belong to your friends and band mates.
Recognize the fact that while you might notice some differences immediately, many of those minute differences will likely fade away as you get used to the horn, and your tone comes through. Then ask yourself, is it really worth spending $6,000 on an alto, when you can get just as nice a one for $2,000 less? Or do you want to spend $12,000 on a tenor, when you can get one for 1/3 of the cost, that will do the job just as well?
…this is just
my blog.
My "real" website is
www.bassic-sax.info.
If you're looking for
sax info,
you should
check it out too.
There's lots there!
© 2011, Helen. All rights reserved.