The running joke in our house is that I'm spatially retarded. I can't capture spatial concepts well, nor can I picture things in my mind. (Thanks, neuro problem.) 😡  So when I came across this article from the December 7, 1956 edition of The Milwaukee Journal, I was totally unable to get my head around the description provided.
Child Jams His Foot in Dad's Saxophone

Los Angeles, Calif.—AP—Randy Koral, 2, watching a television program, got so excited that he jammed his foot into his father's alto saxophone.

His mother tried melted butter and warm salad oil, but Randy's foot was really wedged. She called firemen. They removed some of the keys and, with pressure from the other end, [emphasis added] worked the boy's foot out of the bell of the instrument.

One of the firemen then asked Randy what he'd like for Christmas.

"A saxophone," he replied.

His father would like a new one, too.
Huh? … with pressure from the other end…  :wtf:
Did the firemen treat the saxophone like a tube of toothpaste? I don't get it.
No wonder dad wanted a new sax for Christmas. His horn probably looked something like this went the firefighters were done with it…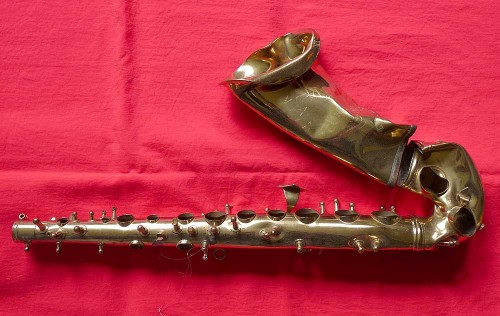 I wonder if Randy Koral ever took up the saxophone. Hey Randy, if you're out there, and you ever read this, please chime in here and let us know. Or drop me an email privately.
One thing Randy can be thankful for, his foot in bell incident happened long before video recorders, or cameras and phones with video recording capabilities were around. You just know that this would have been submitted to America's Funniest Home Videos, or uploaded to YouTube. 😆
…this is just
my blog.
My "real" website is
www.bassic-sax.info.
If you're looking for
sax info,
you should
check it out too.
There's lots there!
© 2012, Helen. All rights reserved.