Many of us, at some in our lives, have paid our dues in marching bands. Marching down city streets with pounds of metal hanging around your neck, isn't always a great deal of fun.
Now how would you feel if you had to have a saxophone on your shoulders? It seems that if you are a member of the Mortal Orchestra, that would be exactly how your marching career would look.
   Sax maniac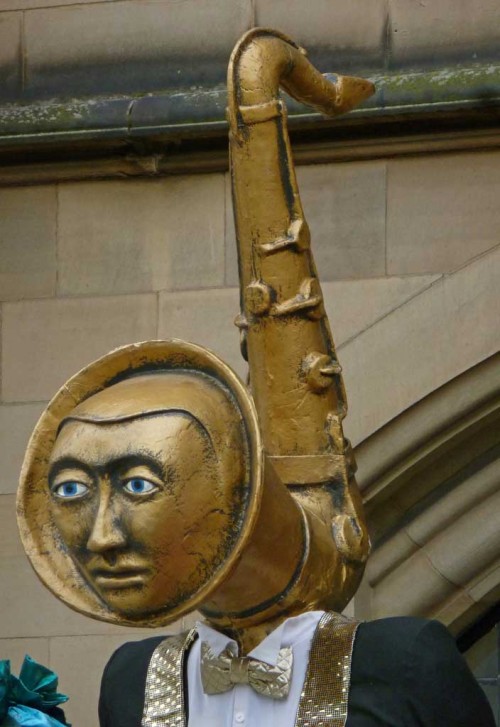 Tim Green shot this photo on May 19, as the Mortal Orchestra was preparing for the Bradford Lord Mayor's Parade.
Along with a sax player, the orchestra has a clarinetist—who appears to play his instruments in a most unconventional way—a euphonium player; and something that looks like it could be a saxhorn. I don't know about you, but to me, these guys all look like refugees from a nuclear holocaust. 😯
Be sure to check out the rest of Green's photos from the Bradford Lord Mayor's Parade. Some of the costumes he has photographed, are quite amazing.
…this is just
my blog.
My "real" website is
www.bassic-sax.info.
If you're looking for
sax info,
you should
check it out too.
There's lots there!
© 2012, Helen. All rights reserved.