Now we've seen pretty creative uses for used saxophones. They've been made into lamps, sculptures, chandeliers, planters, fountains, and used in automaton bands and organs.
I have seen them hung in bars before, but before this morning, had not seen a saxophone used as a piece of bar equipment.
   Sax Tap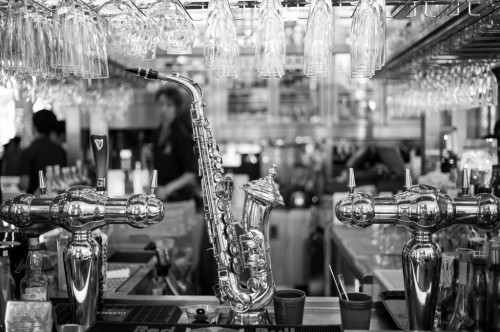 Photography by: Nokton   Source: Flickr
Notice they even got the mouthpiece on the neck the correct way! Wow, that's better than half of the sellers on eBay. 😆   They even went to the trouble of putting on a ligature and a reed. I'm thinking that perhaps a sax player had a hand in this. 😉
If you have a bar at home, and would like to sax it up a bit, this might be the perfect way to do just that.
…this is just
my blog.
My "real" website is
www.bassic-sax.info.
If you're looking for
sax info,
you should
check it out too.
There's lots there!
© 2012, Helen. All rights reserved.