We've all seen the eBay ads in which some non-sax player is selling a horn. These ads are easy to identify. More often than not, if a mouthpiece is included with the sale, it is put on the neck upside down.
So I was a little surprised when I saw this album by Billy Vaughn and His Orchestra, titled Golden Saxophones, which depicts a saxophone with the same problem.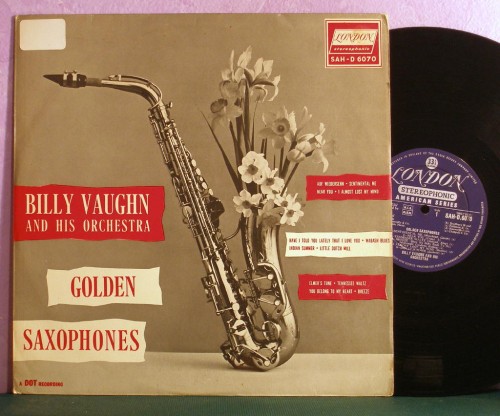 Source: musicstack.com
This album was released in 1960, and things might have been very different then, but I would think that the artist might have been able to say to the record company: Hey, that photo is flat-out wrong. Maybe Vaughn did, and the record company didn't care. Or perhaps the model would have charged a lot to come in for a second shoot. 😈
Perhaps it was decided it didn't matter, since who was really going to realize that it was wrong? A bunch of saxophone players? Were they really the target market for this album. I think not. Or maybe, just maybe, Billy Vaughn didn't realize that the album cover was wrong. :devil1:
I must confess, I knew the name Billy Vaughn, but couldn't put a sound to it. Thanks to YouTube however, I now have that sound permanently rattling around in my brain.
If you'd like to read more about Billy Vaughn, and what has been called his twin sax sound, check out the Billy Vaughn fan page.
I know of a German band that sounds exactly the same as this. And yes, they are currently still performing, touring, and recording with their signature, wide vibrato and twin saxophone sound. But more about them on another day…
…this is just
my blog.
My "real" website is
www.bassic-sax.info.
If you're looking for
sax info,
you should
check it out too.
There's lots there!
© 2012, Helen. All rights reserved.