Getting the right saxophone for university isn't as easy as picking one out on eBay or Craigslist. It takes some time, careful planning, research, and yes, in the end, money. I'm hoping this article will provide some help for both students and parents alike, before some costly mistakes are made.
The Backstory
A little over a month ago I started playing baritone in a new symphonic band that formed about a year ago. One of the members of that group is our young lead alto player—a grade 11 student—who has plans to continue studying music in university. He is currently in the process of picking out what school to attend for his music degree.
Last week Dave (not his real name) started up a conversation with me during our break, and told me a bit about himself. He explained that he is a tenor player first, and that the alto he is using actually belongs to a friend of his. He was hoping to get my input into what kind of alto saxophone he should buy.
The first question that I asked him is what kind of tenor he has. It turns out that he's got a late 1940s Buescher. Vintage Bueschers are great horns, but was it the right saxophone for university? So I asked him: What university are you planning on attending? He told me which one, and why. I found his choice interesting, because I didn't even know that the school had a music program.
My next question was this: Have you contacted the saxophone professor at the school to find out what saxophone brand(s) are acceptable, or if it matters to them? Some schools/profs are brand-specific in their requirements, and don't like/accept anything other than brand X in their programs.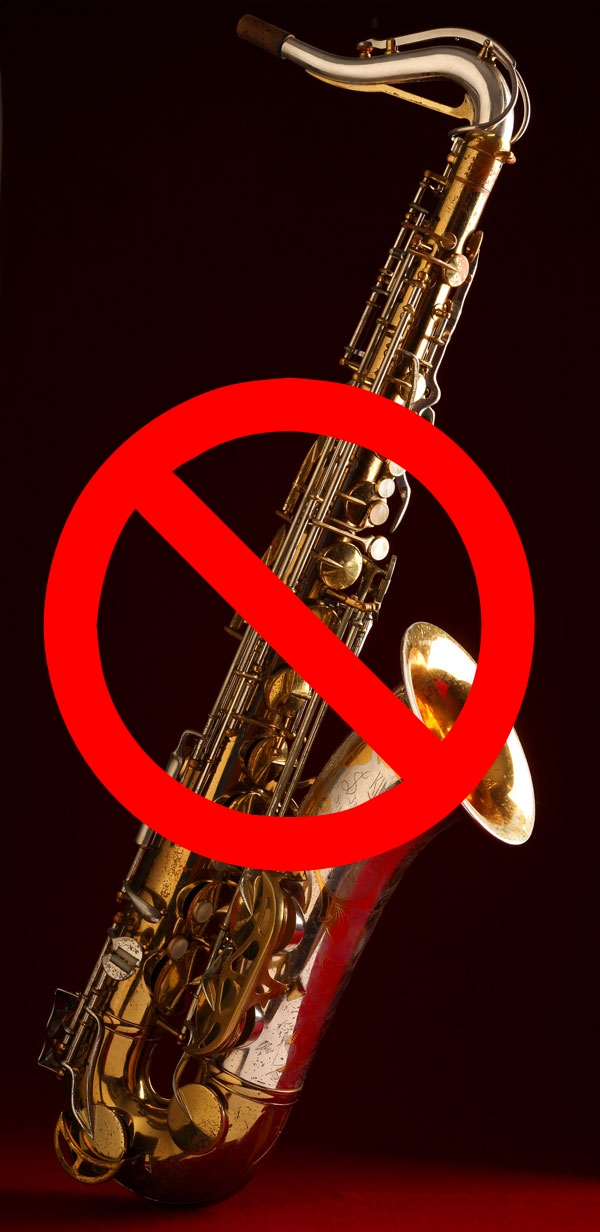 King Silver Sonic, Serial # ? Source: Randy Cole on eBay.com
I gave him an example of a personal experience that I had when I first attended university. I didn't check with the prof before going there, and soon found that my King Super 20 was not welcome in the classically oriented performance program. It was most definitely not the right saxophone for university. Only a Selmer Mark VI would do. Not even the Selmer Mark VII, or the Super Action 80 (Series I) were acceptable.
I strongly suggested to Dave that before he buys an alto sax, he check with the saxophone prof at the university, and see if he/she has a preference or requirement in the brand department. This simple step can avoid nasty surprises down the road, and ultimately save quite a bit of money.
What's the best way to get the right saxophone for university?
When I was actively teaching, I had lots of students who wanted to pursue music in university. Speak to the prof before deciding on what horn to buy, was always the first thing I said before helping my students decide on what model of professional saxophone to upgrade to.
Last summer, saxophonist and multi-instrumentalist, Dr. Bret Pimentel—an Assistant Professor of Music at Delta State University—wrote a very good article about just this topic for his website, Bret Pimentel Woodwinds. In Buying a new instrument for college-level study, Bret explains the reasons why discussing the purchase with your would-be prof ahead of time is so important. Included in his reasons are the following:
Often the prof will be happy to work with students when they arrive on campus to help them pick out the horn that is both right for them, and right for the program.
Professional grade instruments are a must for university/college grade studies. That said, not all "pro" level horns are created equal. Some pro horns aren't "pro" enough to withstand the rigors of pro use. As I once stated:
 I've started to liken the use of the term "pro horn", with the use of the word "show dog". It's all pretty subjective. One breeder's show dog is another's pet stock, just as one manufacturer's "pro model" is another's "student model".
Also, a pro horn from decades ago might no longer be considered a pro horn by universities today.
Your future prof's opinions might not be the same as those of your current saxophone instructor, band teacher, or yours. You have to be open to going with your prof's way of thinking during your time in school, and then using the knowledge/skills learned in university/college to make informed choices once you've graduated.
How to not get the right saxophone for university
I don't know what Dave is going to do. I hope he takes my advice to heart, but ultimately it's up to him. Last night he mentioned to me that he had checked out some stuff on eBay. Don't even get me going on that one… Been there; done that; bought the friggin' T-shirt. My retort, as always, was: Make sure you are able to try the horn first.
Besides, Vancouver has lots and lots of horn choices. Sometimes you just have to be patient for the right one to come along. It's not like we're living in the freakin' Maritimes!
…this is just
my blog.
My "real" website is
www.bassic-sax.info.
If you're looking for
sax info,
you should
check it out too.
There's lots there!
© 2014, Helen. All rights reserved.