From working instruments to meaningful heirlooms: How saxophones can be a meaningful part of a family's history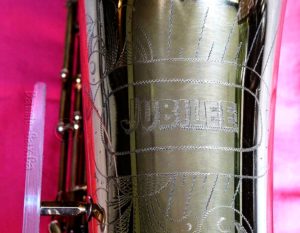 On Tuesday night I was at rehearsal with the Moonliters—the Big Band I play with—and we had a substitute tenor player sitting in. Jeff (not his real name) mentioned to me that the first tenor he ever owned was the sax that had belonged to his father. It was a JK-stencilled Jubilee that his father had bought new in 1964 at Empire Music in Vancouver.
Jeff had played the tenor in school, but then after school it went back to his dad. Somehow the saxophone was seemingly misplaced, and Jeff never knew what happened to it. Then a while ago he was talking with another family member, when that person said: Oh, I've got your father's tenor sax in my attic.
Funny thing that. Now Jeff has his father's sax back in his possession. It's a nice thing too, because just a couple of weeks ago Jeff's father passed away, so it's fitting that the saxophone player now again has his father's saxophone back.
Two very different family heirloom saxophones
This reminds me of another friend and musical colleague who I played with, whose grandmother had a Buescher True Tone alto since new. She played it throughout her life. Now that saxophone resides with her non-sax playing son (my friend's dad). I had the opportunity to see, play, and photograph this family heirloom a couple of years ago.
It is really something to hold a saxophone like this in my hands, and to look at the accessories that are still in the accessory tray. This instrument and its accoutrements are alive with familial history. It fills me with a quiet awe, as I hold these nearly antique items in my hands, and think of the 90+ years of history that they've been a part of. This to me is the epitome of a family heirloom.
The story of the Buescher alto above, is similar to another saxophone I had the opportunity to play and photograph back in 2012. That horn too belonged to a friend, and it was also a family heirloom—only not as old as the True Tone alto.
The horn in question was bought new by my friend's cousin in the early 1960s for approximately $100.00 Cdn. When I saw the horn it was still downright minty, and it too had many of its original accessories. It is a Pierret-stencilled Ambassador, which had been ordered by F.E. Olds & Son.
After years of sitting in its case, the Pierret-made Ambassador was going to see life again as it was going to be used by young student in the family who was going to start playing saxophone in school. My friend had just re-padded the horn and was readying it to send off to his young 2nd, 3rd, or whatever cousin. This was in 2012. I wonder if this kid is still playing the horn? I wonder if the horn still has its original accessories, and looks as good now as it did back then?
What do vintage ceramic flamingos and saxophones have in common?
I realize not all people are wired like I am. I am rather sentimental, and do place value on things that are older. (Which might explain my love for not only vintage saxophones, but also Volvos. 😉  )  This is why our house is filled with quite a few vintage things like art glass, flamingos, and yes, of course our own family heirlooms such as fine china and silverware, cameras, and jewellery.
When it comes to vintage saxophones though, I don't have a familial history with the horns in my stable. They did not come from either side of my family, so they are not family heirlooms to me. However, when I open up their cases and look at them, I wonder when play them at shows, or take them to rehearsals, what kind of history I am adding to.
My vintage saxophones range from 40 to 131 years old, and some of them will have seen A LOT of musical activity. And although my musical commitments are quite tame these days, in the past my horns have been part of some very interesting experiences, and played been for a great many people in a wide variety of musical and other venues.
I am also a big believer in keeping all the original accessories with any instrument intact. Not because I believe it adds value, but because it belongs to the horn, and is a part of the saxophone's history. Thus original MPs, mutes, neck straps, screwdriver sets, and yes, even cork grease, stay with the horn. I do however draw the line at used reeds.  😉   Those I toss in the garbage.
A few months ago I came across this apropos article in The Republic. I filed it away at the time because I knew I wanted to write an article about this one day. Talking with Jeff the other night at rehearsal about how he got his family heirloom back, reminded me that not everyone is so lucky.
Doug Showalter's article, Saxophone gone, memories remain, made me look at my vintage saxophones in a new light. I wonder if any of them are a family's vanished heirloom?
…this is just
my blog.
My "real" website is
www.bassic-sax.info.
If you're looking for
sax info,
you should
check it out too.
There's lots there!
© 2017, Helen. All rights reserved.