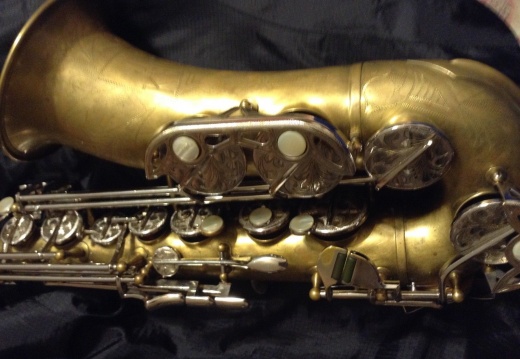 Source: raularan on eBay.com
When D&J closed its doors on Dec. 31, 1965, JK took over the production machinery and some half-finished products. Was this alto one of these instruments that was taken over, and then stamped with the JK seal? However, the 11252 serial # would indicate it was produced in 1957, so this doesn't make sense.
However, it has also appears to have had quite a bit of post-sales engraving, which makes one wonder what was engraved when.
The 3 peaked mountains were engraved by D&J. The JK stamp on the back of the body tube was presumably done by JK? The Julius Keilwerth engraving on the front was done by?
Also, JK didn't sell their horns with only their name. They had model names like Toneking and The New King.
Check out my D&J page to find out more the company. Then you might also want to read the JK pages. Whatever the engraving says, this is a D&J horn.