Hohner saxophones were made by Max Keilwerth, who was a brother of Julius and Richard. I was doing research on this relatively obscure Keilwerth brother and his saxophone creation in both English and German languages, and had come up with very little. The information that is available is almost the same from website to website—regardless of the language it's in. What does vary sometimes are the supposed years of certain events. However, the chronology appears to be consistent.
While in the middle of my Max Keilwerth/Hohner research however, I received an unexpected surprise. Uwe Ladwig, a German saxophonist, repair tech, producer, and writer for the German music magazine Sonic Sax & Brass, sent me some research he had conducted on a variety of German saxophone manufacturers, including Max Keilwerth and Hohner.
For the most part, the few bits of information that are available on-line are consistent with Uwe's research. However, Uwe also fills in some blanks. What follows is what I've been able to piece together using all the sources.¹
Max Keilwerth
Max Keilwerth learned his craft with Franz Than in Graslitz, Sudetenland. According to sources in both German and English, Max Keilwerth started making saxophones with his brother Julius in the early 1920s. They worked from a home-based workshop, and mainly manufactured saxophones for Oscar Adler and FX Hüller. Max became instrumental in the development of FX Hüller's saxophone department.
In 1925, Max left the family business and began working for himself. He continued providing saxophones for FX Hüller and Adler until the early 1930s. After the creation of the collective company named Amati, Max briefly worked for them until circa 1949. He then moved to Trossingen, Germany to begin working for Hohner.
Max was the only one of the Keilwerth brothers who had his Meisterbrief—a Master Craftsman certificate issued in Germany after a person has met all the qualifications necessary for that designation.
For more information on Max Keilwerth's saxophones before he began working for Hohner, check out the page dedicated to the man and his horns.
Hohner President Saxophones
At Hohner—a company more commonly thought of for harmonicas and accordions than saxophones—Max Keilwerth headed up the saxophone department, which employed between 15 to 30 permanent people during its 20 years of saxophone production. Hohner made alto and tenor saxophones from 1949 until approximately 1972. Although some sources state that production stopped in 1967, the high serial numbers of known horns indicate that indeed production continued after Max Keilwerth's death in 1968.
The saxophones that Hohner made had a number of features which made them quite unique. While some features were only used for a short time, others were utilized consistently over almost the entire production run.
Tone Holes
One area that varied significantly over the 20 year production run was the style of the tone holes. The earliest Hohners had soldered tone holes. A very early model alto—serial number 24XX—shows that they were also bevelled.
Source: eBay.com
In approximately 1953 drawn & rolled tone holes made their first appearance. This is shown below in alto 48XX, circa 1955.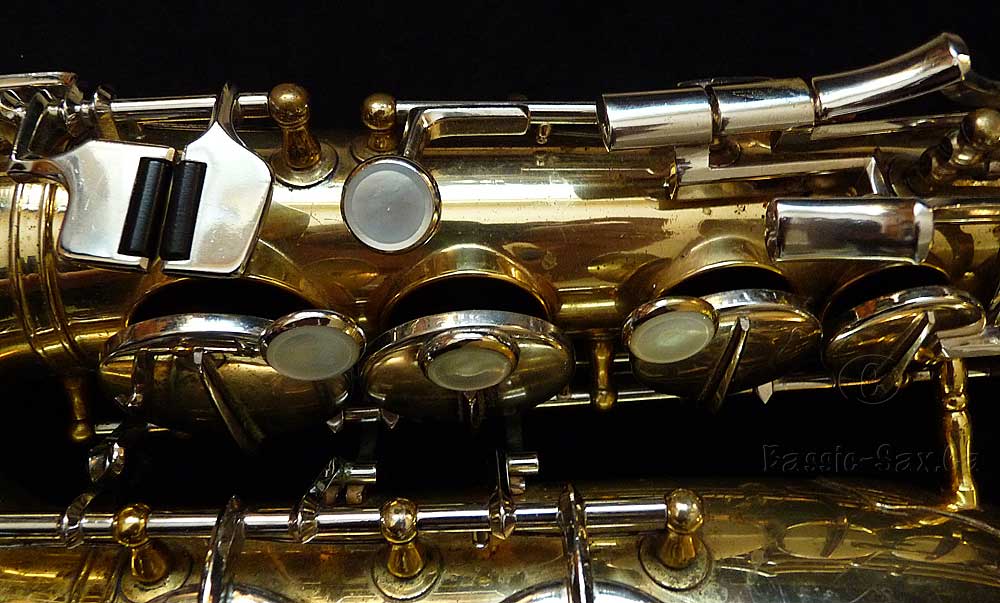 In approximately 1963—approximately #12XXX—Hohner switched to straight/cut tone holes. Here you can see the tone holes of tenor 15XXX, which makes this horn 1969 or newer.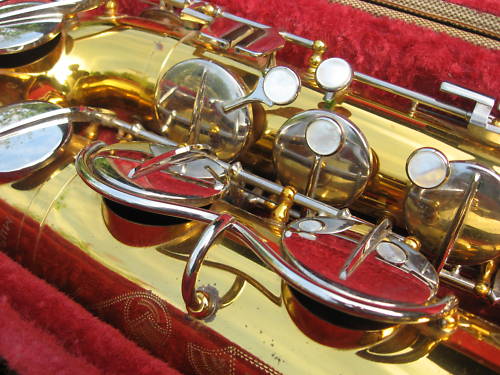 Source: Neville
Finishes Options
Hohner offered 4 finish options for the President:
Lacquer
Silver plate
Nickel plate
Two tone: lacquer body with nickel plated keys. *
*These were most likely the most common, since this finish style was the most popular at the time.
Features Used For Only A Brief Period, Or Only On A Small Number Of Saxes
G# trill keys were included on saxes built until approximately the mid 50s. You can see it here located between the F and E keys.
Source: 2ndending.com
Microtuner necks were very infrequently used in the older horns. I have yet to find a photo of one. (I have since come to believe that these were actually Max Keilwerth-made President horns, before he worked for Hohner, and that they carried his Pure Tone Trade Mark label.)
A high F# key was an option that could be requested. However, when Max Keilwerth designed his saxophones for Hohner, he didn't place this key where other saxophone manufacturers did. The Hohner President's high F# is located along with the other left palm keys. For a player like me who is not accustomed to using a high F# key, it was very intuitive. I obviously can't speak to what it would be like for players who are used to operating the high F# lever with their right ring finger or pinkie.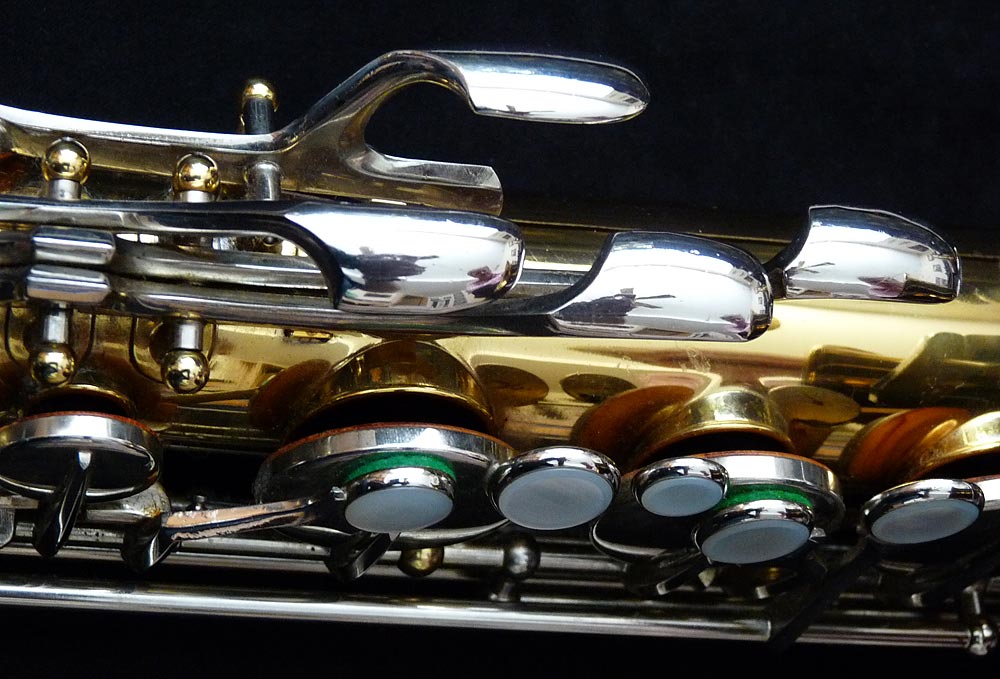 Features Used During Almost The Entire Production Run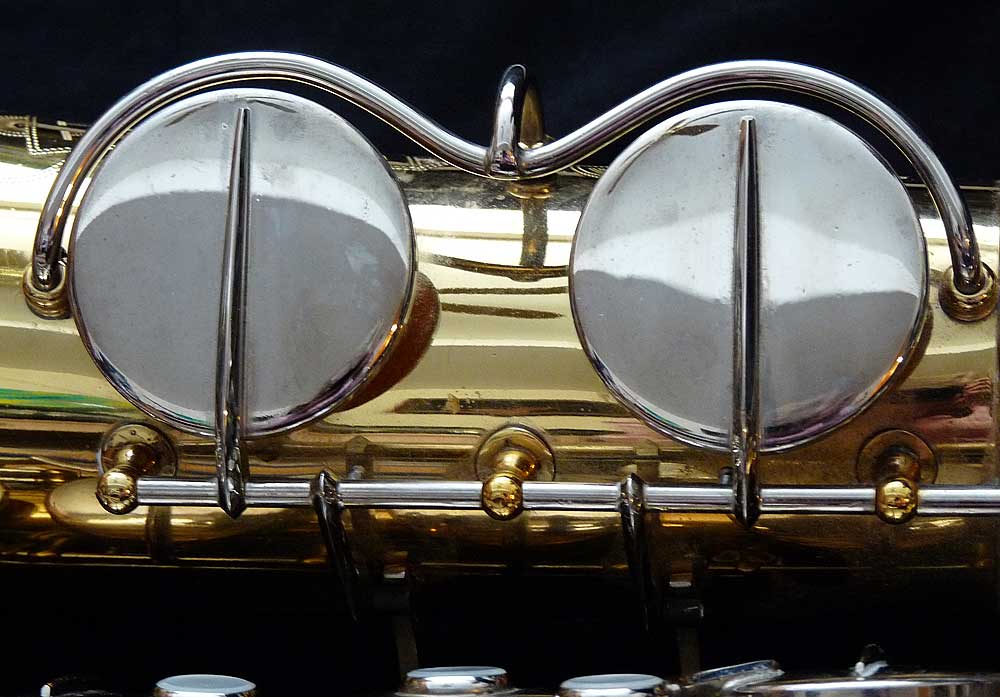 Hohner's legally protected—"gesetzlich geschützten"—(abbreviated Ges.- Gesch. on the socket of the horn), double socket with a front mounted thumb screw for tightening the neck, was introduced in the early 1950s. Prior to this, the neck fastening screw of the Hohner Presidents looked liked it did on any other saxophones, as evidenced in this alto, serial number 24XX.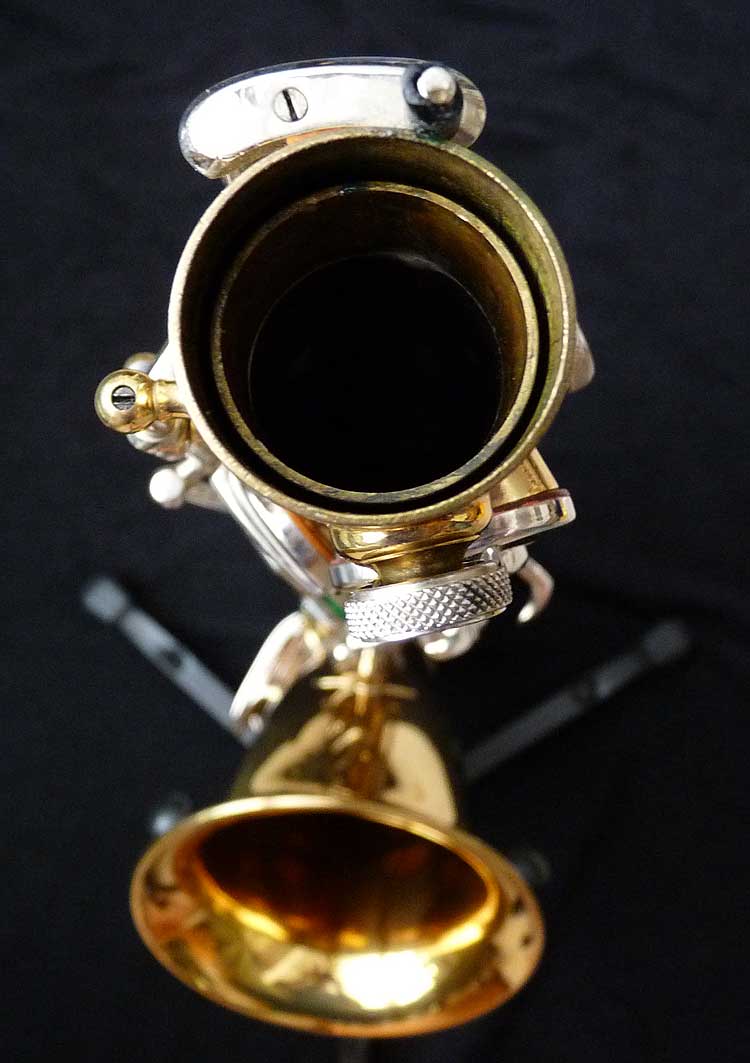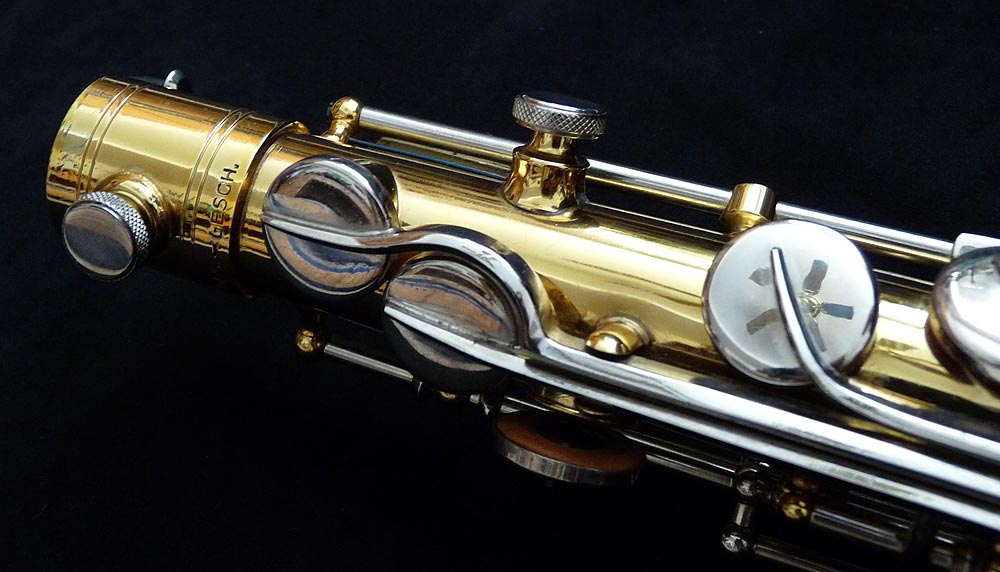 My 104XX version of the President model is circa 1961, and has a high D/D# trill key, which was not uncommon on European horns at the time. However, it appears the high D/D# triller was standard on Hohner saxophones. At least it was for as far back as I've found photos for, which is this alto, serial number 24XX. Hohner did drop this feature later in its production run. I'm not sure when exactly, but both horns in the 15XXX range that I've seen to date, do not have the key. Coincidentally, both the alto and the tenor have a high F# key.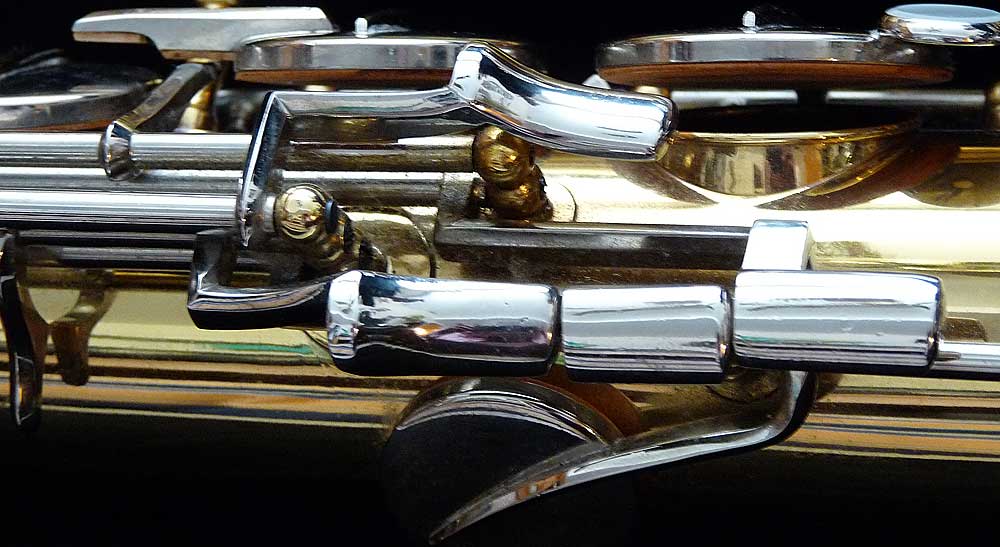 Features Changed Or Dropped Towards The End Of The Production Run
As noted above, the high D/D# trill key was dropped at some point later in the President's production run. Here are photos of alto 15063—circa 1968—and tenor 15XXX, which show the horns' lack of this trill key.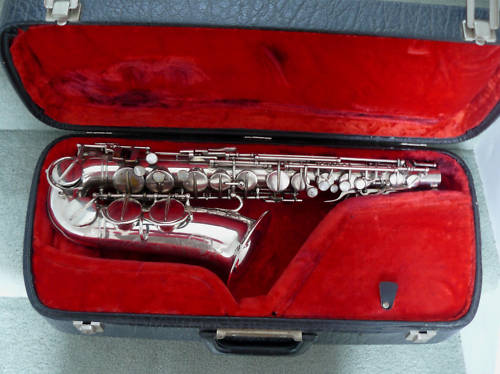 Source: eBay.com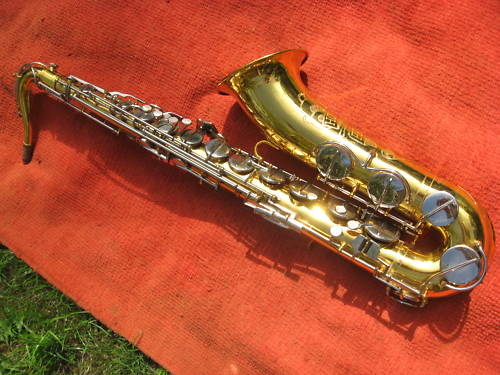 Source: Neville
Also another obvious change was the style of the bell to body support brace as visible in the photos above. The older versions of the President had a straight brace that had the shape of the horn's posts, whereas these late-model Presidents had a brace made of an arched piece of brass.
The Demise Of The President
In the early 1970s Hohner ended its saxophone production. Although it is not known why, Uwe speculated that its reasons were the same as Hammerschmidt's: the overwhelming cheap competition from Japan was too great, and the demand for the more expensive German saxophones declined.
Once they ceased production of saxophones, Hohner destroyed all its documents related to the Hohner President saxophones. This unfortunately means that the Hohner company can provide no information about its own history in the saxophone business.
While SaxPics was still owned by Pete Hales, a man by the name of Jim Warner provided him with some information about Hohner saxophones. Jim had been conducting research into the President horns, and during his research had been in contact with a person at Hohner. The information Jim provided to Pete was the sum total of all he had been able to amass about the Hohner President.
According to Bridgitte Conrad of Hohner Musikinstrumente, the company had very little information about their saxophone production left. Ms. Conrad provided Jim Warner with a document in German, but he was not able to translate it adequately to be able to understand it, or to even be able to ID the source. Although I have not seen the document that Jim was sent, based on the information and photos I have seen on SaxPics, the document was Uwe's research paper.
Serial Number Chart
Through his efforts, Jim was able to establish a table of serial numbers which combined a number of different sources. If you are looking to date your Hohner President saxophone, that's the place to go.
I have been working at putting together a Hohner President gallery. If you have a President you would like to contribute, let me know.
______________________________________________________________________
¹ I have written only that which I have direct knowledge of, or that has been cited either through Uwe's research, or on trusted, informational websites. I have chosen not to include information from saxophone forums. Much of the information on both German and English sax forums such as Saxwelt and Sax On The Web, is really nothing more than quotes and requotes from informational websites.
I want to thank Uwe Ladwig for generously sharing his research with me. It was originally published in der deutschen Fachzeitschrift—German music journal—SONIC sax & brass. I hope that I have managed to capture the meaning and the intent of it well.
Vielen dank Uwe! Vielleicht findest Du meine Fotos interessant.
The two on-line sources that I found that contain the most information about Max Keilwerth and Hohner saxophones are:
This page on German saxophone manufacturers on Klaus Schneider's Website.
And this page on Julius Keilwerth saxophones on the old SaxPics site.